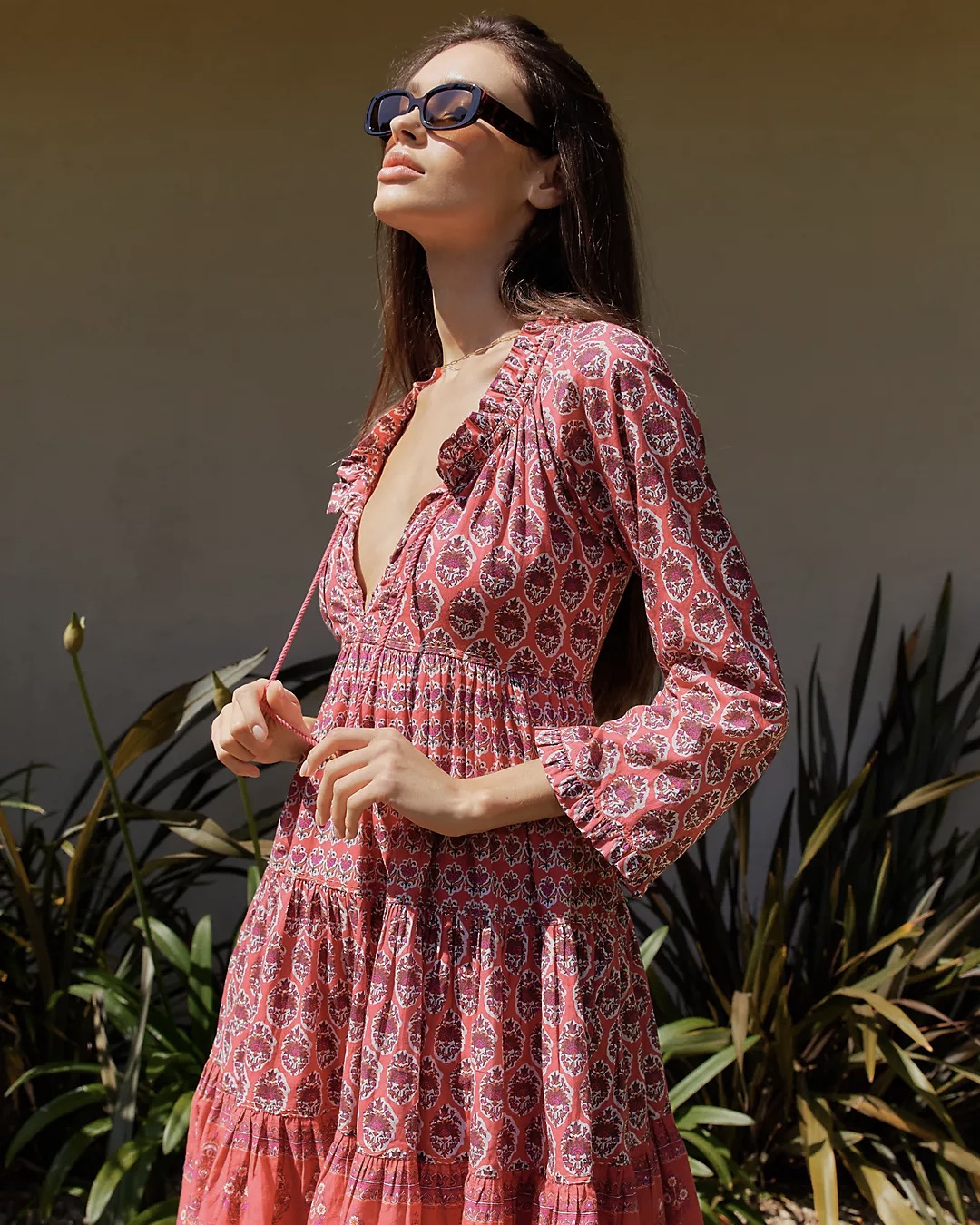 With One Month Until Fall, Now Is The Time To Shop Summer Transition Dresses
RO'S GARDEN
With One Month Until Fall, Now Is The Time To Shop Summer Transition Dresses
As the golden days of summer gradually make way for the crisp allure of fall, fashion enthusiasts everywhere are stocking up on summer transition dresses. But the reality is: transition styles aren't just about dressing appropriately; they're about embracing the transition. The delicate dance between seasons offers a canvas for exploring new styles that effortlessly bridge the gap between summer and autumn. In this vibrant time of fashion, one can find the perfect opportunity to upgrade their wardrobe. For women who love staying trendy and chic while enjoying the seasons, these summer transition dresses will become more than just garments. Each of these incredible pieces are a statement that allows your personal taste to shine.
Summer Transition Dresses Fit For Years To Come
In the world of fashion, summer transition dresses shine as timeless investments. Not only do they gracefully move from season to season, but they also don't have to follow trends. As fall inches closer, these dresses emerge as the go-to ensembles that not only celebrate the current season but also seamlessly blend into future years. The genius of these styles lies in their ability to navigate the delicate balance between summer's breeziness and fall's cozy layers. A well-chosen summer transition dress becomes a style companion that effortlessly adapts—ensuring you're always dressed to embrace the changing seasons.
For example, the MAEVE The Cassandra Maxi Dress is the perfect balance. Its style is perfect for fall without compromising your summer fashion-forward taste. Although many women jump right into knits, we'd recommend trying textures like these first. You'd be surprised to see that summer transition dresses can indeed embody both seasons effortlessly.
ANTIK BATIK Siena Midi Dress

$

505

MAEVE The Cassandra Maxi Dress

$

160

AFRM Revolve Willow Dress

$

78

LE SUPERBE Montmartre Wrap Mini Dress

$

595

SIGNIFICANT OTHER Demi Backless Long-Sleeve Column Gown

$

286

FARM RIO Puff-Sleeve Dress

$

285

RO'S GARDEN Sadie Mini Dress

$

245

SALONI+ Vida Floral-print Silk Midi Dress

$

680

GALVAN + Amelia Sweetheart-neck Jersey Midi Dress

$

1,607

PUPPETS AND PUPPETS Floral Burnout Twin Hip Pannier Asymmetric Midi Dress

$

895

SIMKHAI Caspian Bustier Dress

$

645

AKRIS Velvet Neoprene Shirt Collar Slight A-Line Front Zip Short Sleeve Dress

$

2,590

CINQ À SEPT Wildwood Flower Jacey Side-Tie MIdi Shirtdress

$

495

LOVE SHACK FANCY Carlotti Lace Appliqué Halter Maxi Dress

$

595

ANDREW GN Leaf Brocade High Neck Belted Mini Dress

$

1,515

CHIARA BONI LA PETITE Panthea Strapless Peplum Sheath Dress

$

750

MICHAEL COSTELLO Revolve Cressida Mini Dress

$

258

SEA Nadia Tie-Dye Puff-Sleeve V-Neck Midi Dress

$

450

SHONA JOY Milo Plunged Cross Back Midi Dress

$

320

SHONA JOY Isola Ruffle Mini Dress

$

395

MONSE Lacing Front Sleeveless Dress

$

1,290

TERI JON BY RICKIE FREEMAN Metallic Floral Jacquard A-Line Midi Dress

$

710

NORMA KAMALI Grace Vegan Leather Mini Dress

$

225

ETOILE ISABEL MARANT Balesi Ruched Faux Leather Mini Dress

$

770

JOHANNA ORTIZ Wildly Beautiful Gathered Satin-jacquard Halterneck Maxi Dress

$

1,650

Caia Silk Mesh Maxi Dress

$

2,890

Gretl Embroidered Cotton Midi Dress

$

700

Douglas Flannel Cotton Midi Dress

$

895

Venus Cutout Maxi Dress

$

1,045

KHAITE Sutton Cutout Gown

$

2,480
Minis Were Made For Fall, Too
As the leaves change, the allure of summer transition dresses remains—specifically minis. You can never go wrong with a short length, even if the air seems a little chillier than usual. Embracing these styles will allow you to fully experience the transitioning seasons before jumping all in.  These summer minis, with their flirty silhouettes and playful patterns, bring a touch of warmth to autumn's cool palette. Layered with tights, paired with ankle boots, or complemented by a chic jacket, these dresses effortlessly transition from barefoot strolls to leaf-strewn sidewalks.
Our ultimate favorites are the AFRM X Revolve Willow Dress and the SHONA JOY Isola Ruffle Mini Dress for good reasons. Their adaptability makes them a must-have for the modern woman. Not to mention, summer transition dresses like these in general are essential for the next month or two.
Shop All Transition Dresses