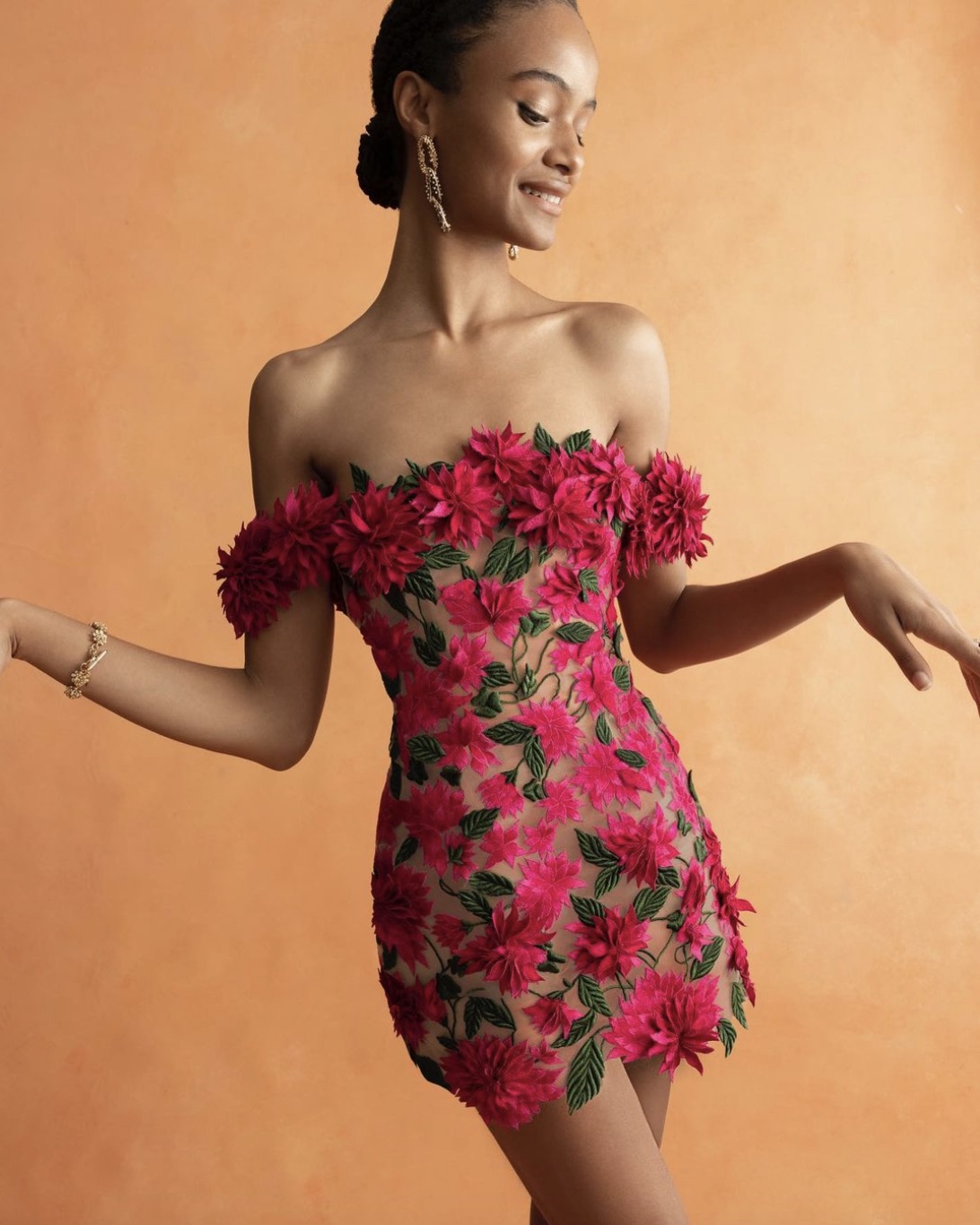 Flowers Are Making A Comeback—Get The Look With These New Floral Dresses
OSCAR DE LA RENTA
Flowers Are Making A Comeback—Get The Look With These New Floral Dresses
With fall almost here, don't be surprised if you see new floral dresses. As the days grow shorter and the leaves begin to turn, the world of fashion is buzzing with exciting transformations. In the midst of this seasonal shift, one trend is resolutely making its return—the enchanting allure of flower prints. Whether you're a trendsetter or someone who cherishes classic elegance, these patterned styles are ready to take your fall wardrobe. Not to mention, every woman could use a new floral dress in her closet. With a seamless fusion of organic beauty and luxurious design, these dresses are perfect for the modern woman. So if you're someone who seeks timeless style with a contemporary twist—this fall trend is for you. Keep scrolling to find our favorite 30 floral styles for not just the end of summer, but well beyond it.
New Floral Dresses In Black & White
Step into the world of versatile sophistication with the spotlight on new floral dresses. In the ever-changing world of fashion, the timeless allure of black and white floral prints is resurfacing, reclaiming their coveted position in the vibrant fashion scene. And, for those who treasure the elegance of the past and the dynamism of the present, these dresses beautifully weave together classic and contemporary aesthetics. These designs come alive with nature-inspired patterns, captivating the eye with monochrome contrasts that artfully narrate a visual story of unadulterated elegance. From intricate lacework to bold geometric motifs, these styles are destined to be more than mere garments; they promise to be enduring and powerful fashion statements.
For example, the ROTATE Embroidered Flower Mesh Tube Dress doesn't need much to stand out. With a pair of dainty black heels and simple jewelry, you'll find that black and white comes in handy. Plus, when fall is around, most of us don't want to spend too much time getting ready. New floral dresses like these effortlessly transition from casual daytime gatherings to glamorous moonlit soirées. So no matter where your day takes you, you'll always look put together.
ALLSAINTS Bryony Lucia Dress

$

169

CINQ À SEPT Wildwood Flower Jacey Side-Tie MIdi Shirtdress

$

495

SEA Giulia V-Neck Floral A-Line Maxi Dress

$

425

ST. AGNI Semi Sheer Floral Dress

$

585

ISABEL MARANT Lucia Floral-print Satin-jacquard Midi Dress

$

790

DRIES VAN NOTEN Floral-print Cotton-poplin Shirt Dress

$

895

EMILIA WICKSTEAD Pola Duchess Strapless Midi Dress

$

2,000

Dahlia Off-the-shoulder Appliquéd Tulle Mini Dress

$

7,990

Draped Floral-print Velvet Mini Dress

$

4,950

GIAMBATTISTA VALLI Caped Floral Silk Georgette Gown

$

4,825

DRIES VAN NOTEN Floral Mesh Midi Dress

$

417

DIANE VON FURSTENBERG Sydney Floral Minidress

$

400

ISABEL MARANT Albini Floral Gathered Silk Maxi Dress

$

1,390

DOROTHEE SCHUMACHER Flower Whirl Silk Midi Dress

$

1,150

MAEVE The Cecily Fit & Flare Sweetheart Dress

$

170

MAGDA BUTRYM Rose Printed Jersey Gown

$

2,530

BEC & BRIDGE Indi Strapless Floral Viscose Mini Dress

$

319

BEC & BRIDGE Moondance Strapless Floral Viscose Dress

$

398

BORGO DE NOR Seraphina Feather-trim Printed Crepe Midi Dress

$

780

BORGO DE NOR Vida Feather-trim Printed-crepe Mini Dress

$

650

ASHISH Floral-sequinned Georgette Midi Dress

$

2,455

ROTATE Embroidered Flower Mesh Tube Dress

$

420

ALICE + OLIVIA Jasmina Floral Ruffle Gown

$

1,895

CEFINN Hermione Tiered Ruffled Floral-print Crepe Maxi Dress

$

460

CAROLINE CONSTAS Larissa Tiered Floral-print Cotton-blend Poplin Maxi Dress

$

695

FOR LOVE & LEMONS Temecula Maxi Dress

$

298

FREE PEOPLE Coastal Treasures Maxi Dress

$

350

ETRO Aster Print Funnel Neck Sweater Dress

$

2,450

SALONI+ Remi-C Floral Mix Print Long Sleeve Maxi Dress

$

645

MILLY Floral Embroidered Mesh Strapless Midi Dress

$

625
Lose The Fear Of Vibrant Florals
New floral dresses are here to revolutionize your fall fashion with a burst of vibrant  prints. Set aside the notion that autumn equates to subdued tones—these dresses prove the opposite. Radiating warmth and positivity, these pieces stand as living testaments to embracing change while making a bold statement. From rich reds to deep purples, to warm oranges—fall's color palette offers the chance to venture outside of neutrals. Our favorites to get the look are the DIANE VON FURSTENBERG Sydney Floral Minidress and the ALLSAINTS Bryony Lucia Dress. From leisurely daytime strolls to cozy evening gatherings, these dresses are an invitation to celebrate transformation. Not to mention, they're effortlessly elegant for whatever you have in store. But after all, the latest floral dresses are made for just that.