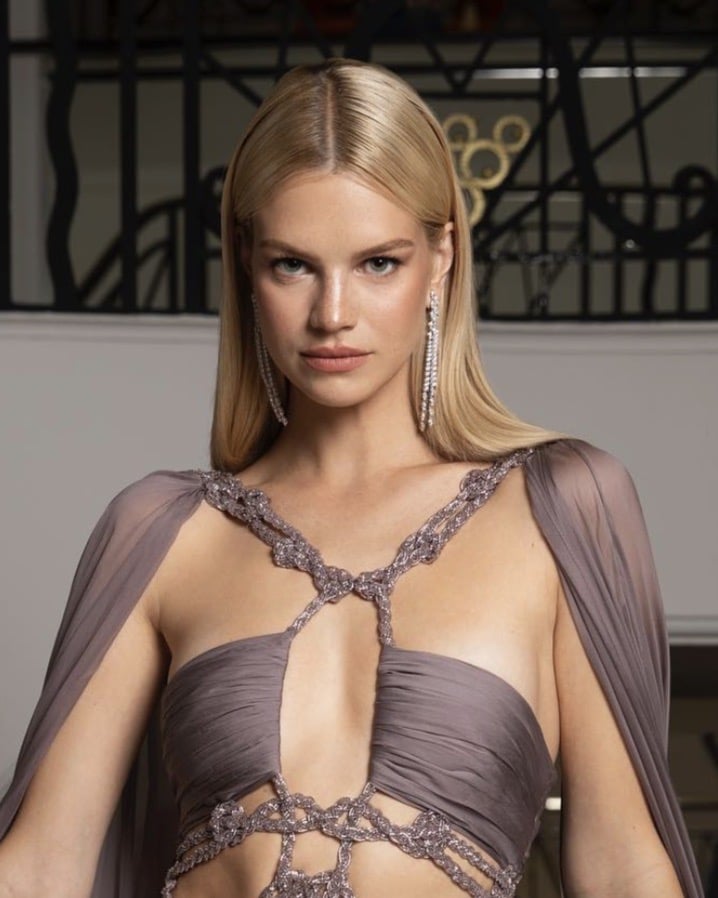 We Love Her Dresses…How To Dress Like Nadine Leopold
@NADINELEOPOLD / INSTAGRAM
We Love Her Dresses…How To Dress Like Nadine Leopold
If there's one thing Nadine Leopold's style stands out for, it's its classic flair and seductive presentation. The high fashion model not only dresses spectacular on the runway, but off duty as well. It's not always everyday that you find both something sultry and timeless in the same garment. From the longest of gowns to the shortest of mini dresses, the fashionista is an icon when it comes to dressing. Luckily, snagging her style isn't much of a challenge with all of the summer options on the market. More importantly, dressing for the next occasion on your calendar won't take much time at all with a similar piece like these. Scroll to discover our favorite pieces from your favorite designer brands—all inspired by Nadine Leopold's style.
Nadine Leopold's Iconic Dress Style
You can't possibly snag Nadine Leopold's style without trying one of her sequin looks. If there's anything Nadine loves in her dresses, it's shape and texture. From sparkling sequins to faux leather, texture brings any old outfit some real power. All it takes is a simple detail like this or silhouette to get all eyes on you. And as for Nadine's wardrobe, it's no wonder you're here looking for inspiration. That's also why we're loving the PANKAJ & NIDHI Slim Mini Dress and the 16ARLINGTON Velo Bandeau Leather Midi Dress. While they're not technically considered hidden gems at first sight, we'd say they are. These two designer pieces are the best for snagging the Nadine Leopold's dress. And with just simple accessories like her ensembles, you can snag her head-to-toe looks!
Shop Nadine Leopold's Dress Style
ULLA JOHNSON Lilia Ruffled Cotton-lace Maxi Dress

$

1,195

16ARLINGTON Velo Bandeau Leather Midi Dress

$

1,445

RAMY BROOK Chain-Trim Ryder Handkerchief Dress

$

425

AMANDA UPRICHARD Annalise Dress

$

202

V. CHAPMAN Nigella Dress

$

395

NBD Hollywood & Vine Mini Dress

$

178

HOUSE OF HARLOW 1960 x REVOLVE Aubrey Slip Dress

$

238

AMANDA UPRICHARD x REVOLVE Stassie Dress

$

233

DODO BAR OR Julie Sequin-embellished Mini Dress

$

634

SOLACE LONDON Lennox Sweetheart-neck Dress

$

439

PANKAJ & NIDHI Slim Mini Dress

$

260

ENDLESS SUMMER Patchwork Of My Dreams Mini Dress

$

88

BALMAIN Sleeveless Draped Mini Dress

$

2,695

AMANDA UPRICHARD Susannah Dress

$

216

DEREK LAM 10 CROSBY Lexi Sequin Sarong Dress

$

650
Venture Out Into Nadine's Closet
Besides all of the glitz and glamour, Nadine Leopold has a whole lot more to offer when it comes to the dresses in her closet. Sometimes you'll find her in a fairly simple, basic piece—but form fitting, of course. There's nothing quite like solid colored dress you can wear just about anywhere and wear with anything. Better yet, bodycons are a versatile style you can style as you please. If you're on the market for a dress that gives more than just an average LBD vibe, then you might want to give the NBD Hollywood & Vine Mini Dress a try. While most would scroll on past a hidden gem like this, we believe it definitely deserves a chance in anyone's wardrobe. Easy to style and bring around, you'll find that Nadine Leopold's dress style fits quite nicely with the designer basics as well.
Get The Look: Kat Jamieson Dress Style