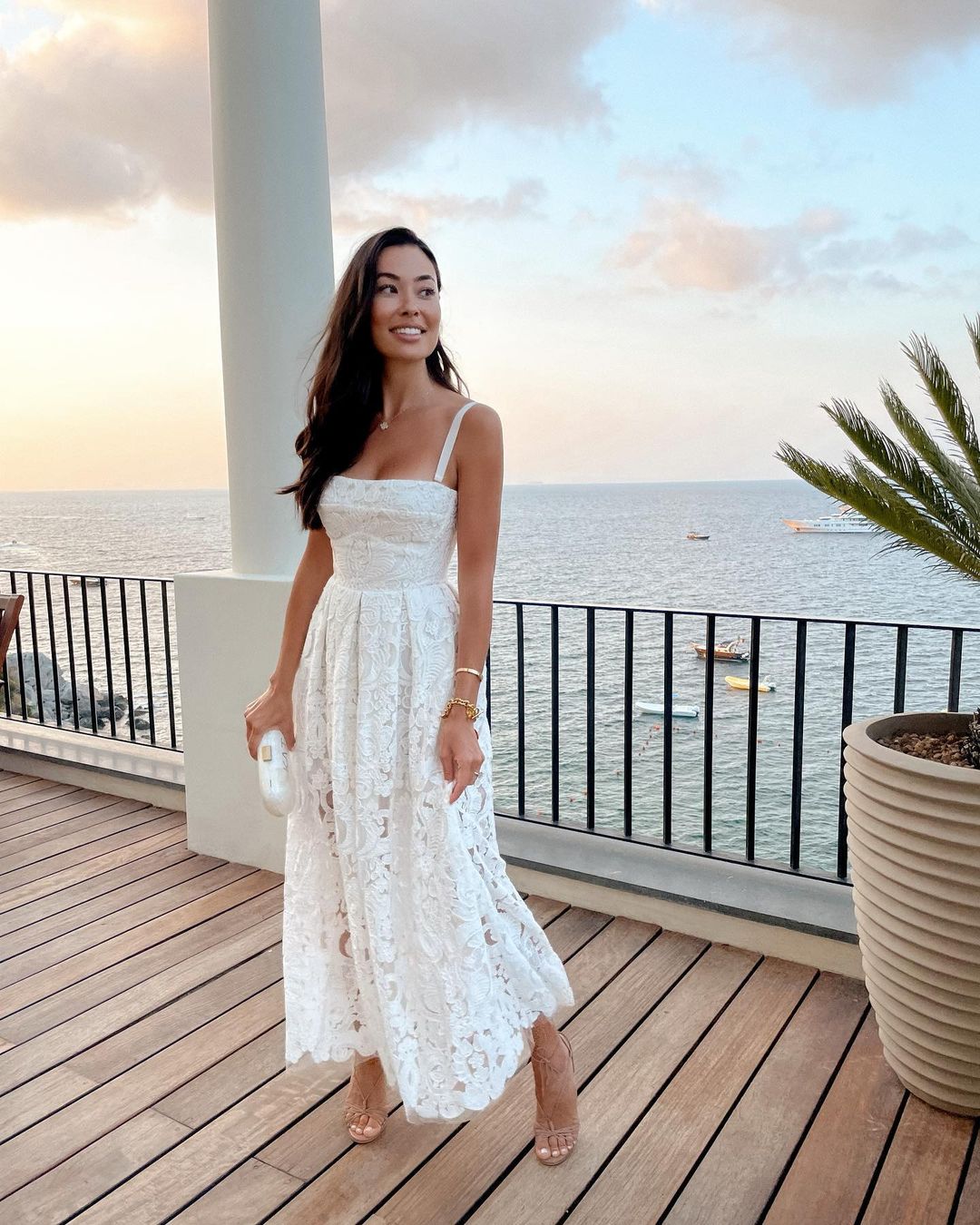 Get The Look: Kat Jamieson Dress Style
@KATJAMIESON / INSTAGRAM
Get The Look: Kat Jamieson Dress Style
For summer soirées to bridal showers and everything in between, this perfect Kat Jamieson dress (or at least one very similar!) belongs in your closet. Happily, we've been able to track down 15 gorgeous white designer dresses in similar styles you'll be just as eager to own. From Elie Saab and Self Portrait to Charo Ruiz and Rococo Sand, our edit is brimming with stunning silhouettes for your summer plans!
Kat Jamieson Inspired Midi's
Whether you're all about hosting like our style star or need a dress to attend an event, you can never go wrong with a midi look inspired by this unforgettable Kat Jaimeson dress! Therefore, we're all about the guipure lace-trimmed maxi by Elie Saab right now. Its scalloped v-neckline is both sultry and chic, meanwhile, the fitted bodice with wide shoulder straps is eternally flattering. Additionally, this dress, like Kat's, has a beautiful a-line skirt that flares out from the waist for a must-have 50s-inspired silhouette. So, you can simply add heels or flats to this dress and look flawless either way!
Meanwhile, if you're feeling a designer boho aesthetic for summer, the long georgette dress by Rococo Sand couldn't be more perfect! Firstly, it has the most beautiful v-neckline with decorative eyelet trim. Secondly, the banded waist with an asymmetric peplum style hem is undeniably beautiful. In fact, it also matches perfectly with the handkerchief style hemline of this dress' floaty ankle-length skirt. Therefore, we recommend adding heeled white sandals to show it off every chance you get!
Shop The ELIE SAAB Guipure Lace-trimmed Embroidered Cotton-blend Maxi Dress
ELIE SAAB Guipure Lace-trimmed Embroidered Cotton-blend Maxi Dress

$

3,690
White Designer Dresses That Accentuate Your Waist
One of the many reasons we adore this Kat Jamieson dress? It's super flattering and so easy to wear! Therefore, we're also looking at dresses like the belted maxi sun dress by Asos Design to elevate our closets. This striking midi silhouette is a must-have. That's all thanks to its defined waist complete with an adjustable belt, corset-style bodice with a sweetheart neckline, and the floaty mid-length skirt with a sultry thigh-high split. So, add this dress to your cart now and prepare to be surprised in more ways than one. Firstly, at how pretty and versatile it is no matter which shoes you pair it with. Secondly, by that super low price tag!
Speaking of dresses too pretty to pass up – the Spiral mini skater dress by Alaia is another! First, we're swooning over the unique circle bra cups reminiscent of summery seas shells. Secondly, the V-shaped straps, cut-out bodice, all-over pleated detailing and cute flared skirt are simply irresistible. So, pair this dress with cute white heels and prepare for an endless stream of compliments!
Shop Kat Jamieson 's Style
ROCOCO SAND Long Georgette Dress

$

645

SELF-PORTRAIT Tiered Broderie-anglaise Cotton Midi Dress

$

510

CHARO RUIZ IBIZA Corazon Floral-embroidered Cotton-blend Dress

$

228

LPA Priscilla Midi Dress

$

238

WAIMARI Romano Midi Dress

$

450

MARQUES'ALMEIDA Asymmetric Cotton Macramé Midi Dress

$

772

CIAO LUCIA Brigida Tiered Front-Tie Midi Dress

$

385

BB DAKOTA BY STEVE MADDEN Madison Sleeveless Maxi Dress

$

39

ALAïA Spiral Seam Cutout Mini Skater Dress

$

3,030

JOSLIN + Net Sustain Liana 2.0 Tiered Ruffled Striped Gauze Maxi Dress

$

430

LOST + WANDER Island Picnic Tiered Cotton & Linen Sun Dress

$

128

ASOS Belted Maxi Sun Dress

$

55

MARTA FERRI Portofino Embroidered Cotton Dress

$

2,495

RIVER ISLAND Eyelet Cotton Slip Dress

$

88

ELIE SAAB Guipure Lace-trimmed Embroidered Cotton-blend Maxi Dress

$

3,690