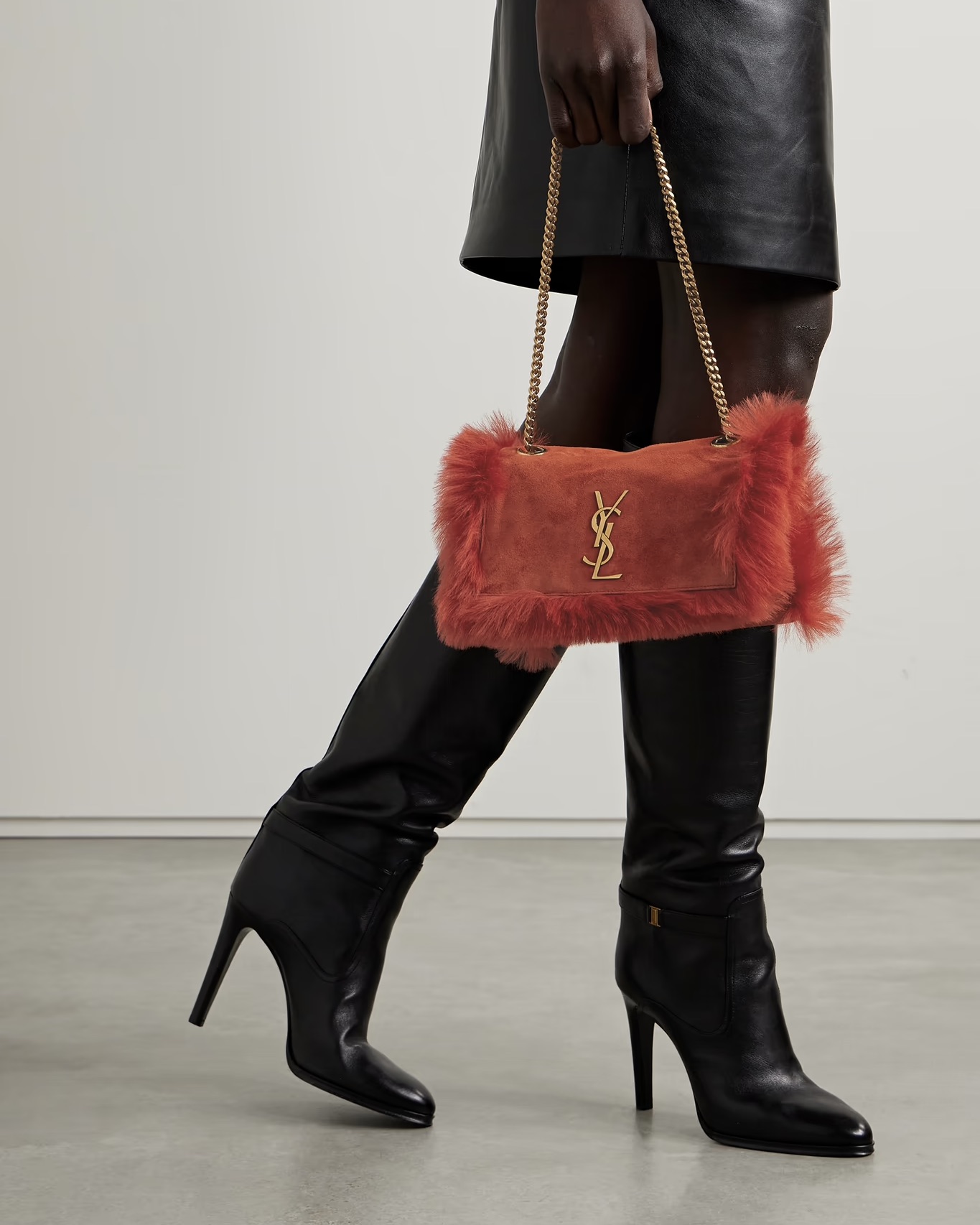 SAINT LAURENT
Trend Alert: Red Color Bags Are Fall-Winter's Hottest Accessory
As the leaves begin to change color rapidly, it's time to embrace one of the season's most striking trends: red color bags. This accessory isn't just an addition to your outfit; it's a statement piece that can transform your entire look. If red dresses aren't your go-to, there's no need to miss out on this fan favorite hue. Additionally, a stunning red bag can and will do the trick, adding that dash of confidence that every fashion-forward woman craves. Ready to find yours? Let's dive into the world of these fiery accessories and discover how they're set to dominate the fall-winter fashion scene.
Red Color Bags Are Always In
When it comes to style, red color bags are never-ending favorites. They're a timeless classic that effortlessly elevates any ensemble–whether pants or dresses. Think about it: a sleek, red bag against a backdrop of neutral tones or even a monochromatic outfit. Looks like these are notorious for being showstoppers, and now it's your turn to take the title. Whether you're rocking a casual daytime look or stepping out for a night on the town, a red bag is the ultimate accessory. Not to mention, it's the best way to make a bold, unforgettable impression.
For example, the BALMAIN Blaze Patent-leather Clutch Bag will undoubtedly turn heads. If you don't usually work with bolder accessories, you don't need to worry. Red being a classic color makes is 10x easier to pair with your favorite looks. However, if you also happen to love black, white, or neutrals—you're in luck. There's no better accent than red color bags to take your wardrobe to the next level.
The Shades Are Endless
While we love red color bags, we know that they're not one-size-fits-all. Additionally, as a color, red is a world of shades waiting to be explored. From deep burgundies to vibrant cherry reds, there's a shade for every personality and occasion. This diversity is an advantage, especially when you're looking to complement your red lipstick and enhance your skin's natural radiance.
One piece leaning towards the cooler end is the LOEFFLER RANDALL Auzeen Woven Velvet Clutch. On the other hand, the MARNI Prisma Triangle Leather Shoulder Bag is much warmer. The beauty of red color bags lies in their adaptability, effortlessly sliding into any style narrative you're weaving. Their ability to inject vibrancy into any outfit is unparalleled—especially when matching the coolness or warmness of your ensemble. In a world of ever-changing fashion, red color bags remain an enduring statement. And if you don't own one yet, now is your time.