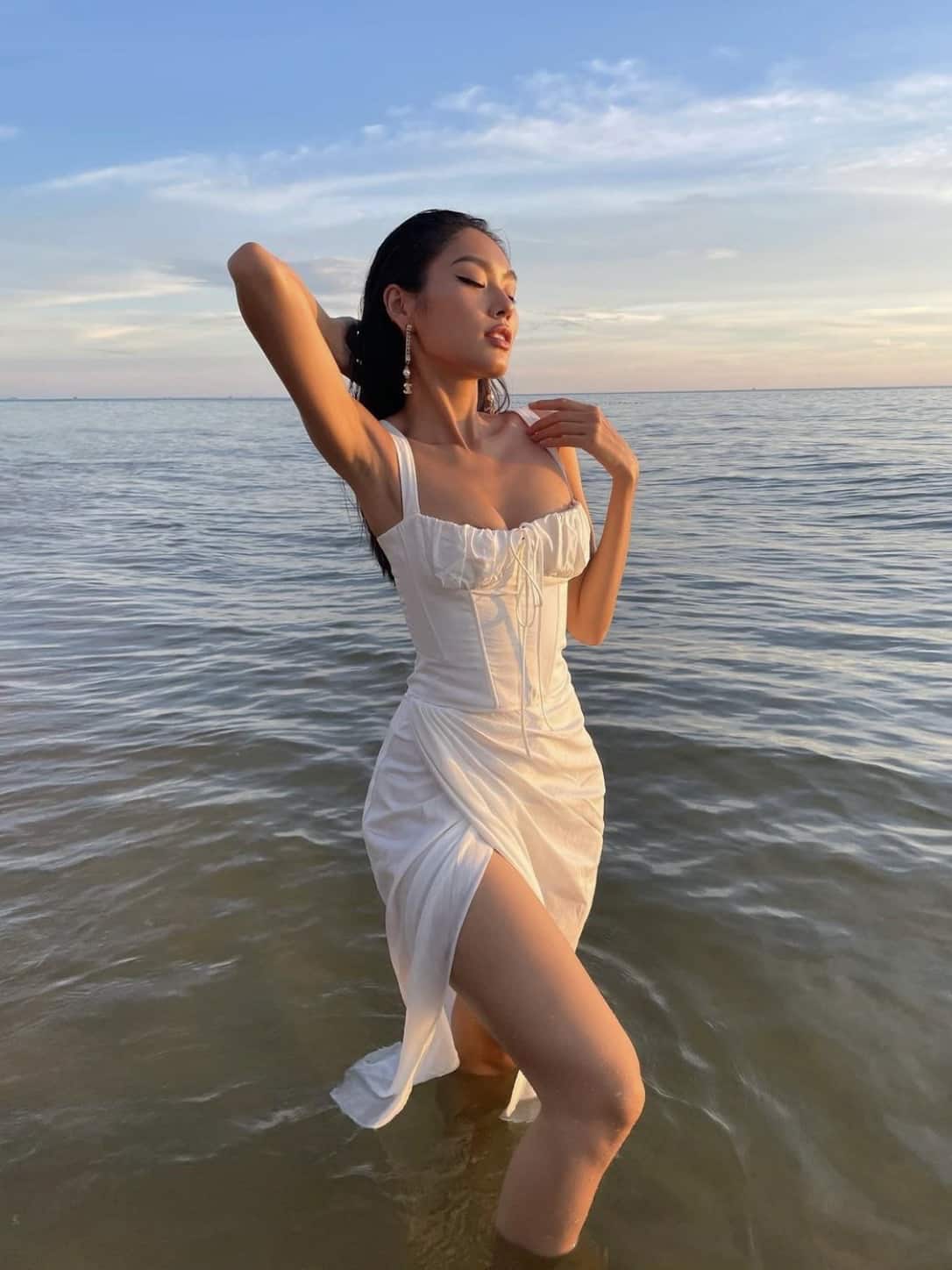 Get The Look: Thao Nhi Le Dress Style
@thaonhile / Instagram
Get The Look: Thao Nhi Le Dress Style
If there's one thing Thao Nhi Le's style is, it's graceful. No matter what she manages to pull together and put on, she knows how to make just about anything look angelic. While lighting might be to credit, we have to give her style some praise. And with summer on the way shortly, it only makes sense to make her look your #1 source of inspiration for the season. If it's not the perfect time of year to snag the look and style it with your favorite accessories, we don't know what is. Pair it with a luxury designer handbag and pair of heeled sandals for an out-of-ocean look Thao won't miss out on either. Scroll to explore our favorite 15 looks from the world's leading online stores inspired by Thao Nhi Le herself!
Capture Thao Nhi Le's Dress Look
One detail about Thao Nhi Le's dress that we can't miss is its waist-cinching corset. While bigger and better is the theme of the summer season, you can never really go wrong with a cinched waist. After all, it shapes for a silhouette every girl can feel confident in–every day of the season. The DOLCE & GABBANA Cotton Stretch Strapless Corset Dress and the REBECCA VALLANCE Bridal Francine Crêpe Bustier Midi Dress are the ultimate pieces to capture Thao's chic look. Without having to go over the top, these two options are the perfect balance between a small waist and roomy skirt. Who said you couldn't have both? With these two, you certainly can, and snagging Thao Nhi Le's outfit has never been easier.
Shop The ANTHROPOLOGIE Textured Knit Midi Dress
ANTHROPOLOGIE Textured Knit Midi Dress

$

170
A Summer Stable With A Twist
If Thao Nhi Le's dress is good for anything (although we think everything), it's summer. With the season on the way, it only makes sense to stock up on all the white dresses a girl can find. However, that doesn't have to mean solid white. Because you can expect everyone to wear the same thing, why not mix it up a little? That's why we couldn't pass on sharing the V. CHAPMAN Mia Dress with you. As a great alternative to Thao's chic ensemble, this dress is versatile in many ways than one. From just a casual day by the sun to your next formal outing, this piece has your back. Simply style it with your favorite dainty jewelry accessories to capture Thao Nhi Le's iconic look!
Shop Thao Nhi Le's Dress Style
ASTR THE LABEL Gaia Dress

$

94

FAITHFULL THE BRAND Tayari Cutout Shirred Linen Midi Dress

$

299

STELLA MCCARTNEY Crepe Midi Dress

$

1,895

REBECCA VALLANCE Bridal Francine Crêpe Bustier Midi Dress

$

675

FAITHFULL THE BRAND Francesca Midi Dress

$

299

SAYLOR Elin Dress

$

341

DOLCE & GABBANA Cotton Stretch Strapless Corset Dress

$

3,895

REFORMATION Rutherford Smocked Organic Cotton-blend Midi Dress

$

248

V. CHAPMAN Mia Dress

$

485

BAILEY 44 Maive Dress

$

188

LIKELY Abella Dress

$

248

POLO RALPH LAUREN Evlyn Floral Cotton Day Dress

$

298

LAVISH ALICE Off-The-Shoulder Corset Dress

$

230

UO Clementine Smocked Midi Dress

$

79

BRONX AND BANCO Mademoiselle Bridal Midi Dress

$

805