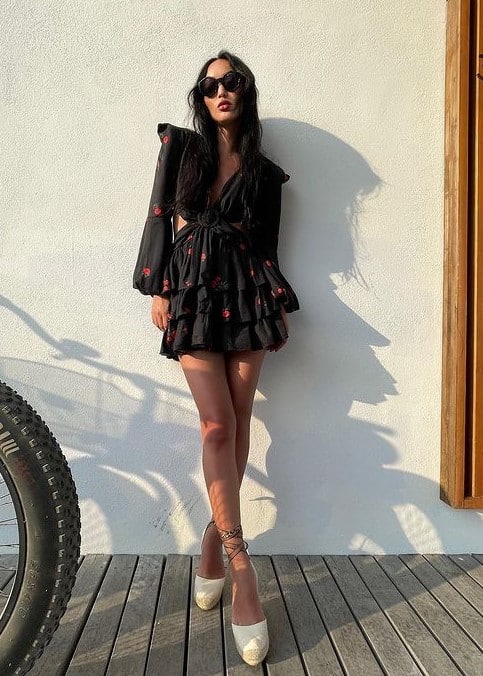 Get The Look: Korlan Madi Dress Style
@KORLANMADI / INSTAGRAM
Get The Look: Korlan Madi Dress Style
Thanks to this stunning Korlan Madi dress, you can call off the search for the perfect warm-weather mini! This swoon-worthy LBD is perfect for dressing up or down, has the cutest floral print, and is eternally flattering to boot. What more could you want?! Now, since we sadly don't have access to her closet, we've been on the lookout for dresses remarkably similar to this one. Luckily, our favorite designers have more than delivered! Keep scrolling and discover must-have designs from Bardot, Michael Kors, Reformation, and more. No matter which dresses you pick, you're bound to feel like fashion royalty!
The Perfect Printed LDB
When it comes to LBD's, we've found few that are prettier than this Karlan Madi dress. Firstly, it has the most beautiful contrasting floral print. Secondly, the long sleeves, shoulder ruffles, and cut-out waist are all right on-trend. Luckily, so we can feel just as stylish, dresses like the pleat mini dress by Asos Design exist! Its cute square neckline and puffed sleeves are simply adorable. Meanwhile, the floral print, tiered skirt, and cut-out waist are super similar to our style crush's dress! Add heels for an evening look, or team it with flats for a dressy day ensemble.
Meanwhile, the Cherry print smocked mini dress by English Factory is essential for summer! It has gorgeous red florals to contrast the black background. Additionally, the square neckline and short puffed sleeves are ideal for this time of year. Team yours with flats, slides, or boots during the daytime. Then, simply add heels for a cute after-dark ensemble!
Shop The HEMANT AND NANDITA Quilted Dress
HEMANT AND NANDITA Quilted Dress

$

336
Little Black Dresses To Elevate Your Summer Evening Lineup
There's no denying that this Korlan Madi dress was made for spring and summer evenings. Therefore, we plan on replicating the look this season with the quilted dress by Hemant and Nandita. Its plunge v-neckline is beautifully sultry. Additionally, it has long sleeves with strong shoulders, a defined bow-tied waist, and a tiered skirt. All of which ideally replicate our dream dress! Add this to your lineup for guaranteed best-dressed guest status no matter where you are!
Alternatively, if you'd rather wear a dress like this sans print, we recommend the Londyn pleated cut-out dress by Jonathan Simkhai. Its v-neckline and double cut-out waist are beautiful and undeniably sultry. Additionally, the all-over pleating gives this dress a super chic, designer edge. Style yours with black heels for a classic all-black fit. We highly recommend the Olie 105 lace-up suede sandals by Aquqzzura!
Shop Korlan Madi's Style
ENGLISH FACTORY Cherry Print Smocked Mini Dress

$

110

JOSLIN STUDIO Celia Organic Cotton Trapeze Shirt Dress

$

445

AZEEZA Silk Smocked Ruffled Long-Sleeve Fit-And-Flare Mini Dress

$

995

SAINT LAURENT Rose Jacquard Sheath Mini Dress

$

2,690

CINQ À SEPT Ethel Puff-Sleeve Tiered Mini Dress

$

395

TOCCIN Pleated Puff-Sleeve Mini Dress

$

395

IN THE STYLE Liberty Puff Sleeve Mini Dress

$

58

ASOS Pleat Mini Dress

$

80

BARDOT Harlow Long Sleeve Babydoll Minidress

$

139

ZIMMERMANN Silk Wrap Mini Dress

$

595

JONATHAN SIMKHAI Londyn Pleated Cut Out Dress

$

595

REFORMATION X NET SUSTAIN Kenzi Stretch-organic Cotton Poplin Mini Dress

$

284

HEMANT AND NANDITA Quilted Dress

$

336

ASOS Chiffon Mini Dress

$

70

MICHAEL KORS Clip Dot Tiered Dress

$

175