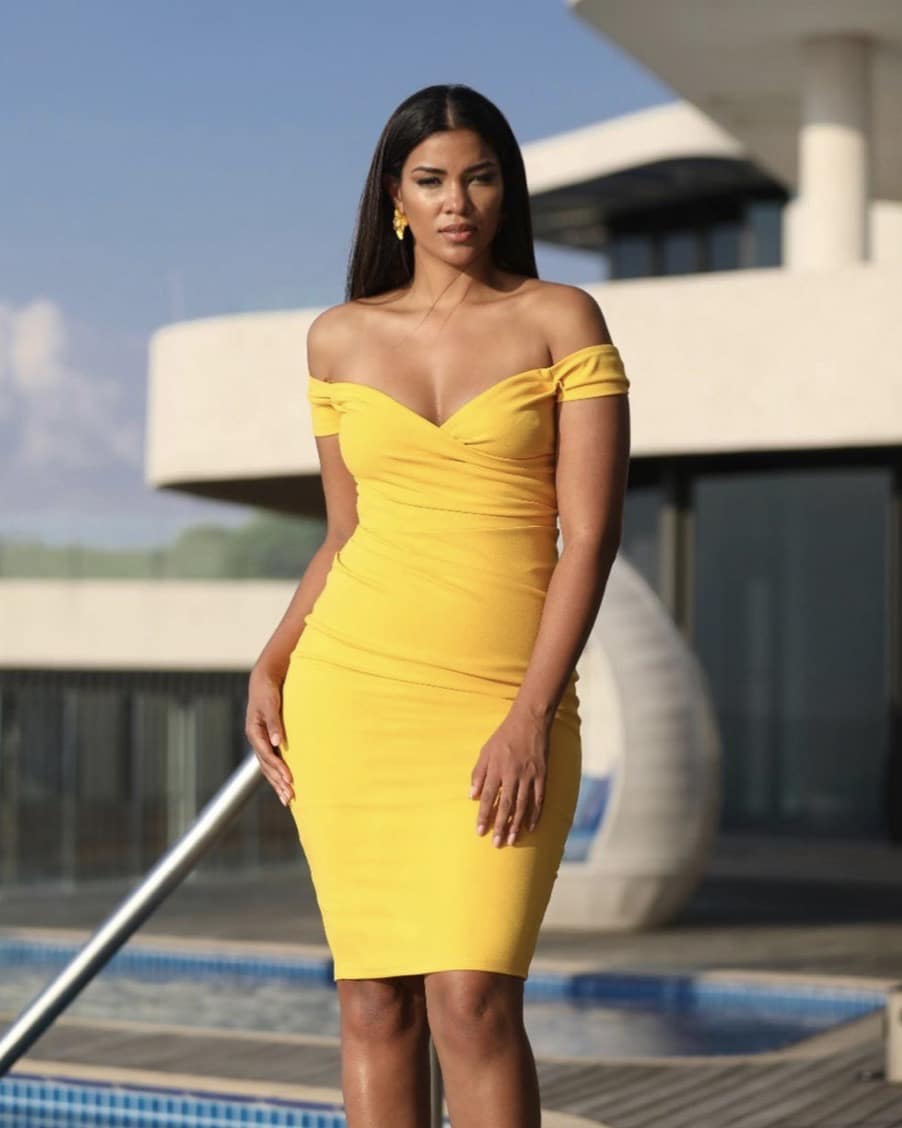 Get The Look: Sasha Lee Laurel Dress Style
@SASHALEELAUREL / INSTAGRAM
Get The Look: Sasha Lee Laurel Dress Style
If there's one thing to notice about Sasha Lee Laurel's dress, it's its lovely sunny yellow color. While a timeless favorite in the spring and summer seasons, yellow is also a trending color for this fall and winter. Sasha has always been known to effortlessly wear the latest trends, but this source of inspiration is perfectly timed considering the arrival of fall. Paired with neutrals or metallics like Sasha's gold jewelry, you too deserve an ensemble like this. Luckily, there are numerous options inspired by the fashionista's exquisite taste. No matter your preference, you'll find a piece out there for you. Sasha Lee Laurel's dress style isn't all that hard to find, especially not in this radiant color.
Sasha Lee Laurel's Sunny Dress
When taking a first glance at Sasha Lee Laurel's dress, it's hard to articulate just what we love about it. Is it the radiant yellow shade? Is it the silhouette? Honestly, it might just be both. The fashionista's midi bodycon is a must-have for the fall. While not a surprise, bodycons are easily one of the best silhouettes for the season. While most dresses steer away from showing too much skin, tighter pieces are a great way to channel your femininity or give your wardrobe a little more sultriness. That's exactly why we couldn't pass on the HOUSE OF CB Bandage Midi Dress. While seemingly just another bodycon dress, its yellow color is what sets it apart. Great for color blocking or simply celebrating the festive fall season, your closet can't go wrong with the Sasha Lee Laurel dress.
Shop The HOUSE OF CB Bandage Midi Dress
HOUSE OF CB Bandage Midi Dress

$

269
Yellow In All Of Its Facets
If there's anything you love about the Sasha Lee Laurel dress, we'll guess that it's probably its beautiful sunny color. While the bodycon piece is certainly gorgeous for the season, it's not the only way to wear the trendy fall color. If you're not all that comfortable in a skin-tight dress, there are many other silhouettes to enjoy. The TOVE Sofia Silk Front-Twist Midi Dress and the LOVERS AND FRIENDS Violet Midi Dress are perfect alternatives for any style.  Easy to style and certainly beautiful to wear for the season, these two pieces are great for just about anyone. Even if you're not that much of a fan of yellow, it's hard to want to pass these ups. The Sasha Lee Laurel dress does a good job of attracting even those who despise the color—it's just impossible to!
Shop Sasha Lee Laurel's Dress Style
HOUSE OF CB Soren Keyhole Cutout Mermaid Midi Dress

$

269

SER.O.YA Claude Dress

$

425

LOVERS AND FRIENDS Violet Midi Dress

$

168

GAUGE81 Lica Short Dress

$

600

TOVE Sofia Silk Front-Twist Midi Dress

$

895

REBECCA VALLANCE Rosanna Strapless Crepe Midi Dress

$

495

NORMA KAMALI Strapless Fishtail Dress

$

195

SELF-PORTRAIT Inserted Lace Knit Dress

$

465

HOUSE OF CB Bianca Satin Pleated Corset Midi Dress

$

285

LAVISH ALICE Draped Off-The-Shoulder Midi-Dress

$

180

LIKELY Kimmie Sleeveless Cut Outs Dress

$

248

SERGIO HUDSON Trumpeted Wool-Blend Midi Dress

$

1,545

DOLCE & GABBANA Crepe Midi Dress

$

2,445

ANTHROPOLOGIE Elyse Bias Slip Midi Dress

$

120

EMILIA WICKSTEAD Cleo Cutout-back Crepe Dress

$

1,795