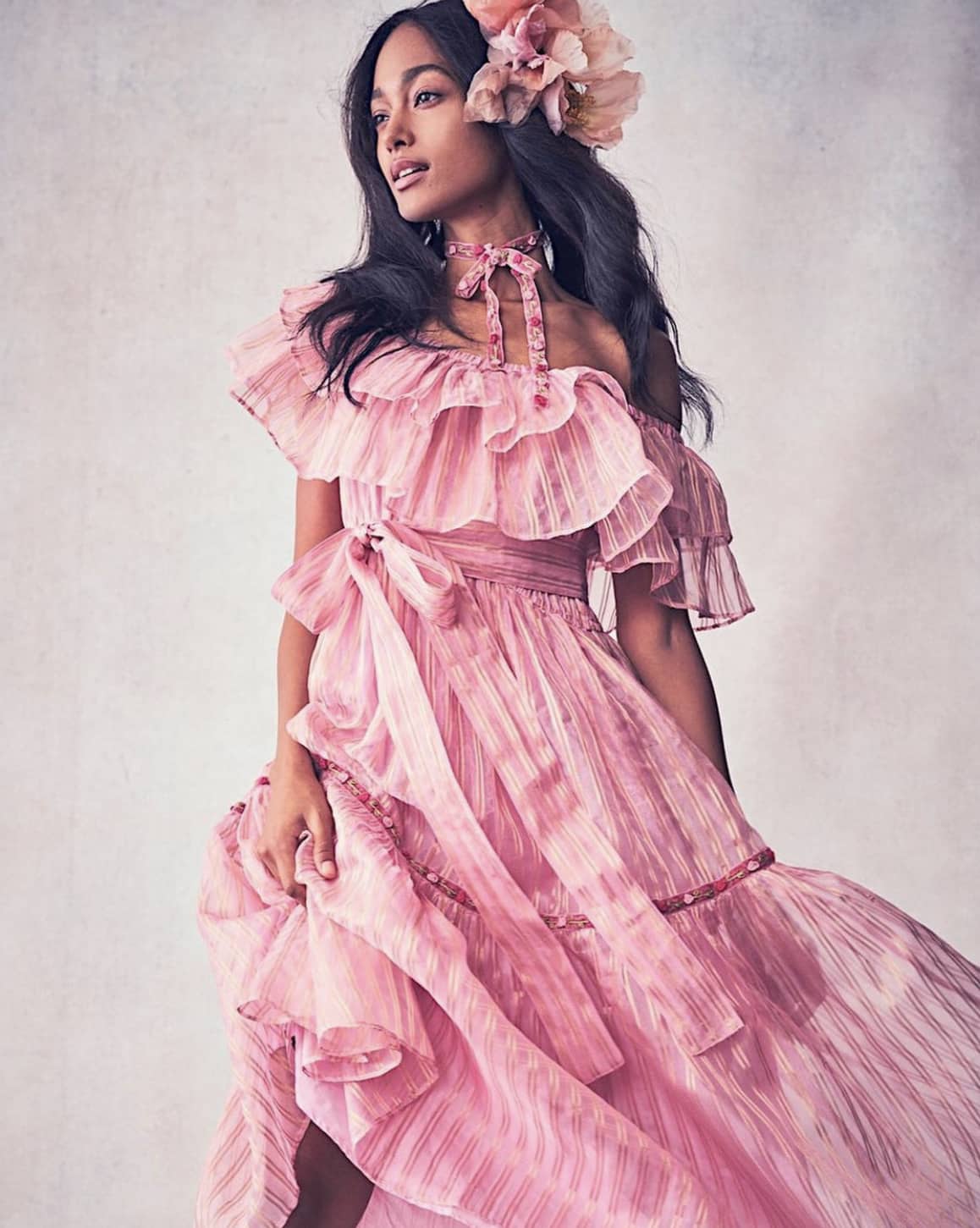 Get The Look: Mélie Tiacoh Dress Style
@MELIETIACOH / INSTAGRAM
Get The Look: Mélie Tiacoh Dress Style
If there's one thing about Mélie Tiacoh's dress style we love, it's that you'll find a whole lot of LoveShackFancy in her wardrobe. As one of our (and her!) favorite brands, this iconic Mélie look is perfect for not only summer, but all year round. Getting your hands on a versatile piece you know you'll love for time to come is sometimes a challenge. But rather than sticking with the usual LBDs and other neutral pieces for the summer season, this vibrant pink ensemble is refreshing. Instantly upgrade and uplift your mood with the slip of the perfect designer piece. This Mélie Tiacoh dress is just what you need to lead the rest of the summer in style! Scroll to uncover our favorite 15 similar pieces, alone with one great one you can't miss!
Mélie Tiacoh's Style is Effortless
A major part of Mélie Tiacoh's dress and summer style is being effortless. After all, who wants to spend the summer heat trying to figure out what to wear? With numerous options to explore, you can look put together in the matter of just seconds, and Mélie's style is the best inspiration for it! The LOVESHACKFANCY Teresa Gown and the LOVESHACKFANCY Miri Shirred Floral-print Cotton-voile Midi Dress are our absolute favorites for the rest of the season. Easy to style, wear and enjoy, they're both equally as refreshing and feminine. Better yet, they give off the impression that you put more effort into your ensemble than you actually probably did. That's the power of LoveShackFancy—stylish trends for a fraction of the price. You can never go wrong with following Mélie Tiacoh's style!
Shop The LOVESHACKFANCY Teresa Gown
LOVESHACKFANCY Teresa Gown

$

895
Get The Look In Other Styles
You don't have to look too far to snag Mélie Tiacoh's dress style. While pink is great to have, there are plenty of other LoveShackFancy pieces to adore. Coming in almost every vibrant and pastel shade, your wardrobe is longing for such versatile pieces. And with so much fun to be had in the coming months, you'll be thankful you found Mélie Tiacoh to begin with! That's exactly why we had to share the LOVESHACKFANCY Sharelle Gown with you. The pastel teal color of this similar piece is all you need to catch some attention. Snagging Mélie's style for this iconic look isn't much of a challenge when we're in the season of maxi dresses. That's just another reason to take advantage of the opportunity while it lasts! Mélie Tiacoh's style awaits you.
Shop Mélie Tiacoh's Dress Style
LOVESHACKFANCY Kamber Maxi Dress

$

845

ENDLESS SUMMER Santa Maria Maxi Dress

$

128

LOVESHACKFANCY Ruffled-detail Mini Dress

$

572

LOVESHACKFANCY Jivera Dress

$

575

GIAMBATTISTA VALLI Off-The-Shoulder Silk Georgette Mini Dress

$

4,180

DELFI Sofia Dress

$

420

LOVESHACKFANCY Rhoda Maxi Dress

$

795

LOVESHACKFANCY Marinette Ruffled Maxi Dress

$

695

LOVESHACKFANCY Sharelle Gown

$

895

LOVESHACKFANCY Madsen Dress

$

695

LOVESHACKFANCY Miri Shirred Floral-print Cotton-voile Midi Dress

$

475

SCANLAN THEODORE Belted Linen Midi-Dress

$

700

LOVESHACKFANCY Norma Midi Dress

$

595

LOVESHACKFANCY Chantelle Maxi Dress

$

695

LOVESHACKFANCY Sharelle Gown

$

895