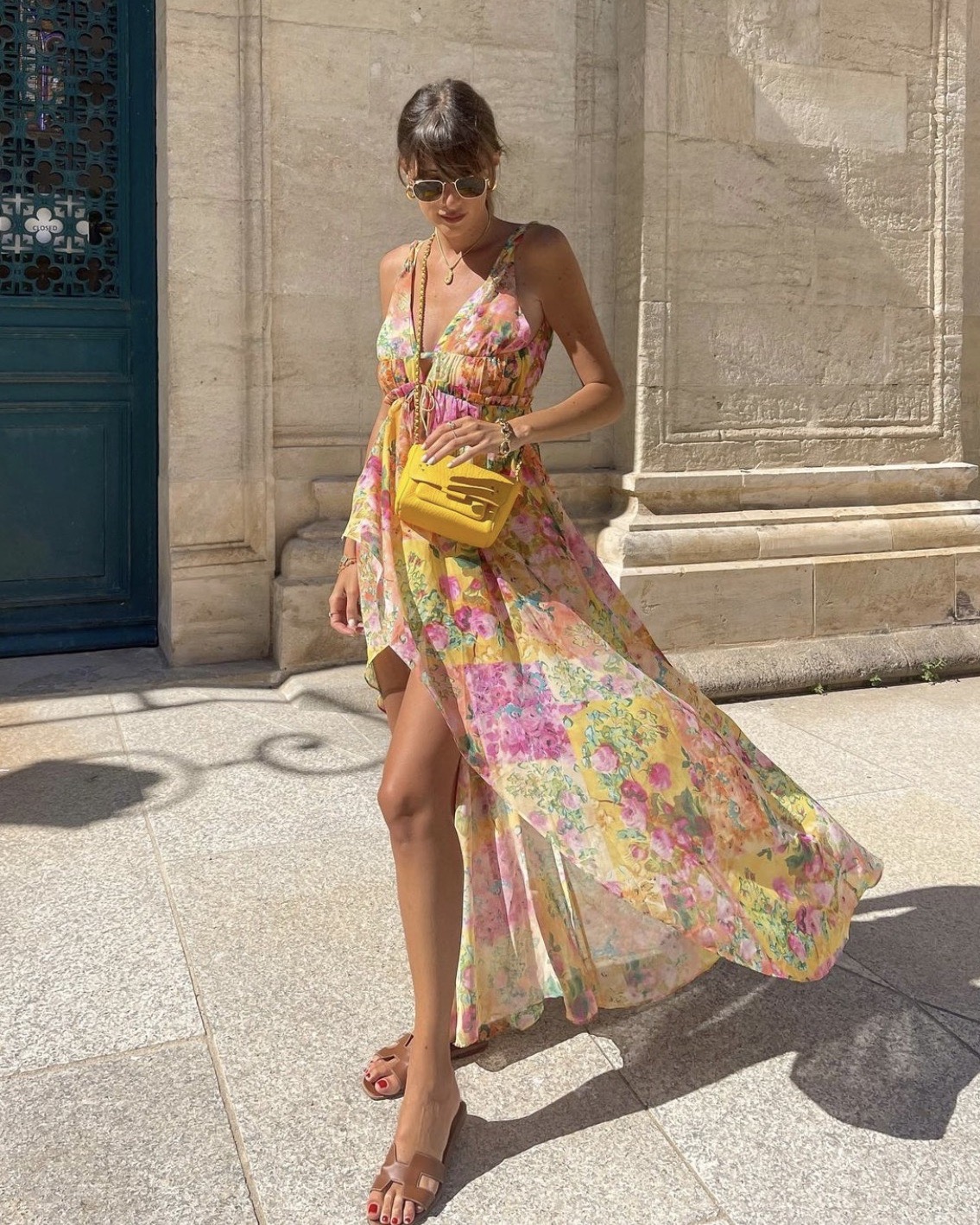 Get The Look: Julie Sergent Ferreri Dress Style
@JULIESFI / INSTAGRAM
Get The Look: Julie Sergent Ferreri Dress Style
This Julie Sergent Ferreri dress is just one of those pieces  you can't possibly live without this season. With summer in full fledge and fashion on the rise, there's too much on the market to give up on style. And let's face it, you can never go wrong with another floral dress in your closet, no matter how many you may already own. Luckily, Julie is one of those influencers who never compromises her comfortability for style, giving us the best of both worlds. So if there's one piece you should wear all season long, make it this one at the bare minimum. Especially paired with neutral designer sandals like Julie, you might just find florals to be your next favorite print of the season and beyond. Scroll to shop our top 15 looks inspired by the iconic Julie Sergent Ferreri dress!
Julie Sergent Ferreri's Style Is A Winner
It's hard not to look at the Julie Sergent Ferreri dress and not fall in love. While there are certainly a million floral dresses on the market, they simply don't compare. Luckily, getting your hands on a unique floral piece for the summertime isn't all that hard with all of these options. Plus, the AMANDA UPRICHARD Fae Dress and the ACLER Catherine Pleated Floral Midi Dress are just waiting on the market for your choosing. And the best part is that this is just the start to what Julie Sergent Ferreri's style has to offer. All season long, you can expect the fashionista to deliver her utmost best styles just in time for your next summer affair. No matter where you're headed or what your plans are, you can always count on Julie for fashion inspiration!
Shop The ALICE + OLIVIA Gloria Chain Strap Pleated Maxi Dress
ALICE + OLIVIA Gloria Chain Strap Pleated Maxi Dress

$

995
Floral Print Takes The Cake
If there's one detail about Julie Sergent Ferreri's dress that we can't get over, it's the obvious floral print. Delicate and feminine, it's easily one of the best patterns we've seen for a dress on the market. While we agree it can be hard to find an exact match, there's plenty of floral patterns to go around. Just take the SAU LEE Frieda Dress and the L'AGENCE Stefani Botanical Button-Front Maxi Dress for example—true seasonal winners. While they certainly are different in color, they're still unique floral pieces you must try at least once. Better yet, they're also versatile enough to wear just about anywhere. When it comes to Julie Sergent Ferreri's dress, the 'when' and 'where' don't really matter—only style does.
Shop Julie Sergent Ferreri's Dress Style
L'AGENCE Stefani Botanical Button-Front Maxi Dress

$

450

CHELSEA28 Faux Wrap Floral Midi Dress

$

99

SABINA MUSAYEV Florian Chiffon Halter Maxi Dress

$

380

ACLER Catherine Pleated Floral Midi Dress

$

495

HEMANT AND NANDITA Teien Caftan Dress

$

351

AMANDA UPRICHARD Fae Dress

$

238

SAU LEE Frieda Dress

$

395

MISA LOS ANGELES Dakota Dress

$

420

MISA LOS ANGELES Diana Dress

$

460

ZIMMERMANN Pattie Asymmetric Floral Dress

$

752

LOST + WANDER Sunset Fleurs Floral Tiered Sleeveless Dress

$

118

1.STATE Floral High-Low Faux Wrap Dress

$

99

VICI COLLECTION Floral Print Chiffon Maxi Dress

$

89

SACHIN & BABI Floral-print Sunny Dress

$

578

KOBI HALPERIN Vanessa High-Low Floral-Print Dress

$

648