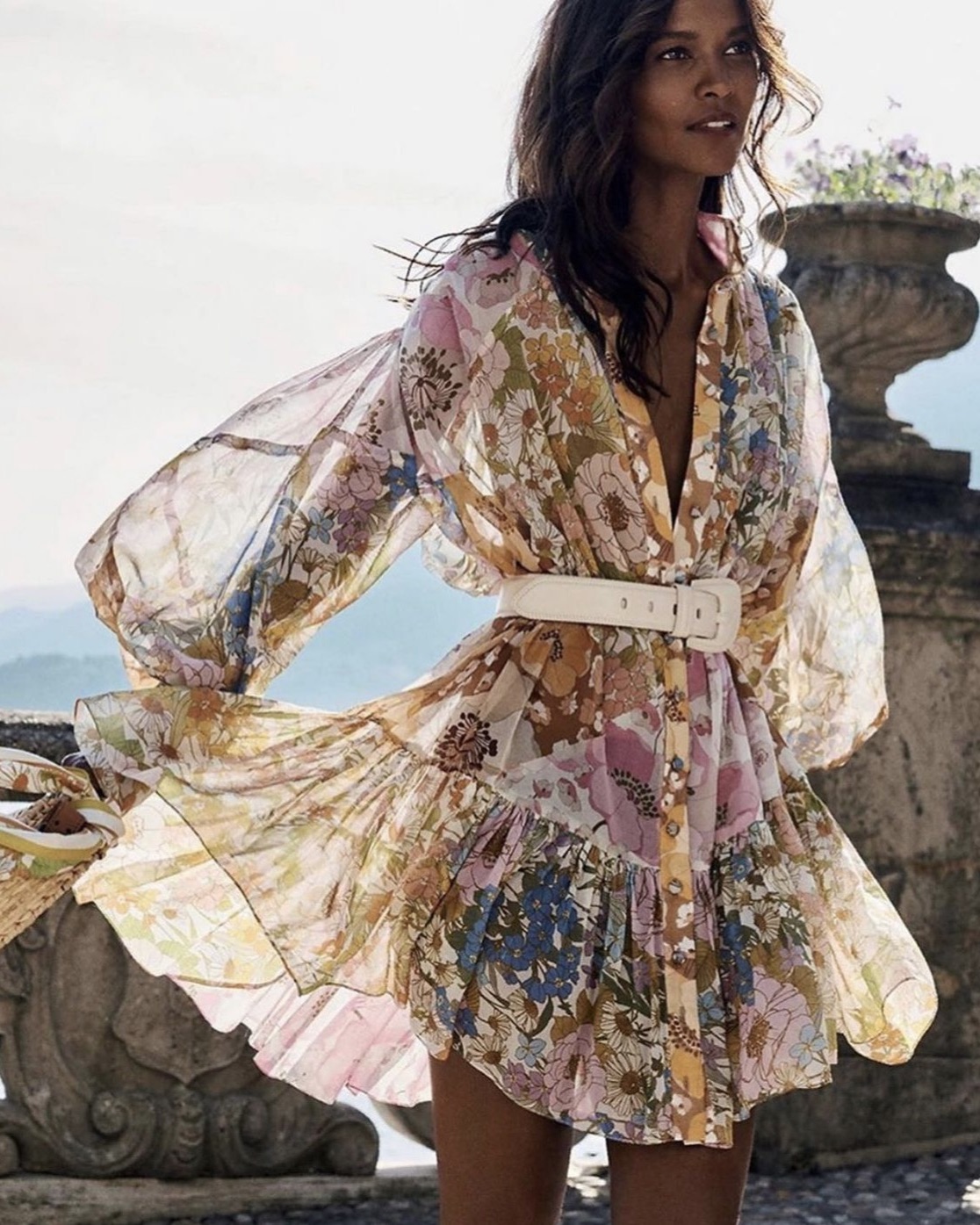 Get The Look: Liya Kebede Dress Style
@liyakebede / Instagram
Get The Look: Liya Kebede Dress Style
As the fashion seasons gracefully move from summer to fall, Liya Kebede's dress style is one to turn to. The style icon continues to set trends ablaze with her exquisite taste. Liya isn't celebrated just for her supermodel status but also her remarkable fashion choices. In particular, we couldn't get enough of her floral mini look that effortlessly encapsulates the transition from summer to fall. This is the very embodiment of the art of seasonal dressing, and we're here to stock up on all of the dupes. Not to mention, florals are in the lead for fall trends. Just when you think the botanical prints will stay in August, they don't. Keep scrolling to uncover Liya Kebede's dress style and how you can recreate this fun look for yourself.
Perfect For The Month: Liya Kebede's Dress Style
August, a month of transformation, mirrors the essence of Liya Kebede's dress style. As the sun-kissed days of summer gradually fade into fall's gentle breeze, it's the perfect time to elevate your wardrobe. With pieces that bridge the gap between the two seasons, you won't have an issues finding the pieces for you. Liya's choice of a floral mini resonates with the spirit of this transitional period. With its autumn-inspired color palette and playful silhouette, this ensemble becomes the ideal canvas for showcasing your own style evolution.
The best style to get the look is undoubtedly the ZIMMERMANN Luminosity Printed Linen Midi Dress. Paired with sandals today and boots next month, you'll be happy you got your hands on another floral piece. Similarly, the ZIMMERMANN Luminosity Liftoff Silk Blend Mini Dress is great for capturing the look. As the days grow shorter and a hint of fall hues emerges, allow Liya Kebede's dress style to inspire your August attire. There's no wrong in embracing more florals—even if the next season is on its way.
Shop The ZIMMERMANN Luminosity Printed Linen Midi Dress
ZIMMERMANN Luminosity Printed Linen Midi Dress

$

995
Drop The Length For Fall
While Liya Kebede's dress style is indeed for summer, we understand that fall often calls for a shift in proportions. The good news is that you can effortlessly capture the essence of her floral look while adapting it to the evolving season. Opt for a midi length with the same enchanting floral motif. Not only does this allow you to enjoy the print, but it also will help keep warm on breezy days. This subtle alteration pays homage to the changing climate while preserving the spirit of the ensemble.
For example, the ALICE + OLIVIA Jasmina Floral Ruffle Gown is just perfect. Paired with a cardigan or worn on its own, styles like these make dressing for fall effortless. Not to mention, a piece like this will also work for next summer, too. Liya's mini dress may symbolize the lively days of summer, but your fall wardrobe can echo the same floral charm through a midi silhouette.
Shop Liya Kebede's Dress Style
ISABEL MARANT Aliniza Gathered Floral Silk Mini Dress

$

1,190

HEMANT AND NANDITA Charu Long Dress

$

626

ZIMMERMANN Luminosity Floral Silk Minidress

$

995

ZIMMERMANN Luminosity Liftoff Silk Blend Mini Dress

$

1,600

ALESSANDRA RICH Printed Silk Twill Midi Dress

$

2,190

ZIMMERMANN Floral-print Crepe Dress

$

1,850

ALICE + OLIVIA Jasmina Floral Ruffle Gown

$

1,895

ZIMMERMANN Luminosity Linen And Silk Midi Dress

$

1,150

JOIE Haruko Ruched Floral-Print High-Low Midi Dress

$

398

ZIMMERMANN Ruffled Floral-print Silk-crepon Midi Dress

$

1,150

ZIMMERMANN Belted Floral-print Silk-twill Mini Shirt Dress

$

995

SALONI Jolene Floral-print Silk-georgette Dress

$

700

ISABEL MARANT White Ilanka Minidress

$

640

ZIMMERMANN Floral Long Sleeve Silk Dress

$

1,350

SPELL Flora Midi Dress

$

259