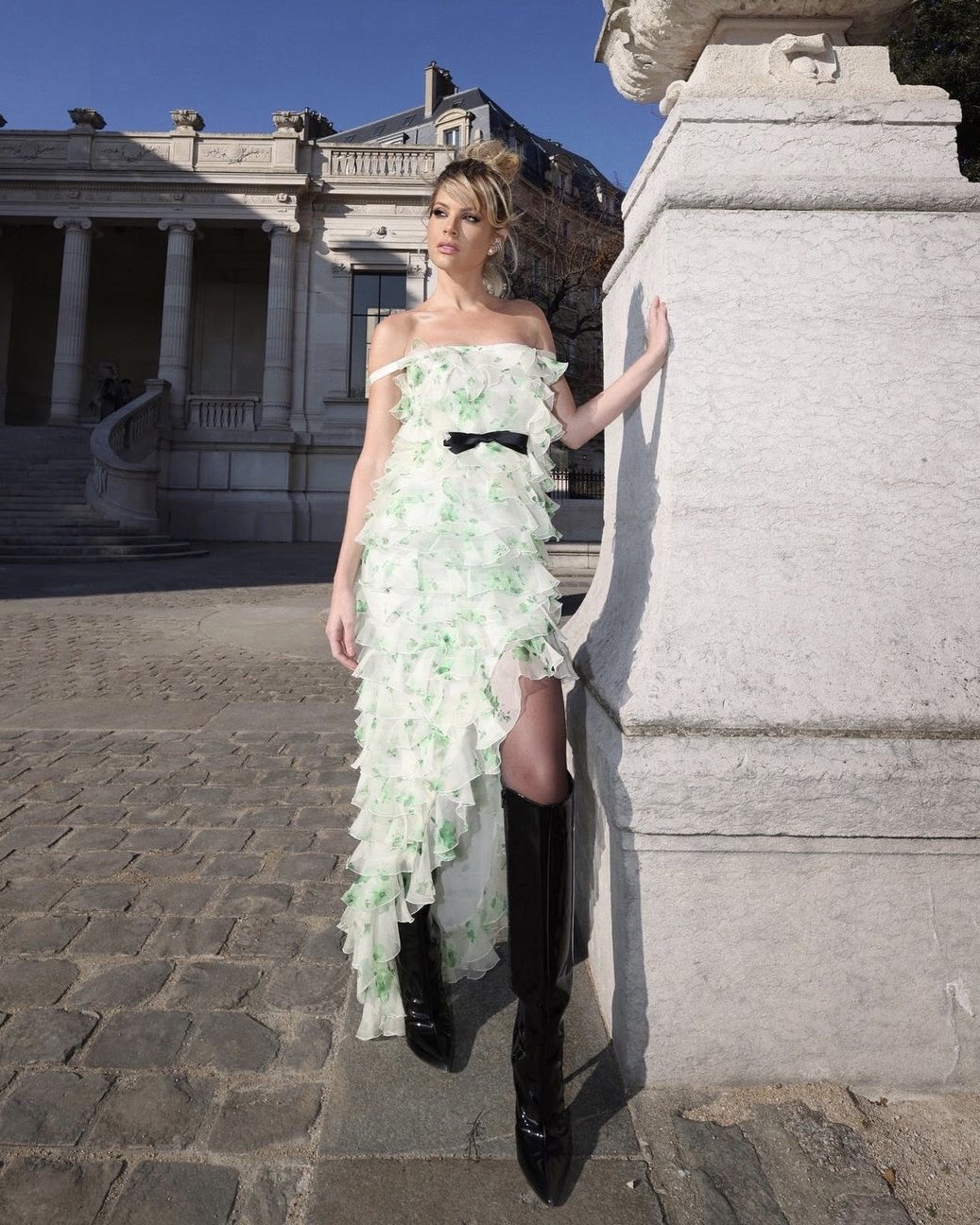 Get The Look: Lala Trussardi Rudge Khouri Dress Style
@lalarudge / Instagram
Get The Look: Lala Trussardi Rudge Khouri Dress Style
If there's one word to describe Lala's dress style, it's brilliant. Many influencers tend to steer away from ruffled dresses, but this fashionista isn't skipping over the opportunity to look stylish. Perfected for the spring season, this piece is one of those looks you don't bring out just anywhere. But even if you don't have something to look forward to on your calendar, you can always count on this look to pull you through. Lala's flirty dress style is proof that ruffles really can be glamorous—even in pastel floral prints.
Lala Trussardi Rudge Khouri's Flirty Dress Style
Let's be honest, Lala Trussardi Rudge Khouri's dress style is iconic—even if the shot callers haven't named her one yet. While we've been seeing a whole lot of ruffles of all kinds, this particular style is a trend safe haven for the year. Not too thick and not too thin, most women would find no issue at all wearing this one. It's quite the piece when it comes to various climates, and Lala seems to pull it off perfectly in the current month of March.
If you're feeling this ruffle style, look no further than the MAC DUGGAL Cutout Tiered Gown and the MAC DUGGAL Sequin Tiered Ruffle Gown. Similar to Lala's incredible look, these pieces are effortlessly chic no matter what you pair them with. And the extra bonus that comes with wearing ruffled dresses is getting to relax after getting dressed. Lala's dress style won't require all that much styling to pull together a five-star head-to-toe ensemble.
Shop The MAC DUGGAL Cutout Tiered Gown
MAC DUGGAL Cutout Tiered Gown

$

498
Save The Ruffles, Try a New Color
Lala Trussardi Rudge Khouri's dress style sure is a stunner, but it does seem incredibly hard to dupe. However, this year, finding a luxury ruffled dress isn't all that hard. While Lala's piece is quite unique, there are many other options that can help you get closer to snagging her look. And luckily, you don't need a special occasion to step out in these upcoming recommendations.
Our particular favorite gem is the BCBGMAXAZRIA Corset Tulle Gown. Flirty like Lala and fashion-forward, this dress is perfect for the upcoming spring season. Similarly, the GEISHA DESIGNS Ruffled Strapless Dress might just be our go-to piece for when we need something stellar. While Lala is a good example at making your dress your statement piece, these two will do just the same. Only this time, you can be flexible with color. But with this Lala Trussardi Rudge Khouri dress style, you won't have to worry about color scarcity—2023's ruffles come in all forms.
Shop Lala Trussardi Rudge Khouri's Dress Style
JOHANNA ORTIZ Balladist Floral-jacquard Halterneck Maxi Dress

$

2,283

ZIMMERMANN Wonderland Frill Midi Dress

$

995

BETSY & ADAM Tiered Ruffle Tulle Gown

$

299

GEISHA DESIGNS Ruffled Strapless Dress

$

398

MAC DUGGAL Sequin Tiered Ruffle Gown

$

698

CAROLINE CONSTAS Karina Gown

$

995

ENGLISH FACTORY Smocked Cotton Gown

$

130

ALICE + OLIVIA Emelia Belted Ruffled Silk Maxi Dress

$

795

MAC DUGGAL Embroidered Tiered Cutout Dress

$

598

BCBG MAXAZRIA Strapless Tiered Ruffled Gown

$

628

BCBG MAXAZRIA Corset Tulle Gown

$

498

YUMI KIM Baxter Maxi Dress

$

248

MAC DUGGAL Floral Appliqué High-Low Gown

$

798

PANKAJ & NIDHI Ruffled Flutter-Sleeve Dress

$

298

MAC DUGGAL Floral Ruffled A-Line Gown

$

498