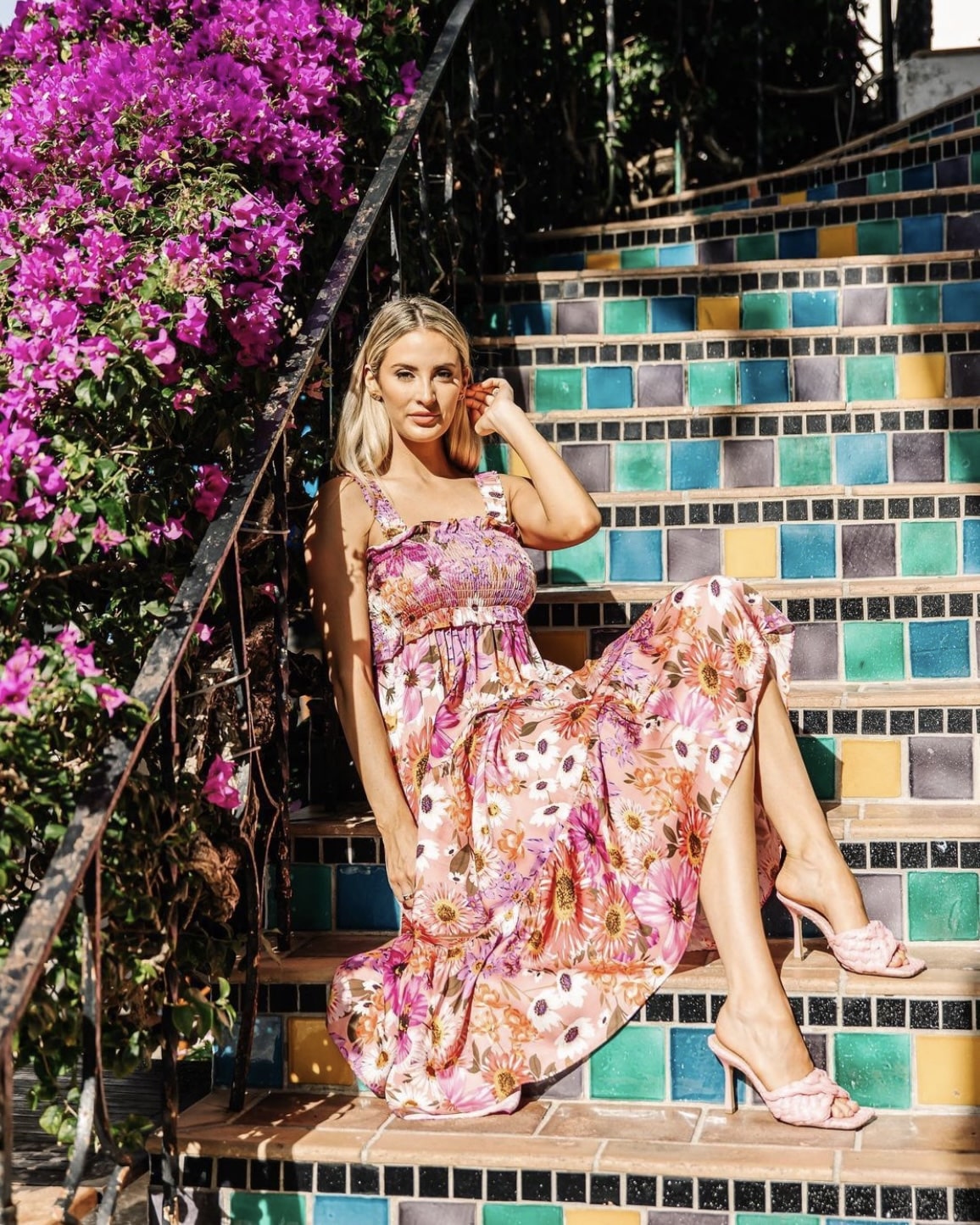 Get The Look: Emily Jackson Dress Style
@EMILYIJACKSON / INSTAGRAM
Get The Look: Emily Jackson Dress Style
There's really no better style than this Emily Jackson dress for the summertime. If there's any pattern that's perfect for the warm weather, it's floral prints. No matter their color, they easily upgrade any old dress and spark some much needed warmth. Emily's dress in particular takes advantage of the season's hot pink hues and delivers us a feminine, delicate version. Better yet, it's proven to be very easy to style, making it a great outfit for just about any occasion, especially your more formal ones. Florals are true versatile prints and 2022 is all about experimenting with patterns and colors galore. Luckily, snagging this Emily Jackson dress isn't hard. We've searched high and low for the perfect dupe. Scroll to discover our favorite looks inspired by the fashionista herself!
Pretty In Pink
If you favor this Emily Jackson dress for its pink hues, then you've come to the right place. While there are many shades of floral prints, nothing quite beats a pretty in pink dress. Especially with all the bright and lively colors trending for the summer season, why not give it some extra attention and love? That's why we just adore the HEMANT AND NANDITA Asia Kaftan Dress and the ASTR THE LABEL Pemberley Floral Ruffle Cold Shoulder Hi-lo Maxi Dress. These feminine, chic pieces work with many different accessories. White, nude, shades of pastels, or even more pink—there's a whole lot to when it comes to styling these ensembles. There isn't much more a girl could ask. With this Emily Jackson dress as our source of inspiration, there's a whole lot to do with the style, and getting ready for summer is the easiest with them!
Shop The ROCOCO SAND Leona Midi Dress
ROCOCO SAND Leona Midi Dress

$

495
Emily Jackson Dress Dupes
Not all floral patterns are decked out in pink like this Emily Jackson style. Luckily, if you're not a fan of the feminine color choice, you can still find another that suits your personal taste. From greens to yellows, florals come in all shapes and colors. The LOVESHACKFANCY Ayala Tie-shoulder Printed Cotton Midi Dress is a great example of Emily's look in a new light. The best part of capturing influencer style like this is the number of possibilities that exist. There's so much to get inspired by and not a single look can hold you hostage to a single one. And with all the options on the market for the season, capturing the Emily Jackson dress is possible in more ways than one!
Shop Emily Jackson's Dress Style
HEMANT AND NANDITA Asia Kaftan Dress

$

481

RIVER ISLAND Ditsy Floral Tie Front Midi Dress

$

84

ASTR THE LABEL Pemberley Floral Ruffle Cold Shoulder Hi-lo Maxi Dress

$

138

ALICE + OLIVIA Kia Tiered Eyelet Maxi Dress

$

795

BANJANAN Twiggy Floral Print Organic Cotton Voile Maxi Dress

$

390

ULLA JOHNSON Astrid Floral Empire Waist Midi Dress

$

1,250

SIR Constantie Linen Floral Ruched Maxi Dress

$

400

ZIMMERMANN Jude Lace-up Cutout Scalloped Floral-print Linen Midi Dress

$

695

REFORMATION Riya Cutout Floral-print Crepe Midi Dress

$

278

ASTR THE LABEL Avalee Floral Cutout Midi Dress

$

138

ML MONIQUE LHUILLIER Floral Linen Midi-Dress

$

645

LOVESHACKFANCY Ayala Tie-shoulder Printed Cotton Midi Dress

$

455

EMPORIO SIRENUSE Soleil Floral-print Cotton-voile Maxi Dress

$

712

RESA River Dress

$

198

BANJANAN Beryl Floral Sleeveless Midi Sun Dress

$

355