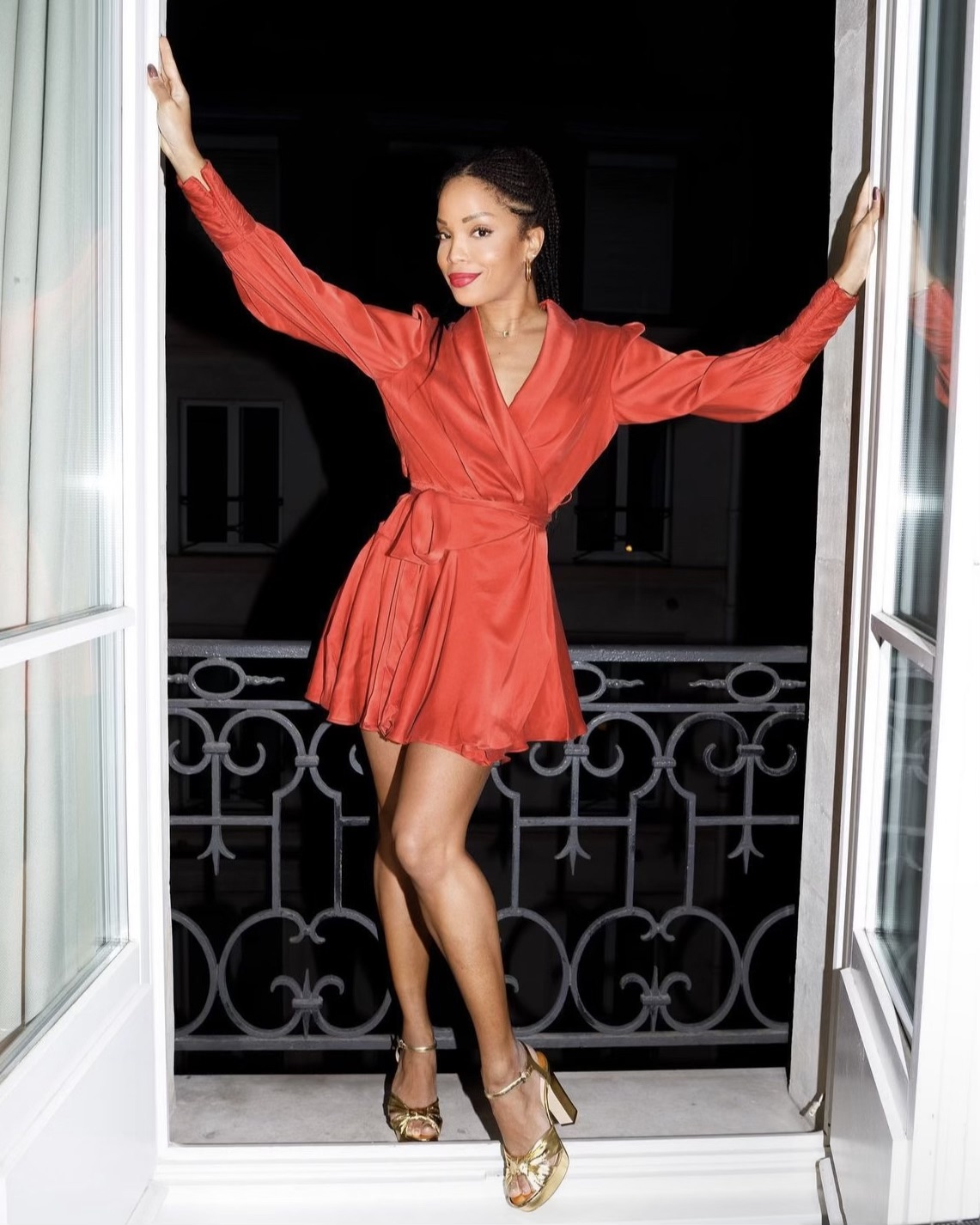 Get The Look: Ellie Delphine Dress Style
@SLIPINTOSTYLE / INSTAGRAM
Get The Look: Ellie Delphine Dress Style
Classy, elegant and chic—these are all things to describe Ellie Delphine's dress style. And even if you aren't the most elegant person when it comes to your wardrobe, you can still find joy in browsing her looks. From one dress to the next, she knows just how to make anything look good, and in the simplest way possible. Without throwing on a million accessories, each piece is elegantly minimalistic. So if you're on the market for the perfect party season or even holiday-worthy dress, you might want to give this dress a try. And the fact that it's red makes it all better—perfecting your upcoming holiday party wardrobe! Keep scrolling to discover our top 15 dupes inspired by Ellie Delphine's dress. We're sure you won't be disappointed with what you find in store!
Ellie Delphine's Iconic Red Color
If there's any detail you should recognize about Ellie Delphine's dress, it's its glamorous red color. While notoriously known for being feminine and sexy, red has increasingly grown more and more popular as the seasons go on. And as for the upcoming winter season, you definitely want to give it a go at least once. There isn't much to loose when you opt for a red dress, especially after experiencing what it's like to become the lady in red. Just take a look at the L'ACADEMIE The Janeiro Mini Dress, a true hidden gem. There aren't many classy options like this on the market, so you might want to take advantage of its presence. As for comparable options, we'd say stick with this winner. It's not everyday you come across a piece like Ellie Delphine's dress—and there's simply no better time of year to do so.
Shop The L'ACADEMIE The Janeiro Mini Dress
L'ACADEMIE The Janeiro Mini Dress

$

198
Short, Sultry & Sweet
While Ellie Delphine's dress is certainly short and sweet, it's always a great mix of sweet and sultry. When it comes to the holiday party season, there's always confusion surrounding how sultry or sweet you should take your looks. The most important factor is understanding your style and how extreme you can get away with a look. Luckily, Ellie's dress is perfectly balanced for both friendly and family occasions—especially if everyone's dressing their best. Our favorite? The SHONA JOY Lonie Long Sleeve Mini Dress and the SUSANA MONACO Ruched Bodycon Dress. While not usually your first holiday option, these offer a more relaxed approach to the occasion. You don't always need sequins and feathers to look glamorous—and Ellie Delphine'd dress certainly proves that!
Shop Ellie Delphine's Dress Style
LOVERS AND FRIENDS Benae Mini Dress

$

148

SHONA JOY Lonie Long Sleeve Mini Dress

$

380

MISA LOS ANGELES Anika Dress

$

365

SUSANA MONACO Ruched Bodycon Dress

$

198

MILLY Gizelle Ruffle Off The Shoulder Dress

$

450

MAGGY LONDON Sequin Long Sleeve Dress

$

168

ALEXANDRE VAUTHIER Ruched Stretch-Velvet Mini Dress

$

1,835

MILLY Iyla Fall Foliage Print Dress

$

450

DVF Rio Mesh Dress

$

428

CINQ A SEPT Iridescent Riva Tiered Shift Dress

$

425

SALONI Rina B Ruffled Satin-jacquard Mini Dress

$

595

MICHAEL COSTELLO x REVOLVE Mr. Gibson Mini Dress

$

188

MILLY Liv Pleated Long Sleeve Dress

$

395

BOSS Dageta Balloon Sleeve Dress

$

495

THE ATTICO Sharon Mini Dress

$

1,200