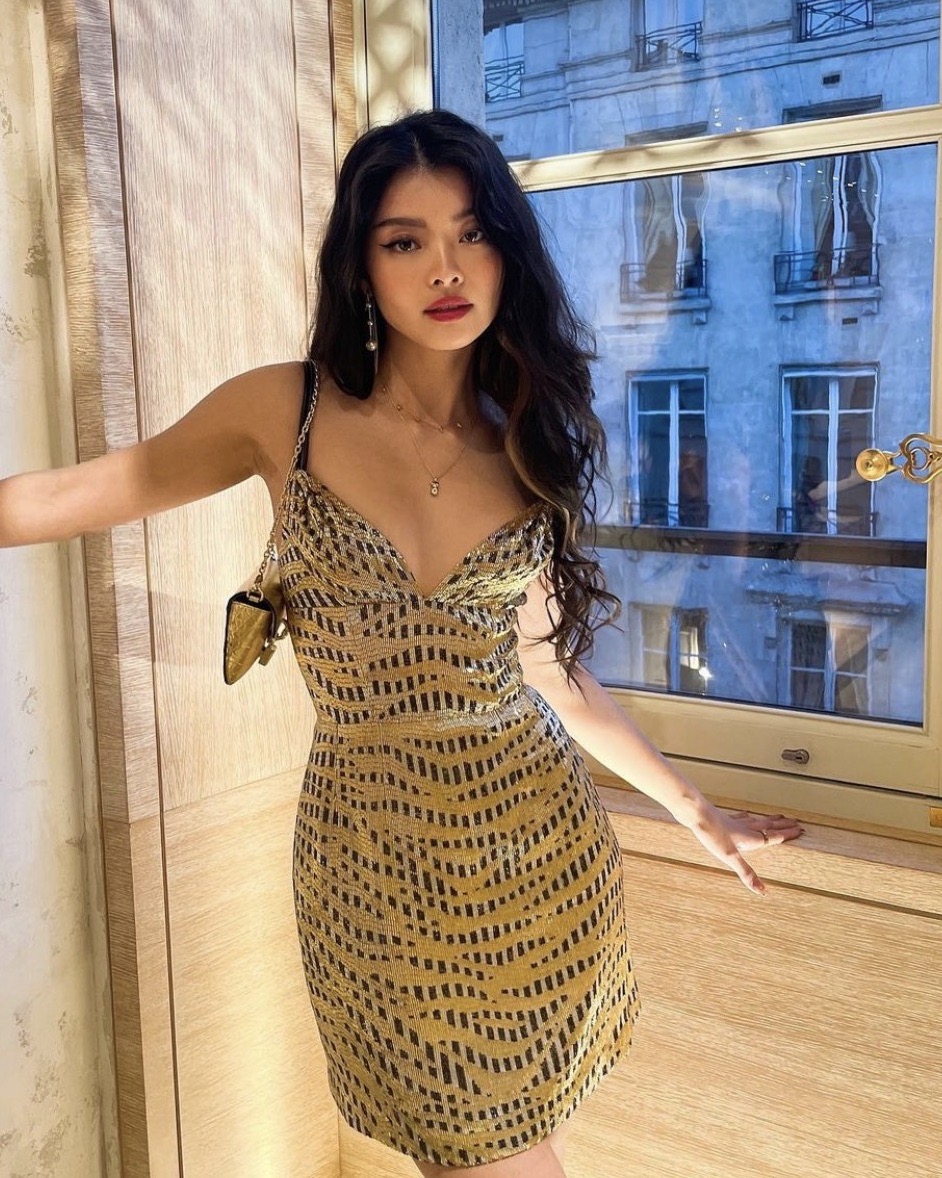 Get The Look: Caroline Hu Dress Style
@CAROLINE_HU / INSTAGRAM
Get The Look: Caroline Hu Dress Style
If there's one thing about Caroline Hu's dress style, it's that it's always iconic and it-girl ready. No matter what fad or trend comes out, Caroline is always one of the first sources of style inspiration we look to. Regardless of your personal taste, you'll soon find that she might just be yours too next time. From one dress to the next, we can't help but want each and every piece. Luckily, snagging the icon's style isn't all that hard—and this specific dress is easily within reach if you search hard enough. And after looking near and far, you too can have this golden gem in your wardrobe. As the prefect fall-to-holiday dress, we can't get enough of this Caroline Hu dress. Call it yours and keep scrolling to find our top 15 pieces inspired by the fashionista herself!
Make Gold Your Fall Color
If there's one thing you have to love about the Caroline Hu dress, it's its flashy gold color. While not a shade you would normally wear day-to-day, it's certainly one to try this fall season. Finding the exact print of this dress isn't very easy, however, you can always capture its elegance with its color. So if you're on the lookout for something truly unique, we couldn't recommend the RETROFETE Heather Dress and the MAJORELLE Nyx Dress enough. Paired with your most luxurious high heels and clutch bag, you'll be off to looking your vest best. After all, that's not all that surprising after seeing what Caroline Hu's style is capable of. This gold dress is another on a list of endless pieces we can't get over. Only, now you can own one too.
Shop The PACO RABANNE Button Down Mini Dress
PACO RABANNE Button Down Mini Dress

$

1,360
Capture Caroline Hu's Dress Style
Mini, flashy, and luxurious, Caroline Hu's dress is surely one of a kind. If you're not able to capture its essence with another piece, you can always count on other gold or mini dresses. Better yet, there's no better way to get inspired than turning that inspiration into your own work of art. If you love Caroline's piece, then you'll certainly love THE VAMPIRE'S WIFE The Mini Night Tremors Sequinned Dress and the IEENA FOR MAC DUGGAL Sequin Wrap Front Cocktail Mini Dress. These two hidden gems are definitely not the dresses you would normally buy, but they're well worth experiencing at least once. While Caroline Hu's dress was a custom one-off design by Louis Vuitton, you too can get the princess treatment with these.
Shop Caroline Hu's Dress Style
IEENA FOR MAC DUGGAL Sequin Wrap Front Cocktail Mini Dress

$

358

IEENA FOR MAC DUGGAL Sequin One-Shoulder Cocktail Dress

$

398

THE VAMPIRE'S WIFE The Mini Night Tremors Sequinned Dress

$

1,284

RETROFÊTE Heather Dress

$

485

MAJORELLE Nyx Dress

$

198

MAC DUGGAL Sequin Long Sleeve Cocktail Mini Dress

$

398

PACO RABANNE Asymmetric Ruched Lamé Mini Dress

$

750

RETROFÊTE Dionne Sequined Mini Tube Dress

$

595

RETROFÊTE Renata Sequined Open-knit Mini Dress

$

385

RETROFÊTE Mich Draped Embellished Tulle Mini Dress

$

485

AREA Strapless Draped Sequined Tulle Mini Dress

$

995

H:OURS Imogen Chainmail Dress

$

348

CAMILA COELHO Adora Mini Slip Dress

$

168

ALICE + OLIVIA Foley Curved Waist Party Dress

$

465

VERSACE Metal Mesh Sleeveless Mini Dress

$

5,275