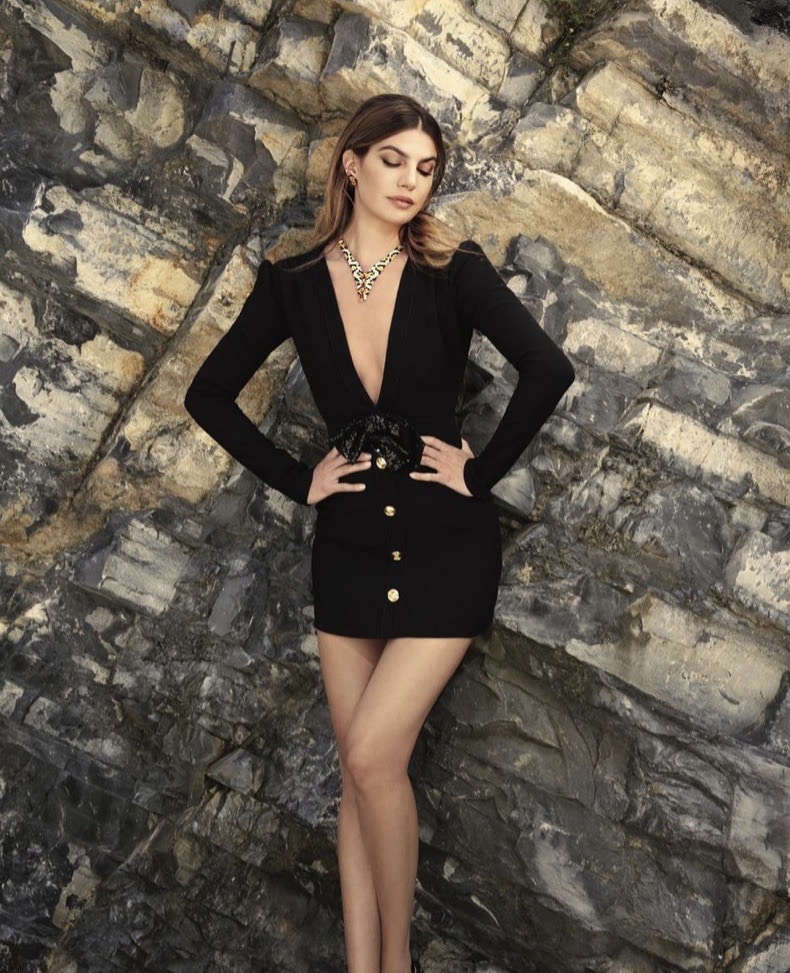 Get The Look: Bianca Brandolini Dress Style
@BIANCABRANDOLINI / INSTAGRAM
Get The Look: Bianca Brandolini Dress Style
If there's one thing Bianca Brandolini knows how to do, it's continue to surprise us. The fashionista is one of the best style influences to turn to if elegant and classic fashion is your forte. Luckily, you don't have to sift through Pinterest or her Instagram page any longer for inspiration. After deep diving through her style, we've come to the fact that this dress is most appropriate for the current times. Classic in black and sultry in cut, we could all use another LBD–especially Bianca's. So if you're on the market for something true to your style, but daring enough to surprise others, this dress might be exactly what you've been looking for. Scroll to uncover the 15 best replicas of Bianca Brandolini's dress right here!
The Classic Bianca Brandolini Style
As mentioned, Bianca Brandolini's style is a direct representation of what classic fashion is. Although taken quite literally with this dress, she's known to share her elegance across other colors too. But for this time around, however, we'll stick with the LBD. The NBD Domino Blazer Dress is easily the best piece to snag this look–especially if you're looking for something easy to style. Blazer-style dresses are easily the most versatile pieces you can dress up or down. Bianca takes the more luxurious, formal approach, but you can really tackle it how you prefer. Designed to get creative, you can pair this look with your favorite metallic and diamond accessories. Simplicity goes a long way with Bianca Brandolini's style and this designer piece is no different.
Shop The ALESSANDRA RICH Bow-detailed Cotton-poplin Peplum Mini Dress
ALESSANDRA RICH Bow-detailed Cotton-poplin Peplum Mini Dress

$

2,160
The Trendier Side Of Bianca
If you've fallen in love with this Bianca Brandolini dress, but want more color in your wardrobe, then we have just the pieces for you. Not all classic pieces needed to be either black or white. With spring here and summer soon on the way, it only makes sense to elevate your classics. That's why we couldn't leave out the ALESSANDRA RICH Padded-shoulder Polka-dot Silk-crepe Wrap Dress and the MICHAEL COSTELLO X Revolve Fena Mini Dress. They're simply the best representations of both Bianca's taste and the warm weather. After all, how many LBDs do we all have? You can certainly keep it elegant and classy without decking your wardrobe in the same color. Better yet, these colors are just as stylish and easy to style as you please. And that's thanks to Bianca Brandolini's versatile taste!
Shop Bianca Brandolini's Dress Style
ALESSANDRA RICH Bow-detailed Silk Satin-trimmed Sequined Chiffon Mini Dress

$

2,025

HOUSE OF HARLOW 1960 X REVOLVE Gerona Mini Dress

$

218

NBD Domino Blazer Dress

$

178

ALESSANDRA RICH Satin-trimmed Silk Mini Dress

$

1,780

JACQUEMUS Bahia Draped Knotted Twill Mini Dress

$

740

ALESSANDRA RICH Padded-shoulder Polka-dot Silk-crepe Wrap Dress

$

1,780

SAINT LAURENT Denim Mini Dress

$

1,790

BALMAIN Padded-shoulder Ribbed-knit Mini Dress

$

1,912

GAUGE81 Naha V-neck Mini Dress

$

570

ALEXANDRE VAUTHIER Asymmetric Lamé-jersey Dress

$

1,599

GAUGE81 Midar Gathered Recycled Sequined Tulle Mini Dress

$

880

BALMAIN V-neck Knit Mini Dress

$

2,250

RAMY BROOK Alexi Mini Dress

$

565

GAUGE81 Zarate Dress

$

520

MICHAEL COSTELLO Revolve Fena Mini Dress

$

218