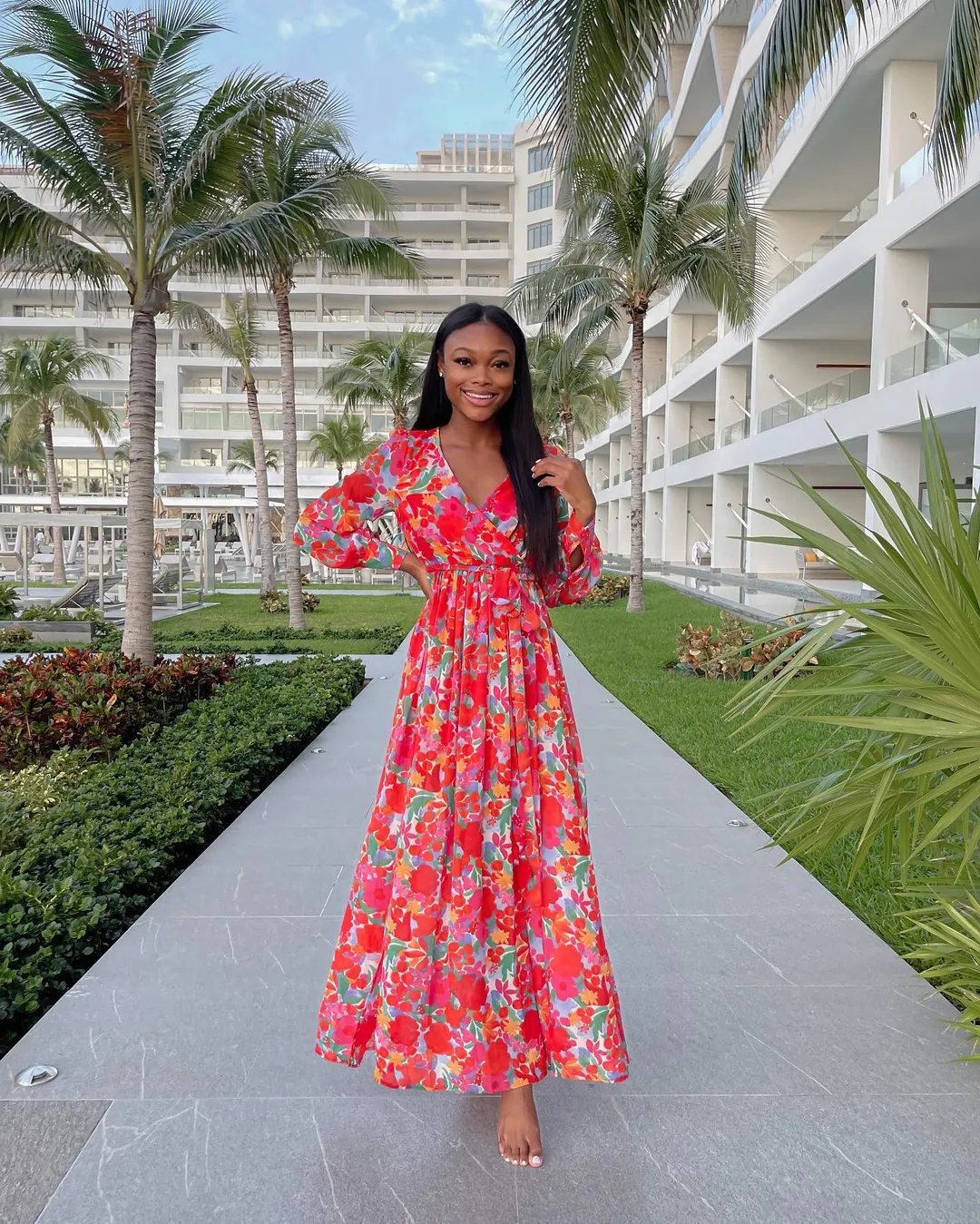 Get The Look: Brenna Anastasia Dress
BRENNA_ANASTASIA / INSTAGRAM
Get The Look: Brenna Anastasia Dress
The moment we laid eyes on this Brenna Anastasia dress, we knew we had to have it! If not this exact one, then something very similar. Luckily, after browsing through the latest creations from our favorite designers, we discovered plenty of near-identical silhouettes perfect for replicating it. With spring in full swing and summer on the horizon, we'll be living in the dresses below. All of which have been specially selected for our Brenna-inspired edit. The only question is, which one(s!) will you add to your lineup to feel like a style star this spring?!
Brighten Your Lineup With Colorful Maxi Silhouettes
It'll come as no surprise that one of the first things we noticed about this Brenna Anastasia dress was the daring red colorway! Luckily, there are plenty of equally pretty, brightly colored dresses available for you to slip into this season. For example, the Isabelle maxi dress by A.L.C. Thanks to its cut-out waist, dreamy pink and purple color palette, and an all-over floral print, this swoony-worthy dress is a must-have. Additionally, it'll elevate any vacation rotation you add it to and guarantees that choosing spring and summer evening looks will be a breeze!
Alternatively, those with their hearts set on a red dress will fall head over heels for Sea's Alessia maxi. From its elegant high neckline and puffed sleeves to the ruffled waistline and ankle-length skirt. Everything about this dress is undeniably pretty and we guarantee it'll be your new favorite the moment it's in your closet.
Shop The A.L.C. Isabelle Cutout Plunge Neck Long Sleeve Maxi Dress
A.L.C. Isabelle Cutout Plunge Neck Long Sleeve Maxi Dress

$

995
Opt For Long Sleeves & Floaty Skirts
One of the many reasons we're so taken with the Brenna Anastasia dress is because of how ideal it is for spring weather. Whilst the brightly colored hue and floral print signal brighter days, the long sleeves and floor-length skirt are perfect for cooler temps. Therefore, before the weather properly heats up, look out for dresses like the Gio midi by Rixo. Its pretty poppy print, sweetheart neckline, and long sleeves are ideal for this season. Additionally, it'll pair perfectly with sneakers for laid-back spring strolls and brunch dates too!
Meanwhile, if that flattering v-neckline and defined waist are calling out to you, we get it. It's one of the many reasons why we're so in love with the Golden hour maxi by Free People. Firstly, its plunge neckline, shirred bodice, and cropped balloon sleeves are right on-trend and too pretty to miss. Also, it's totally versatile and looks just as great with boots for spring as it will with sandals in summer. So, add it to your cart now or risk watching it sell out!
Shop Brenna Anastasia's Style
WILLOW Rosa Floral Cutout Maxi Dress

$

198

HANNAH ARTWEAR Luna Floral-print Silk-voile Wrap Dress

$

495

A.L.C. Isabelle Cutout Plunge Neck Long Sleeve Maxi Dress

$

995

SEA Alessia Floral-print Smocked Georgette Dress

$

486

RIXO Gio Dress

$

465

BRANDON MAXWELL The Ruffle Neck Maxi Dress

$

2,595

FARM RIO Long Sleeve Cotton Maxi Dress

$

245

RAHI Florence Leila Floral Print Long Sleeve Dress

$

186

FREEPEOPLE Golden Hour Maxi Dress

$

168

FREEPEOPLE Golden Hour Maxi Dress

$

168

ASOS DESIGN High Low Maxi Dress

$

130

RONNY KOBO Chevron V-Neck Maxi Dress

$

498

PATBO Rio Print Plunge Maxi Dress

$

378

POUPETTE ST BARTH Emily Floral Maxi Dress

$

386

ANTHROPOLOGIE Floral Tiered Maxi Dress

$

180