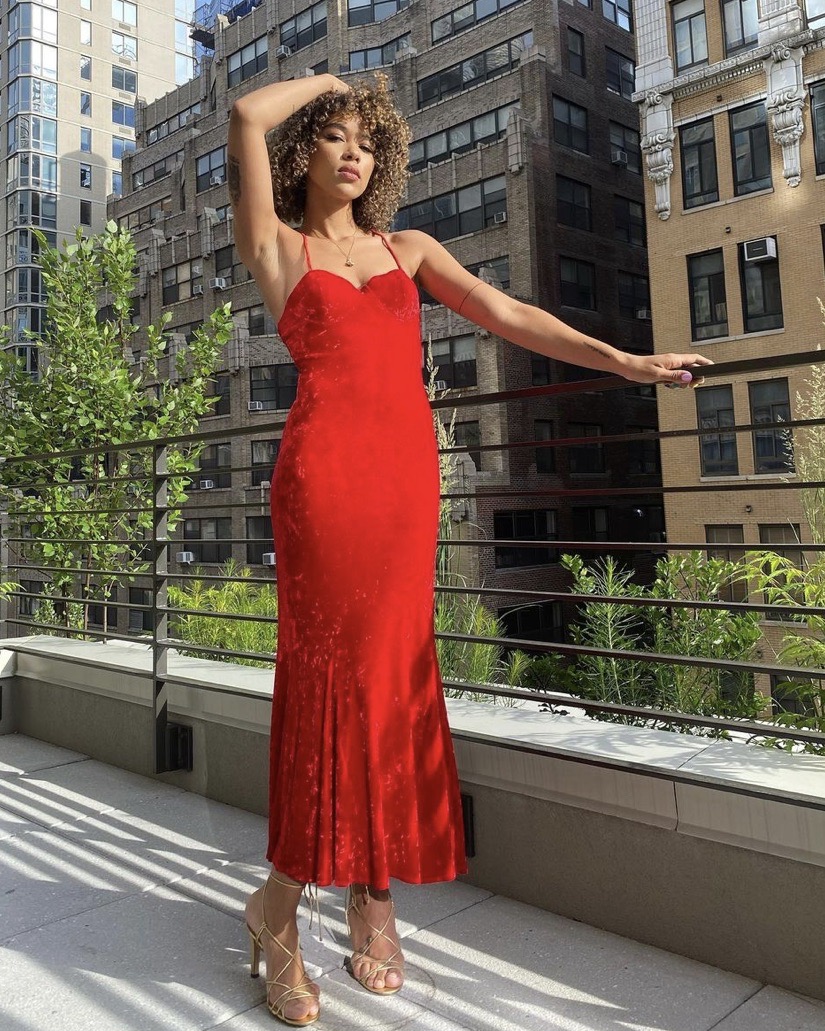 Get The Look: Alexandra Shipp Dress Style
@ALEXANDRASHIPPPP / INSTAGRAM
Get The Look: Alexandra Shipp Dress Style
One look at this Alexandra Shipp dress and you'll be wishing you had a ton of red dresses in your wardrobe. While a summer piece, this color and style is perfectly acceptable for the current weather. Whether layers over a long sleeve top or left to shine alone, a solid red dress is worth every penny. Luckily, finding the perfect one for you is simple and doesn't take much effort. The holiday season is the best time of year to spot the popular color, especially all of its sister shades. Regardless of your usual go-to dresses, you'll find that red is a universal color every woman can enjoy. Keep surfing this edit to find our 15 favorite designer pieces inspired by nothing other than the Alexandra Shipp dress itself.
The Versatility Of Alexandra Shipp's Dress Style
If there's one thing about Alexandra Shipp's dress, it's that its one of the most versatile pieces you can own. While most would argue nothing beats a traditional little black dress (LBD), a red dress might just come close to beating it. Whether or not for the holiday season, a spaghetti strap red piece can be easily worn in a number of ways. Layered or not, Alexandra's effortless look deserves a spot in your closet this winter—and well into the spring. Our favorites? Well, we might have too many to name, but for starters, the NOOKIE Allure Midi Dress is pretty close to the fashionista's. Similarly, the DAVID KOMA Fringed Asymmetric Jersey Dress is another piece worth a try. While a tad bit different, these two options capture the chic Alexandra Shipp dress look effortlessly.
Shop The NOOKIE Allure Midi Dress
NOOKIE Allure Midi Dress

$

219
Red All Year Long Beyond The Holidays
Alexandra Shipp's dress…in the winter and summer? You got that right! The fashionista actually wore this dress in the month of June, but before you think the cool piece is just for summer, think again. As mentioned before, spaghetti straps are perfect for layering, especially in months that require more fabric to keep warm and cozy. And luckily, layering dresses with other pieces looks far from tacky in the winter, but actually quite fashion-froward. However, before you reach for thin straps, there are many others you can opt for that still give the same look. For example, the BARDOT Kindred Midi Sheath Dress and the NOOKIE Coco Midi Dress are perfect for winter-summer wear. Incredibly easy to style with neutral accessories, this piece will become your next go-to. Alexandra Shipp's dress style proves again that the color red is indeed magical.
Shop Alexandra Shipp's Dress Style
SOLACE LONDON Amara Midi Dress

$

465

DOLCE & GABBANA Strapless Bustier Dress

$

2,492

NOAM Paris Dress

$

295

RETROFÊTE Samantha Satin Slip Dress

$

425

MILLY Kali Cascade High Low Dress

$

425

NORMA KAMALI x REVOLVE Strapless Dress to Knee Dress

$

125

GALVAN Kali Midi Dress

$

1,395

FAME AND PARTNERS Rain Column Dress

$

315

BARDOT Kindred Midi Sheath Dress

$

129

DAVID KOMA Fringed Asymmetric Jersey Dress

$

1,842

AFRM Analena Midi Dress

$

78

NOOKIE Coco Midi Dress

$

239

RALPH LAUREN COLLECTION Coltan Body-Con Midi Wool Dress

$

2,490

ZIMMERMANN Lyre Tied Empire-waist Cotton-blend Jersey Dress

$

375

MUSIER PARIS Iraklia Stretch Jersey Midi Dress

$

177