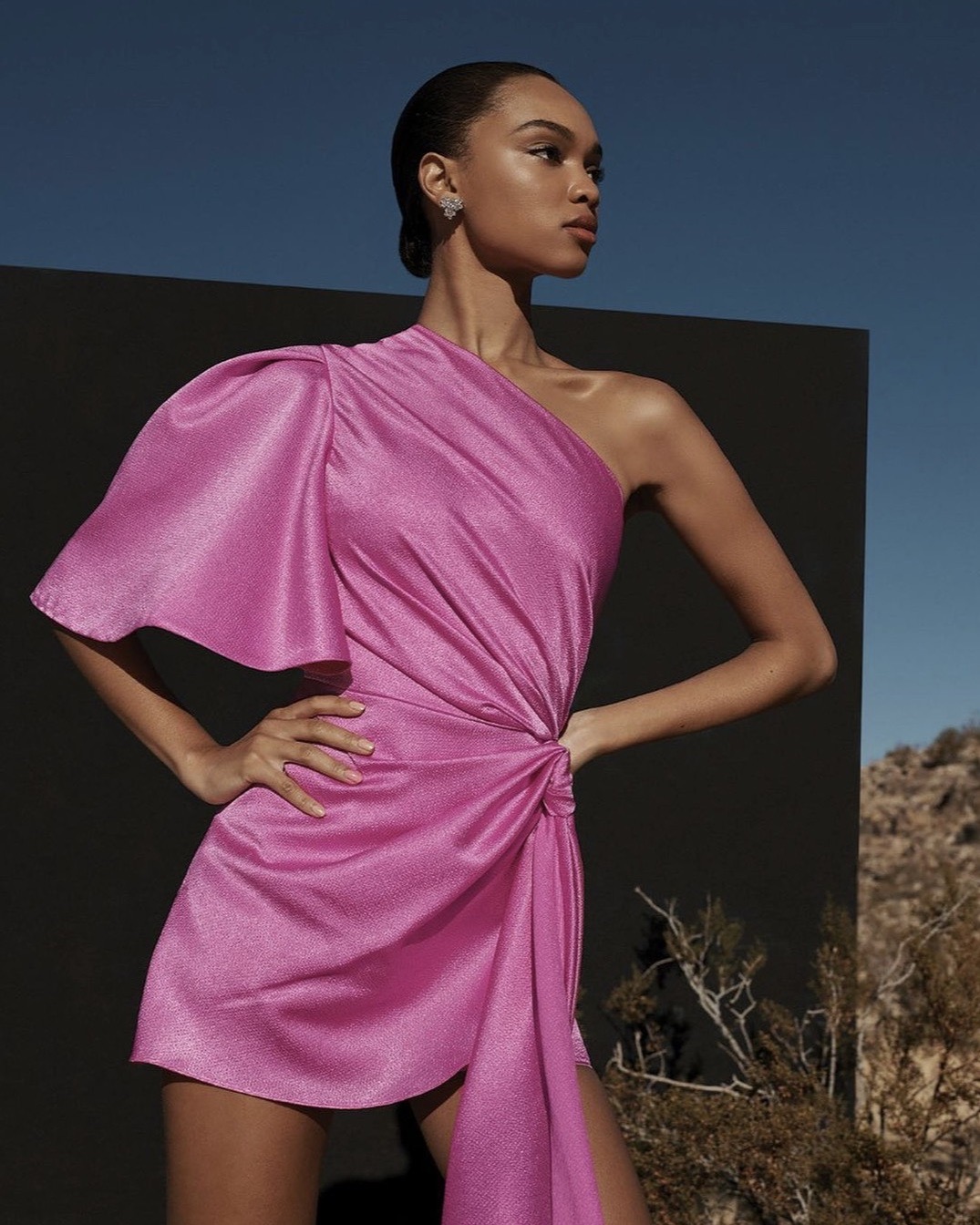 Get The Look: Samantha Archibald Dress Style
@SAMANTHARCHIBALD / INSTAGRAM
Get The Look: Samantha Archibald Dress Style
There's just something about Samantha Archibald's dress style we can't seem to put our fingers on. Is it the breathtaking pink color? The angelic drape? Or what about its flattering asymmetrical cut? Regardless of the reason for your love behind this piece—every detail counts. Samantha surely knows how to put on a show, even with this itty bitty mini dress. And while it certainly does deliver the bit of sultriness we all crave, it sits classically across the body. Besides, there's nothing quite like looking sexy and elegant—all at the same time. If there's anything about Samantha Archibald's dress style, it's that she knows how to make just about anything work. Always appropriate and stunningly beautiful, this style icon is one to look to for inspiration!
Samantha Archibald's Dress Style
Regardless of what exactly you love about Samantha Archibald's dress style, there are many other alternatives to turn to in order to get the look. From a good old one-shoulder look to a draped ensemble you'll just adore, there's something in store for you. Better yet, finding pieces like these are far from hard. With all that's available in the current market, nailing down this spectacular look is actually easier than you might think. So if you have a calendar filled with events (or not), this hidden gem would make the perfect companion. Where to start? Start with taking a peek at the GAUGE81 Sebeta One-shoulder Knitted Mini Dress and the LOVESHACKFANCY Pink Revaline Mini Dress for instance. While not spot-on, these two picks will give you that Samantha Archibald style you love dearly.
Shop The GAUGE81 Sebeta One-shoulder Knitted Mini Dress
GAUGE81 Sebeta One-shoulder Knitted Mini Dress

$

470
Put Pink In The Spotlight
If you fell in love at first sight with Samantha Archibald's dress style, it's most likely that you fell for its stunning color. Let's face it, haven't we all? With pink in the spotlight this winter season and all of the upcoming year, you can't go wrong with adding more pieces in the famous shade. And luckily, there are many to choose from, only with lots more in the future. For example, the RAMY BROOK Foxy Embellished Mini Dress and the MORE TO COME Sierra Asymmetrical Dress are just perfect for the current season. Fit for the holidays or just a fun evening out, you'll certainly have a blast in dresses like these. More importantly, no one will have your ensemble. How to do we know this? Well, let's thank Samantha Archibald and her dress style for that.
Shop Samantha Archibald's Dress Style
SELF-PORTRAIT Twist-front Belted Embellished Crepe Mini Dress

$

495

LOVESHACKFANCY Pink Revaline Mini Dress

$

445

FANNIE SCHIAVONI Zendaya Asymmetric Fringed Chainmail Mini Dress

$

2,885

RAMY BROOK Foxy Embellished Mini Dress

$

495

RAMY BROOK Pink Melanie Embellished Midi Dress

$

485

MACH & MACH Draped Embellished Viscose Mini Dress

$

838

URBAN REVIVO Long Sleeve Glitter Mini Ruched Side Dress

$

46

SELF-PORTRAIT Draped Crepe Midi Dress

$

495

AJE Bonjour Asymmetric Ruffled Linen-blend Dress

$

595

MORE TO COME Sierra Asymmetrical Dress

$

72

RETROFÊTE Ophelia Dress

$

585

JACQUEMUS La Robe Saudade Dress

$

755

ELLIATT Caicos Dress

$

240

SUPERDOWN Andria Strapless Mini Dress

$

66

MORE TO COME Denise Wrap Dress

$

80