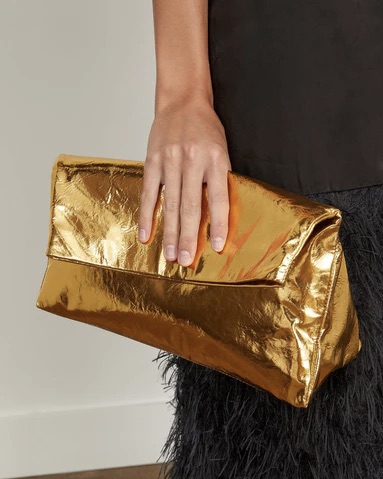 DRIES VAN NOTEN
From The Catwalk To The Market, These Evening Clutch Bags Are Irresistible 
Evening Clutch Bags are making their grand entrance back into the fashion scene, and they're creating quite the stir. These gems aren't just accessories, though; they're statement pieces that command attention. While years ago, clutches usually kept simple for versatility, they're now bringing in a world of styles. From sequins, to crystals, and every texture in between—clutches are coming back bolder than ever. Imagine a piece that effortlessly elevates your entire ensemble, adding that touch of sophistication and allure.
Moreover, the beauty of these evening clutch bags lies in their ability to seamlessly transition from runway to your local street style. And the best part is, they don't require much styling effort too. It's not just about carrying your essentials; it's about making a bold and unforgettable statement. Regardless if you've ever owned one, these pieces are just the ones to do that with.
Metallic Evening Clutch Bags Go With Everything
When it comes to versatility in accessories, few options match the charm of evening clutch bags—specifically metallic styles. Much like the timeless elegance of black and white, metallics bring the ability to complement any look. And by any look, we really mean any look. These bags effortlessly transition from day to night, seamlessly pairing with various styles, colors, and outfits. Whether it's the subtle shimmer of silver or the boldness of gold, metallic clutches are the perfect choice for those seeking a versatile accessory.
Looking to find the right one? The ROSANTICA Clio Crystal-embellished Metallic-leather Clutch is the perfect choice. Pairing perfectly with the TOM FORD 105mm Chain Mirror Leather Sandals, this style goes with everything. Moreover, the duo is simply the perfect pair to to any occassion, adding that extra touch of glamour to any ensemble.
Shop more evening clutch bags selected and reviewed by our expert fashion buyers and stylists.
VALENTINO GARAVANI Rockstud Leather Clutch Bag

$

2,590

JUDITH LEIBER COUTURE L'amour Petit Cœur Crystal Heart Clutch Bag

$

1,295

JUDITH LEIBER COUTURE Martini Crystal-embellished Clutch Bag

$

5,795

ROSANTICA Favilla Crystal-embellished Padded Clutch Bag

$

908

ROSANTICA Clio Crystal-embellished Metallic-leather Clutch

$

1,008

VICTORIA BECKHAM Chain-embellished Croc-effect Patent-leather Clutch

$

1,650
A Little Creativity Goes A Long Way
While evening clutch bags are known for their classic designs, there's a world of creativity waiting to be explored. Not to mention, in the overall accessory world. Think beyond the conventional and embrace new shapes, concepts, and vibrant colors. These daring choices inject a playful element into evening wear, allowing fashion lovers to express their unique personalities through accessories. From quirky geometric designs to whimsical embellishments, these creative evening clutches add an unexpected twist to any outfit.
For example, the ROSANTICA Favilla Crystal-embellished Padded Clutch Bag and the JUDITH LEIBER COUTURE Martini Crystal-embellished Clutch Bag were made for fun. They serve as the perfect canvas for self-expression, no matter your style. However, when you pair them with a dress like the SAINT LAURENT Strapless Satin-panelled Velvet Dress, the ensemble is mesmerizing. It's simply too hard to pass on evening clutch bags like these.