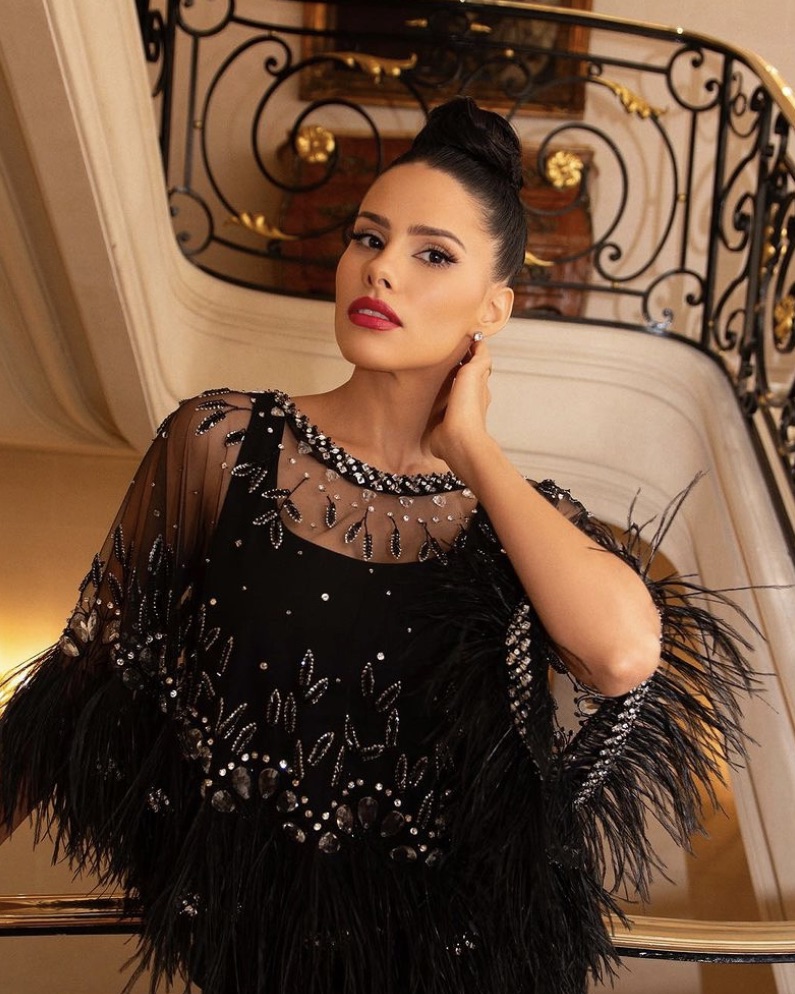 We Love Her Dresses…How To Dress Like Dy Miryan
@dymiryan / Instagram
We Love Her Dresses…How To Dress Like Dy Miryan
When it comes to style, few names bring as much admiration and respect as Dy Miryan's dress style. Her fashion sense is simply iconic, marked by an easy blend of grace and high-end charm. Furthermore, it's a style that goes beyond trends, focusing on simplicity and elegance. In this edit, dive into the main elements that make Dy Miryan's dress style truly stand out. From her skilled use of colors to her strong liking for texture, there's much to learn from this fashion expert. Moreover, your next special occasion ensemble is likely sitting in this edit. Keep scrolling to shop Dy Miryan's iconic style and discover how you too can add a bit of her signature elegance to your wardrobe.
Dy Miryan's Dress Style Is All About Color
Dy Miryan's dress style is like a canvas painted with the most wonderful colors. She knows how important color can be in an outfit, and it's clear in her style choices. Moreover, the fashion icon often picks colors that show a simple kind of luxury. Whether it be a unique shade of lime green or bubblegum pink, no color goes unworn. Additionally, just about every ensemble we find her in is always saturated in some sort of eye-catching hue. Nonetheless, Dy's color choices say a lot, drawing attention to the natural beauty of the clothing itself.
For example, the FOR LOVE & LEMONS Lorlai Mini Dress is a neck breaker in its own right. Easy to style and effortless to wear, you can always count on styles like this to capture Dy's unique taste. Whether it's a vibrant hue like this one or classic black, Dy Miryan's dress style is one of a kind. Regardless of which color you favor, you'll find this selection to be elite.
Shop Dy Miryan's Dress Style
SEA SEA Beck Midi Dress

$

485

OSCAR DE LA RENTA Velvet Paillette Scallop Cocktail Dress

$

6,990

OSCAR DE LA RENTA Cape-effect Embellished Embroidered Tulle-trimmed Silk-blend Lamé Gown

$

6,990

ALEX PERRY Gabe Crystal-embellished Ruched Stretch-jersey Turtleneck Gown

$

1,800

FOR LOVE & LEMONS Lorlai Mini Dress

$

199

BAOBAB Sierra Dress

$

240

VINEET BAHL Fringe Dress

$

248

DAVID KOMA Asymmetric Feather-trimmed Sequined Chiffon Midi Dress

$

2,720

VALENTINO GARAVANI Embellished Pleated Strapless Wool And Silk-blend Gown

$

13,500

FARM RIO Yellow Macaw Bloom Maxi Dress

$

315

FARM RIO Off-White Macaw Bloom Midi Dress

$

240

TALLER MARMO Net Sustain Mrs Ross Fringed Crepe Kaftan

$

1,000

OLIVIA VON HALLE Zoya Fringe-hem Silk-satin Dress

$

745

OLIVIA VON HALLE Amina Fringe-trim Silk-satin Robe Dress

$

990

16ARLINGTON Maika Feather-embellished Sleeveless Gown

$

1,410
Textures Dy Can't Resist
In the world of fashion and Dy Miryan's dress style, texture is like the hidden hero that can lift an ordinary piece to something special. The fashionista certainly gets this, and her love for textured fabrics is a key part of her style. From soft silks that flow gracefully to bold feathers, her choices show her careful eye. These textures not only add depth and interest to her outfits but also make them feel rich to the touch, clearly high-end.
Trying to get the look yourself? Try our favorites, the VINEET BAHL Fringe Dress and the 16ARLINGTON Maika Feather-embellished Sleeveless Gown. By including textured elements in your wardrobe, you too can capture Dy Miryan's dress style and bring a touch of timeless luxury to your look. In the end, all that matters if that the texture its your taste. But by the looks of these two popular styles, that's a given.
We Love Her Dresses…How To Dress Like Marianna Hewitt