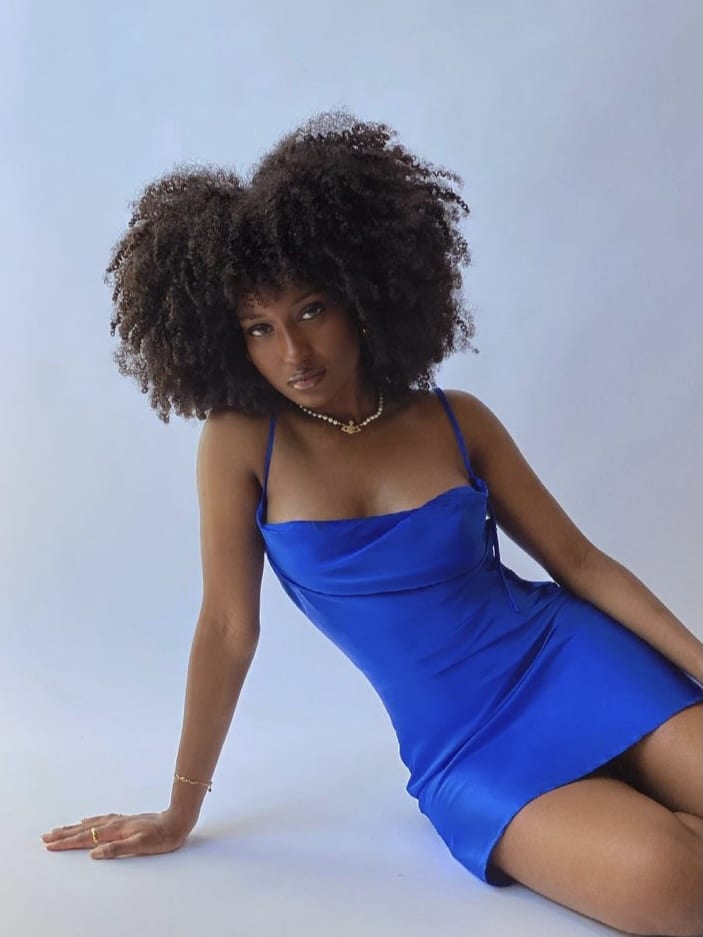 We Love Her Dresses…How To Dress Like Doja Henshaw
@dojahenshaw / Instagram
We Love Her Dresses…How To Dress Like Doja Henshaw
Wondering how to dress like Doja Henshaw? If there's one thing that's multifaceted in fashion, it's her style. The influencer is known for her sweet, yet sultry vibe–something we all can't get enough of it. She doesn't even have to be under the sun for her ensembles to shine. That's something we all wish for in an outfit and we've got just the 15 looks you can snag to achieve the look. Simply shop, click, and be your best self with a Doja inspired dress to put a smile on your face. Whether you favor her angelic radiance or her irresistible sultriness, there's something in the Doja Henshaw style we all can get inspired by. Scroll to discover your next favorite looks you won't be able to keep on a hanger in your closet–we promise!
Sweetheart Dresses Like Doja Henshaw's
There's something about a Doja Henshaw dress that gets everyone excited. We mean everyone. Whether it's a pastel shade of pink or luscious satin, the softness her wardrobe gives is truly special. Luckily dresses like the CHARLES HENRY Tiered Eyelet Dress and the EN SAISON Poplin Babydoll Dress exist. I mean, do we need to say more? With a nude pair of heels–with or without a handbag–these looks are effortless just as they are complex. After all, a little goes a long way and Doja stands true by this philosophy. Letting your inner beauty shine through your ensemble is the easiest way to not only getting ready quickly, but the ultimate way to staying true to your personal style. We promise you'll find the perfect balance when uniting both your taste and a Doja Henshaw dress–they'll be a match made in heaven!
Shop Doja Henshaw's Dress Style
KIKI DE MONTPARNASSE Lace Inset Fitted Dress

$

448

AREA Crystal Bow Strap Mini Dress

$

850

GANNI Silk Stretch Satin Dress

$

545

GANNI Printed Mesh Dress

$

325

NORMA KAMALI Tara Ruched Jersey Dress

$

195

KHAITE Lydia Off-shoulder Midi Dress

$

2,800

ALEXIS Madine Cutout Long-Sleeve Mini Dress

$

343

ASOS Textured Button Up Waisted Skater Mini Dress

$

43

AMANDA UPRICHARD Annalise Dress

$

202

REFORMATION Brie Linen Dress

$

218

RASARIO Velvet Corset Mini Dress

$

1,950

BEC & BRIDGE Maya Crepe Mini Dress

$

298

CHARLES HENRY Tiered Eyelet Dress

$

99

SHOSHANNA Catalaya Sequin One-Shoulder Dress

$

528

EN SAISON Poplin Babydoll Dress

$

104
Adding A Bit Of Spice To Fashion
We couldn't write this edit without including the sultry side of the Doja Henshaw style. While there are many occasions of her in bubble gum pink dresses and sweet luxurious satin dresses, there are also the body-hugging gems we can't ignore. I mean, how can turn our eye to a fabulous bodycon dress? It is still summer right? That's why we couldn't wait to share the ALEXIS Madine Cutout Long-Sleeve Mini Dress with you. Injecting a little designer essence into your wardrobe is always a good idea. Inviting in the Doja Henshaw style into it is also another great idea, if not a better one. Simply mark your calendar for your next outing and be out the door fashionable in the matter of minutes!
Get The Look: Camri Hewie Dress Style