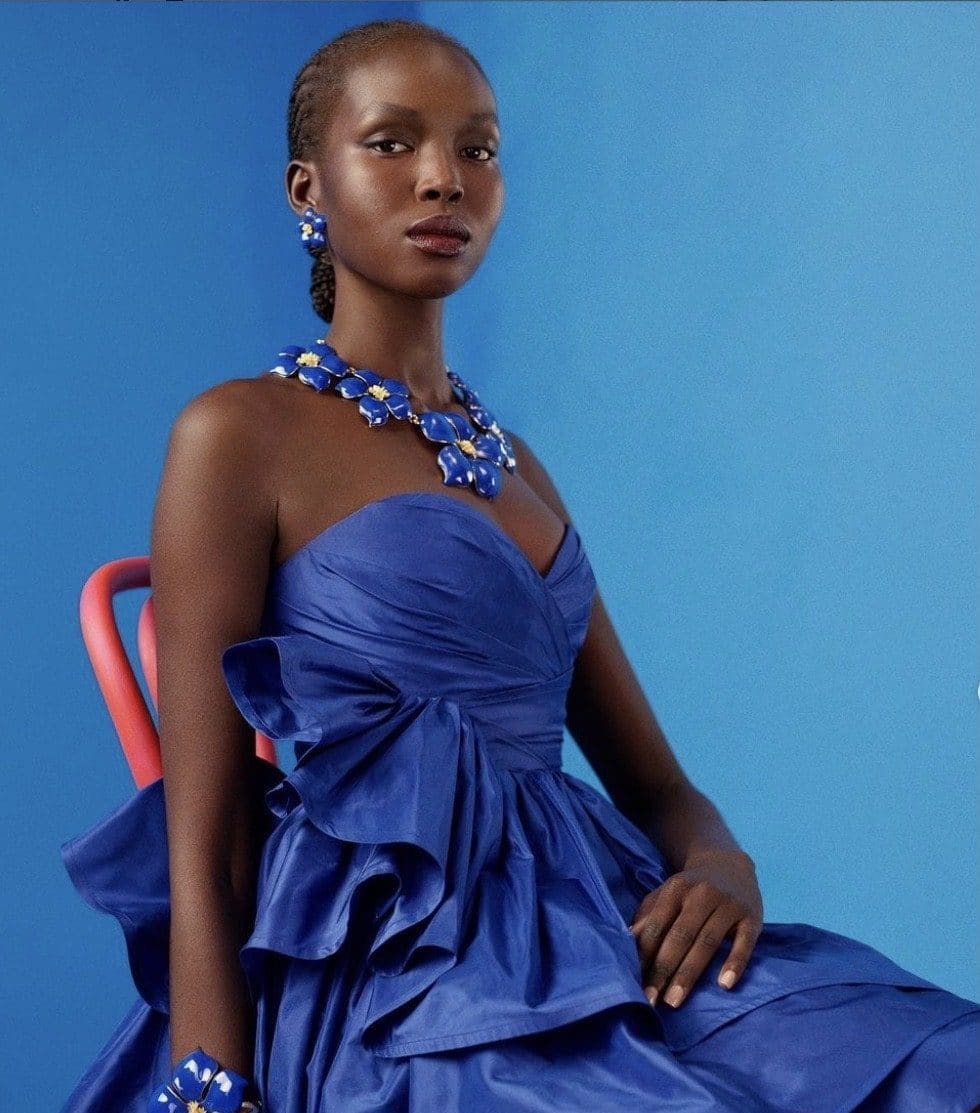 We Love Her Dresses…How To Dress Like Ajok Madel
@ajokmadel / Instagram
We Love Her Dresses…How To Dress Like Ajok Madel
Want an easy way to look your utmost chic and fabulous? Snag Ajok Madel's iconic dress style. Whether it be an exquisite ball gown or a tiered metallic mini dress, the model is always ready with a few tricks up her sleeve. Even if brands didn't dress her majority of the time, we're convinced that her closet is filled with endless luxury designer pieces. After all, how can one make it all look so easy? Luckily, we've got just what you need to snag her style. We've searched near and far for the latest dupes on each of these 10 looks that we're sure you'll love. And not only will they become your new favorites, but we're almost positive that each Ajok Madel dress will also wow whoever you're with.
A Ajok Madel Dress That Rules Supreme
It's no wonder each and every Ajok Madel dress appears to be pulled from a queen's closet. Who or what to thank? All of the rich colors and textures the model loves to pull together! After all, she does make pulling it off easy. Better yet, so can you. With so many options to snag her style, you too can look like you've just walked off the red carpet or runway. All it takes is one peek at the SER.O.YA Irene Dress and you'll see why. Not all dresses are created equal, and this one is the perfect example of that. While it's not too over-the-top, it offers just enough to keep all eyes on you and you less in your closet worrying about how to style it. So forget the long hours of trying to figure out how to make it work, and let this royal dress do it all for you! Just sit back and thank Ajok Madel.
Shop Ajok Madel's Dress Style
JENNY PACKHAM Isolde Embellished Glittered Tulle Dress

$

4,510

ASTR THE LABEL Virginia Dress

$

138

STYLAND Feather-trim Pleated Dress

$

604

ALTUZARRA 'lydia' Dress

$

1,495

LOVERS + FRIENDS Sariah Midi Dress

$

168

BRONX AND BANCO Midnight Gold Gown

$

1,100

ML MONIQUE LHUILLIER Ruffled Lace Mini Dress

$

495

SER.O.YA Irene Dress

$

230

ASTR THE LABEL Volume Shoulder Long Sleeve Dress

$

79

SIR. Xanthe Strapless Dress

$

450

FREE PEOPLE Darragh Mini Dress

$

297

FRENCH CONNECTION Mini Shift Dress

$

128

MARCHESA NOTTE Embellished Lamé Gown

$

990

BRONX AND BANCO Farrah Maxi Dress

$

550

SIGNIFICANT OTHER Sofia Tiered Slip Dress

$

304
The Closest Dupes You'll Get
Besides the extravagant gowns, Ajok Madel's style has more to offer. While we can't all walk the catwalk, we can certainly infuse some designer looks into our calendar. Just think of all the formal (or informal) occasions you attend with nothing new to wear. Pulling out a Ajok Madel dress would be the perfect fit to your day or night affair. Our two favorite dresses to do this are the JENNY PACKHAM Isolde Embellished Glittered Tulle Dress and the MARCHESA NOTTE Embellished Lamé Gown. They're not only easy to style with your favorite heels and handbags, but they're great for trying something new. After all, how many times can you say that you have a celebrity–or model inspired look? Everyone will be eager to know that you did it all on your own and pull it off so well. Ajok and her dresses can do that for any woman.
Get The Look: Grace Mahary Dress Style