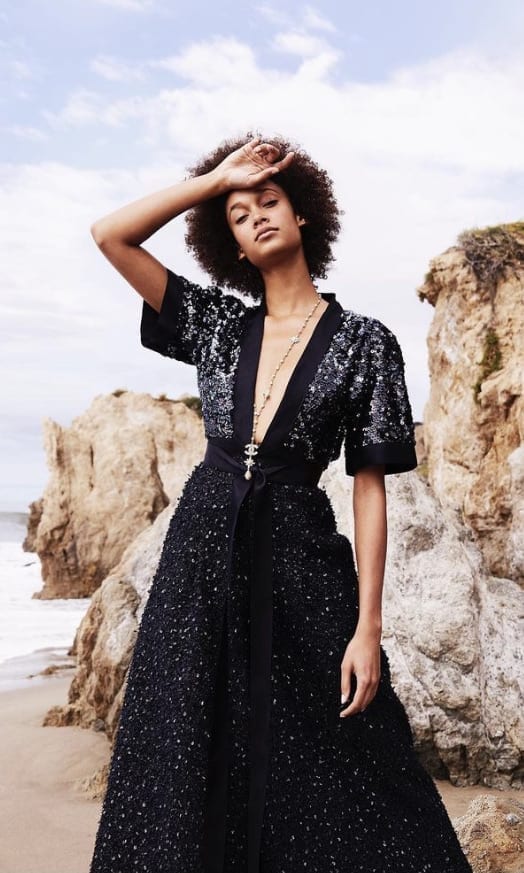 We Love Her Dresses…How To Dress Like Wallette Watson
@WALLETTEWATSON / INSTAGRAM
We Love Her Dresses…How To Dress Like Wallette Watson
Without having to state the obvious, Wallette Watson dresses are far from ordinary. From grand tropical maxis to classic off-the-runway pieces, the singer and model has a unique taste. No matter your personal style, you are sure to find something you love through your short stroll. Get out of the house or lounge in with Wallette's babydoll dress, the choice is yours! With numerous style options to choose from, this gal is one to look to. Pair with a luxury handbag or pair of shoes from our selection for the full on-duty model look. Scroll on to discover our carefully curated edit of the top 15 hidden gems that would be found in Wallette Watson's closet!
The Mystery Of Wallette Watson Dresses
When it comes down to the Wallette Watson style, you really don't know what to expect. The fashionista can be casual one day and then strike you with a bold gown. This exciting surprise is especially wonderful to look forward to when dresses like the JOHNNY WAS Gardenia Midi Dress exist. This piece is a prime example that fashion has no rules. While many influencers stick to one style and one style only, Wallette sets no limitations for her style. As each day comes around, you can expect to see something new and trendy!
On a similar note, the JOHANNA ORTIZ Traditional Landscape Printed Silk Maxi Dress is another one of our favorites from Wallette's closet. Inspired by her love for tropical and floral prints, Johanna Ortiz is the perfect label to look for. Not only does the brand embody the fashionista's style, but this dress is proof that fashion can be fun. Followed by Wallette herself, this option is especially great for those looking to experiment with colors and patterns. This is the perfect year to have a go at the Wallette Watson style and surprise yourself just the same!
Shop Wallette Watson's Style
FREE PEOPLE Full On Maxi Slip Dress

$

108

JOHNNY WAS Gardenia Midi Dress

$

450

ISABEL MARANT Taylin Panelled Cotton Maxi Dress

$

1,240

ELISABETTA FRANCHI Asymmetric Sheer Ruffle Dress

$

463

REFORMATION Stein Organic Stretch Cotton Long Sleeve Henley Dress

$

128

JOHANNA ORTIZ Traditional Landscape Printed Silk Maxi Dress

$

1,995

VALENTINO Light World Arazzo Silk Georgette Gown

$

8,500

ETRO Pothia Twist-front Leaf-print Jersey Dress

$

1,690

SER.O.YA Elo Dress

$

385

DOLCE & GABBANA Tiered Floral-print Silk-chiffon Maxi Dress

$

6,745

LA DOUBLEJ Muumuu Printed Silk Maxi Dress

$

1,265

MATTHEW BRUCH Safari Midi Dress

$

575

NORMA KAMALI Strapless Sheath Dress

$

125

SELF-PORTRAIT Polka Dot Ruffled Mesh Mini Dress

$

475

NICHOLAS Katya Dress

$

395
Classic Pieces You Can't Dismiss
Although Wallette likes to take risks, we can't ignore her elegant classics. From her neutral sweater dress to her strapless LBD, these classic pieces are ones worth noting. Although Wallette adds a personal trendy touch of feathers and structure, her choices are admirable in mixing up what would normally be basic. The ELISABETTA FRANCHI Asymmetric Sheer Ruffle Dress is a great take on a cocktail dress, perfect for upcoming events and date nights. This example of trend is a great addition to any woman's wardrobe, giving your style just what it needs. Pair with trendy accessories and a pair of classic pearl earrings to balance it out. Welcome the Wallette Watson style onto your rack and watch your ensembles elevate in the matter of seconds!
Get The Look: Isabella Peschardt's Dress Style