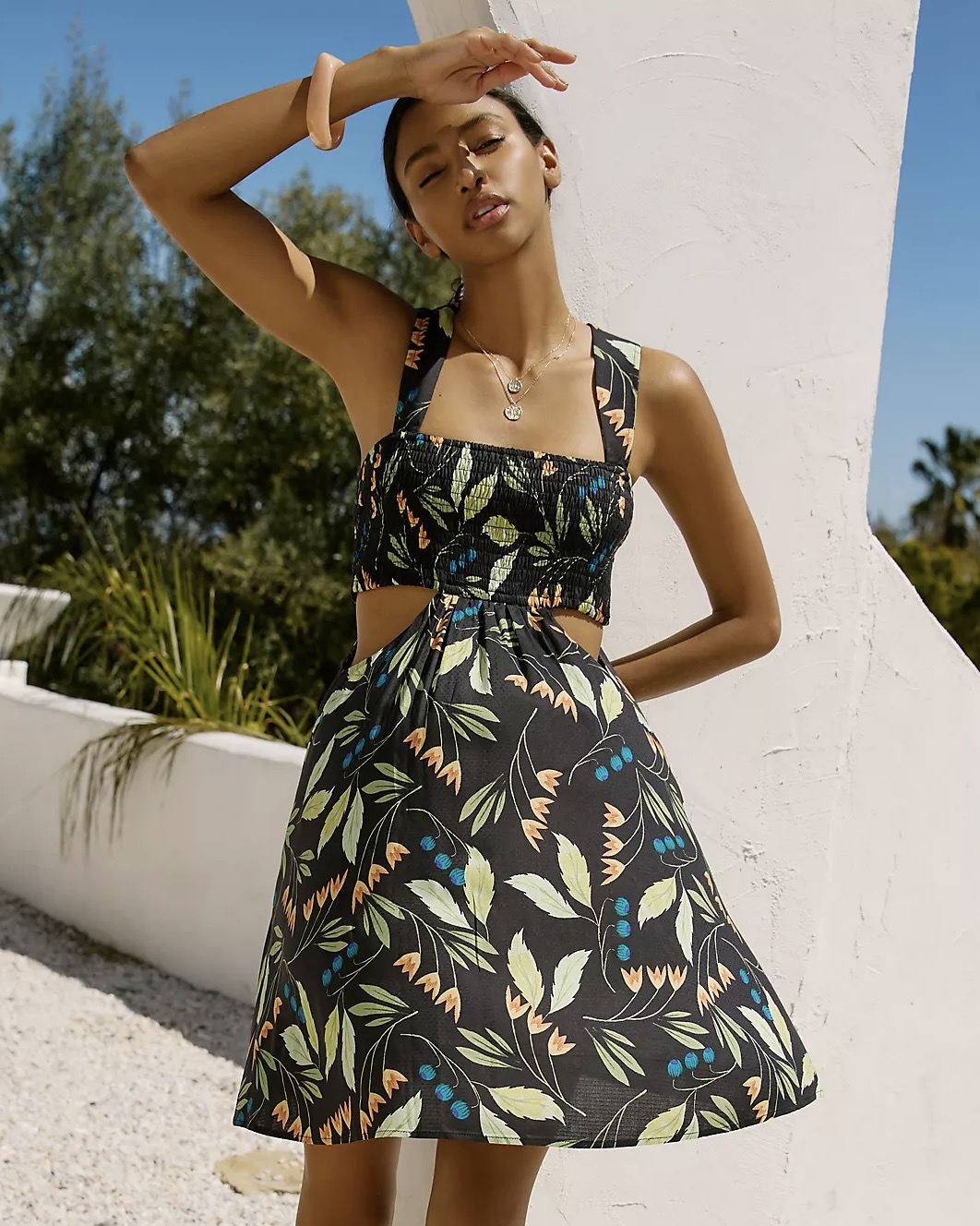 Tired Of Bodycons? These Loose Fitting Dresses Are A Breath Of Fresh Air
BRENDA QUINN
Tired Of Bodycons? These Loose Fitting Dresses Are A Breath Of Fresh Air
If there's one thing to save your day for spring and summer, it's loose fitting dresses. After all, aren't we all tired of squeezing ourselves into those itty-bitty bodycons? Loose dresses have been gaining popularity recently, and for good reason. They provide a comfortable yet fashionable alternative to the tight styles we're so used to seeing.
Whether you're out running errands or attending a wedding, loose-fitting styles can be incredibly helpful. They come in a variety of styles, colors, and fabrics, making them a versatile piece of clothing that can be worn in almost any situation. So, ladies, it's time to embrace the loose fitting dresses. Discover how to look effortlessly stylish and comfortable—and maybe even more stylish than with bodycons.
Loose Fitting Dresses for Going Out
For many women, going out in the evening almost never includes loose fitting dresses. It often means squeezing into tight, short dresses to achieve the perfect party look. However, that doesn't have to be the case anymore. Loose styles are just as stylish and can be just as sexy as their bodycon counterparts.
Dates and dinners don't always have to call for tight mini dresses. You can still get the perfect going-out look with the SHOW ME YOUR MUMU Jasmine Halter Mini Dress. Opting for a flowy piece can still cinch the waist to create a flattering silhouette. Pair it with strappy sandals and statement earrings, and you're good to go. Similar, the LOVESHACKFANCY Kerrigan Mini Dress is another great option. This style offer a fresh, effortless vibe that's perfect for any evening event. Not to mention, loose fitting dresses are incredibly comfortable and allow you to enjoy the night.
FAITHFULL THE BRAND Roma Mini Dress

$

179

GRAHAM & SPENCER Billie Dress

$

299

NBD Esmeralda Mini Dress

$

228

ENZA COSTA Laced Open-back Dress

$

495

WEWOREWHAT Puff Sleeve Midi Dress

$

129

SUNDRESS Caitlin Mini Dress

$

163

MORE TO COME Jara Mini Dress

$

88

SHOW ME YOUR MUMU Jasmine Halter Mini Dress

$

148

NATALIE ROLT Irena Midi Dress

$

520

VERONICA BEARD Molly Shirt Dress

$

448

ZIMMERMANN Devi Halter Neck Silk Dress

$

1,350

BARDOT Lola Floral Strapless Corset Dress

$

169

CINQ À SEPT Kandra Ruffled Maxi Dress

$

525

ENDLESS SUMMER Extratropical Maxi Dress

$

118

FREE PEOPLE Hibiscus Tiered Maxi Dress

$

168

ENDLESS SUMMER Struttin' Midi Dress

$

80

ENDLESS SUMMER Plenty Of Love Maxi Dress

$

128

HEMANT AND NANDITA Raisa Short Dress

$

420

HEMANT AND NANDITA Lyna Short Dress

$

446

CIAO LUCIA Lauretta Dress

$

370

ANTHROPOLOGIE Tiered Sheer Overlay Dress

$

170

MISA Eden Strapless Floral Chiffon Dress

$

555

ANTHROPOLOGIE Flutter-Sleeve Dress

$

88

BRENDA QUINN Bandeau Cutout Dress

$

88

RO'S GARDEN Hawaii Dress

$

195

LANVIN Embellished Straps Draped Gown

$

7,990

LOVESHACKFANCY Drella Mini Dress

$

595

LOVESHACKFANCY Kerrigan Mini Dress

$

525

LOVESHACKFANCY Chessie Maxi Dress

$

445

LOVESHACKFANCY Frankie Silk Mini Dress

$

595
Casually Comfortable Styles for Daytime Fun
Loose fitting dresses are summer's best go-to for an effortless look you don't have to worry about. They're perfect for daytime outings such as brunch, picnics, and day trips. Pair a flowy sundress with sandals and a straw hat for a casual, beachy look. Or alternatively, stick with a chic skater for a day on the town—both are just as fashion forward.
The WEWOREWHAT Puff Sleeve Midi Dress is great for those sizzling poolside or beach days. A loose, oversized cotton dress can be the perfect cover-up for your swimsuit. You'll feel comfortable and relaxed, without having to sacrifice style. Overall, loose-fitting dresses are a great investment for any wardrobe. They offer a versatile, comfortable, and stylish alternative to tighter styles. Whether you're dressing up for a night out or a beach day, loose fitting dresses should be your go-to this spring and summer.
Shop All Loose Fitting Dresses