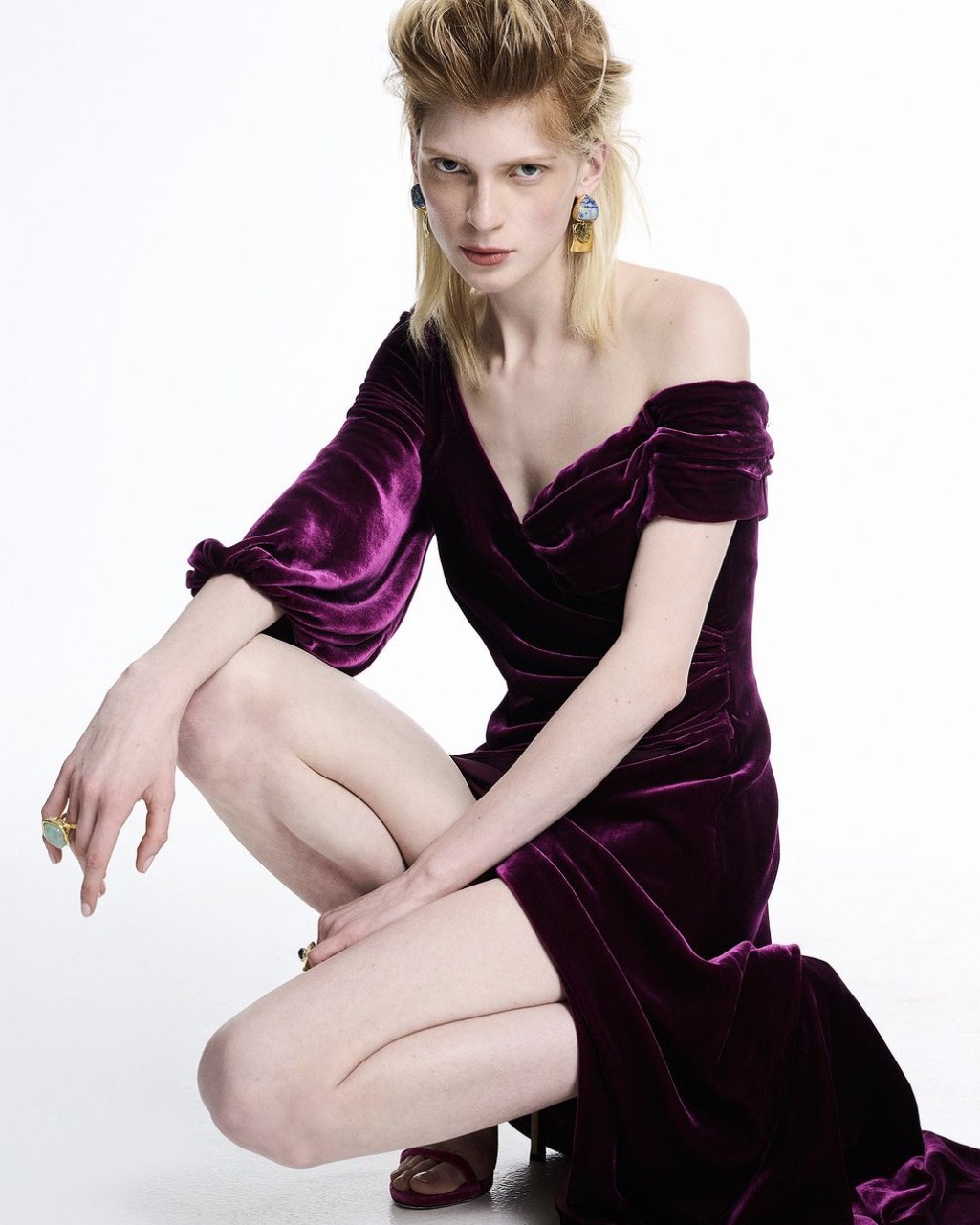 COSTARELLOS
These Velvet Party Dresses Will Be Your Best Investment This Season
Velvet party dresses are stealing the spotlight this season, and for a handful of good reasons. As we immerse ourselves in the festive spirit, there's no denying that velvet is the fabric to own. Its luxurious texture, combined with a touch of nostalgia, makes it a standout choice for any holiday party. However, whether you're attending a holiday event or simply gearing up for winter, velvet party dresses are the style investment that keeps on giving. Looking to snag one for your wardrobe? Keep scrolling to find our top 30 velvet styles to buy now. Regardless of where the textile stands on your favorites list, you'll find these ensembles to be irresistible.
Velvet Party Dresses Make The Best Canvases For Color
When it comes to making a bold statement, velvet party dresses take the cake. These luxurious canvases are perfect for playing with a world of hues. From emerald green to royal purples, the textile is simply perfect for those who love rich colors. The plush texture of velvet adds depth and richness to any color, making your ensemble a true work of art.
For example, the ALEXANDRE VAUTHIER Draped Velvet Mini Dress is a hue you don't find often. While perfect for the holiday season, this piece works just as well for the entire winter season. This is especially true for the fashionistas in cooler climates—it only makes sense to stock up on velvet styles. Similarly enough, the COSTARELLOS Varisa Velvet Draped Long Dress is another colorful masterpiece. Velvet party dresses, with their color versatility, give you the power to express your style in the most vibrant way possible. And that's about all you could ask for in a winter dress.
CEFINN The Irina Puff-sleeve Velvet Maxi Dress

$

540

GABRIELA HEARST Net Sustain Adolphine Organic Silk-voile And Velvet Maxi Dress

$

3,990

SAINT LAURENT Strapless Satin-panelled Velvet Dress

$

3,990

BERNADETTE Nel One-shoulder Velvet Gown

$

1,219

COSTARELLOS One-shoulder Draped Velvet Gown

$

2,115

SELF-PORTRAIT Crystal-embellished Velvet Midi Dress

$

406

RALPH LAUREN Niles Strapless Bow-embellished Velvet Gown

$

3,490

SAM EDELMAN Beaded Strap Velvet Midi Dress

$

128

BARDOT Lilah Strapless Stretch Velvet Midi Dress

$

149

COSTARELLOS Varisa Velvet Draped Long Dress

$

1,513

COSTARELLOS Larimar Velvet V Neck Long Dress

$

1,832

ALESSANDRA RICH Open-back Velvet Long Dress

$

3,325

RHODE Adrian Sweetheart Off-The-Shoulder Velvet Mini Dress

$

545

HUTCH Printed Twist-Front Puff-Sleeve Velvet Dress

$

248

MUZUNGU SISTERS Emma Embroidered-velvet Midi Dress

$

592

NISSA Sheer-sleeves Velvet Bodycon Dress

$

469

RIXO Vivi Velvet Open-back Mini Dress

$

420

ALEXANDRE VAUTHIER Ruched Velvet Maxi Dress

$

2,585
Keep It Classy With Black
For a timeless and effortlessly chic look, there's nothing quite like a black velvet party dress. This classic choice gives off the perfect sophisticated and understated glamour vibe. Not to mention, the richness of black velvet elevates the simplicity of the color, making it a fail-proof option for various occasions. Whether it's a sleek midi or a dramatic floor-length gown, black styles are the epitome of elegance.
Our ultimate favorite to note would have to be the ZIMMERMANN Sensory Embroidered-bodice Velvet Gown. Unlike others in the market, this piece is filled with unexpected details. Paired with statement accessories for a modern twist, this look will surely get all eyes on you. After all, in the world of velvet party dresses, black is the shade that never goes out of style.