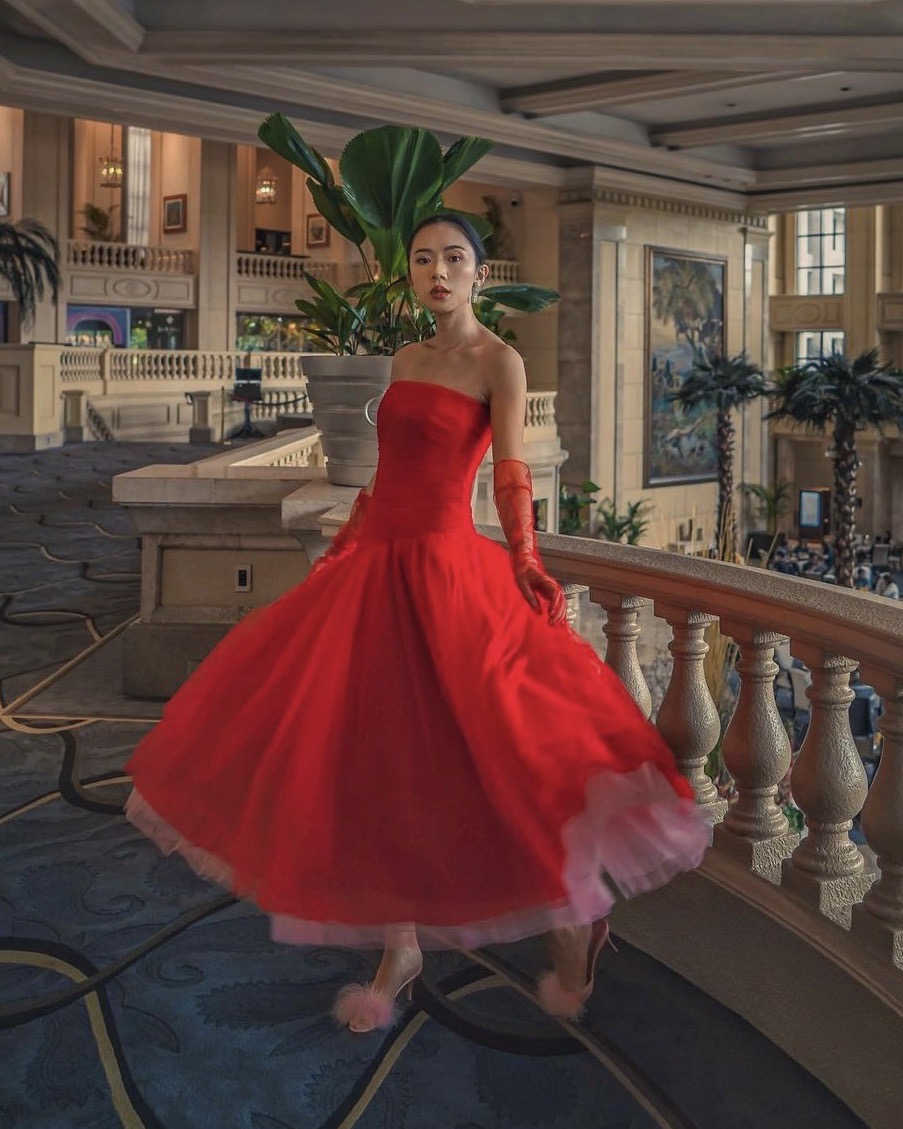 The Holidays Are Just Around The Corner—Stand Out With These Glamorous Red Dresses
@itscamilleco / Instagram
The Holidays Are Just Around The Corner—Stand Out With These Glamorous Red Dresses
With the holidays just around the corner, there's no excuse not to have your hands on the most glamorous red dresses. While they are certainly a seasonal staple year after year, red dresses are actually one of the hottest trends. Along with nails and accessories alike, every woman looks good in their shade of red. All you have to do is find the perfect one to enhance your skin tone and preference, and you're off to go! No matter what your occasion may be this holiday season, you can always be sure that these luxurious options have your back. And if you're still not convinced, you sometimes don't need a reason to look glamorous—especially for the holidays Scroll to explore our top 30 glamorous red dresses from the world's hottest designers out now!
Glamorous Red Dresses In Unique Shades
Glamorous red dresses come in all sorts of shades. The color red is so extremely dynamic, with some leaning toward burgundy and others toward orange. This winter season, however, unique shades are taking the spotlight as red becomes a staple in many wardrobes. Surprisingly enough, the traditional holiday color is making it's way to just about any occasion—and not just the merry ones. From date night to friendly parties, it's always great to have a red dress on-hand. so if you're on the hunt for unique shades of glamorous red dresses, you're in the right place. The RETROFÊTE Lumi Pleated Mini Dress and the DAVID KOMA Asymmetrical Ruched Dress are at the top of our shopping list this season. But before you think these are only good for the rest of December—think again. These hidden gems are statement pieces for the entire winter season this year!
LEO LIN Rosalie Bustier Midi Dress

$

1,780

HUTCH Sequin Bow Dress

$

230

AREA Crystal Rainbow Bow Metallic Tweed Mini Dress

$

1,595

RETROFÊTE Lumi Pleated Mini Dress

$

525

RETROFÊTE Samantha Satin Slip Dress

$

425

LOVERS AND FRIENDS Benae Mini Dress

$

148

OSCAR DE LA RENTA Velvet Paillette Scallop Cocktail Dress

$

6,990

SHONA JOY Lonie Long Sleeve Mini Dress

$

380

SOLACE LONDON Thalia Maxi Dress

$

685

SUSANA MONACO Strapless Hi Low Dress

$

228

BERNADETTE Phillipe Bow-appliqué Satin-duchesse Midi Dress

$

1,110

CHIARA BONI LA PETITE ROBE Seki One-Shoulder Gown

$

995

AKNVAS Olive Mini Dress

$

990

ALEXANDRE VAUTHIER V Neck Long Dress

$

2,210

CAROLINA HERRERA Ruffled Silk Strapless Gown

$

4,990

ANDREW GN Crystal-Belted Asymmetric Midi Dress

$

2,655

MILLY Gizelle Ruffle Off The Shoulder Dress

$

450

MAGDA BUTRYM Guipure Lace Mini Dress

$

3,725

XSCAPE Sequin Off the Shoulder Gown

$

308

XSCAPE Off the Shoulder Ruffle Crepe Trumpet Gown

$

258

INTIMATELY That Girl Sequin Slip Dress

$

98

REBECCA VALLANCE Midnight Kiss Flocked Dot Long Sleeve Lace Dress

$

565

XSCAPE Sequin Keyhole Long Sleeve Gown

$

318

MICHELLE MASON Asymmetric Open-back Gown

$

965

MAGDA BUTRYM Cutout Ribbed Stretch-knit Maxi Dress

$

2,380

CAROLINA HERRERA Convertible Silk-moire Gown

$

5,990

KATIE MAY X REVOLVE Edgy Dress

$

298

NOOKIE x REVOLVE Allure Gown

$

319

MICHAEL COSTELLO x REVOLVE Mr. Gibson Mini Dress

$

188

ELLIATT Noa Dress

$

209
The Universal Red Dress For Everyone
While finding the perfect shade of glamorous red dresses can be a challenge, there is such thing as a universal shade. Deeper, darker reds are perfect for complementing almost any skin tone—no matter how light or dark. After all, if you're shopping for the holidays, the least you could do is relieve yourself of some stress. Opting for universal shades is one of the easiest things you can do to ensure the hue will be right for you. Our favorites? Well, the SOLACE LONDON Thalia Maxi Dress and the OSCAR DE LA RENTA Velvet Paillette Scallop Cocktail Dress easily win our hearts. Considerably formal, definitely fabulous, and rather sultry, these pieces make the ultimate holiday line up. And if you find yourself skipping out on red for the holidays, you can always give these glamorous red dresses a chance for new year celebrations!
Shop All Glamorous Dresses