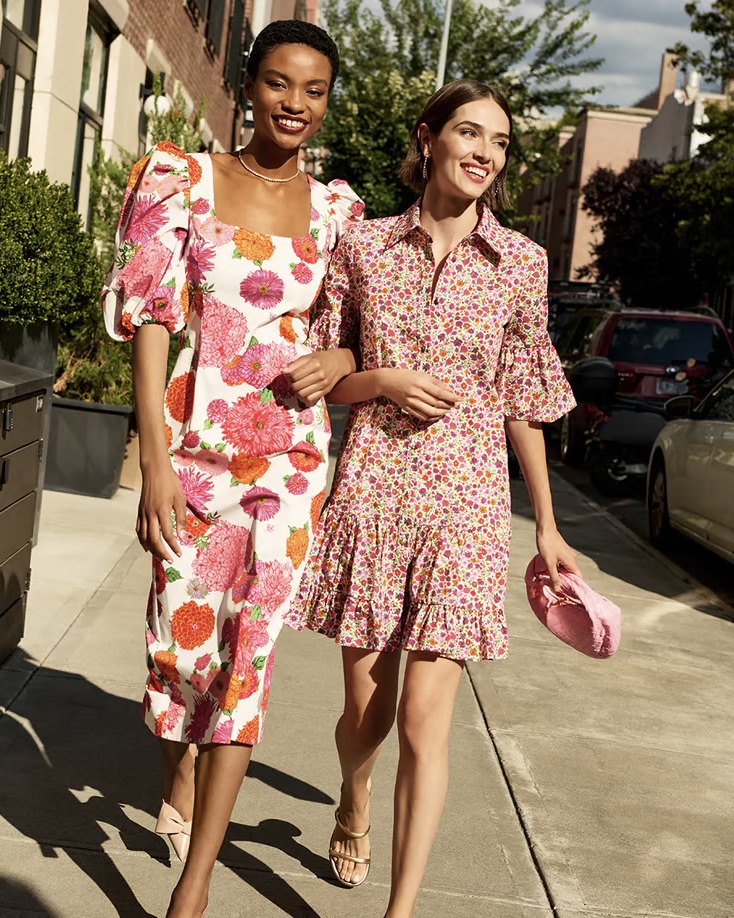 La DoubleJ
Still Warm In Your City? Take Advantage Of These Pretty Daytime Dresses
Pumpkin-spiced lattes aren't the only things in the spotlight—so are pretty daytime dresses. For those in warmer climates, the transition into fall fashion doesn't have to be quite as dramatic. After all, knitwear isn't what autumn is all about. If you're basking in extended sunshine, there's no need to bid farewell to day pieces just yet. Luckily for you, we've curated a collection that seamlessly blends fall elegance with lightweight comfort. While others are bringing out the snow boots soon enough, you can take advantage of your pin in the map. From flowing maxis to flirty minis, these pretty daytime dresses are perfect to keep you stylishly cool while you can be.
Pretty Daytime Dresses In Everything But Knitwear
While chunky knits are the champions of fall wardrobes, pretty daytime dresses can be too. After all, warmer climates call for a different strategy that doesn't revolve around keeping ultra warm. Although in a new season, breezy fabrics, delicate patterns, and vibrant hues work just as good in fall as they do spring or summer. Our recommendation would be to opt for silky satins, and cotton blends to keep things comfortable without compromising on style.
For example, the ISABEL MARANT Usmara Gathered Crepe Mini Dress was made for day-to-day wear. These pieces are proof of effortless sophistication, allowing you to embrace the season without breaking a sweat. Plus, we could all use some extra pretty daytime dresses in our closet. Plans or not, they'll take you far.
SIGNIFICANT OTHER Adley Knit Maxi Dress

$

332

JOHANNA ORTIZ Birdsong Crocheted Midi Dress

$

780

ALÉMAIS Elisabetta Linen Mini Dress

$

395

ERDEM Floral-print Satin Midi Dress

$

2,695

FREE X FREE-EST Prettiest Pleats Mini Dress

$

70

HANSEN + GRETEL Harmony Dress

$

299

FREE PEOPLE In The Flowers Maxi Dress

$

168
Take Advantage Of Mini Lengths
When the temperatures play nice, why not make the most of it with pretty daytime dresses? Mini lengths aren't going anywhere anytime soon, especially for those in luckier climates. Embrace the playful charm of shorter hemlines, allowing your legs to revel in the remaining warmth. Pair with ankle boots or sneakers for an ensemble that works for any everyday occassion. Whether adorned with floral prints or solid in a fun color, these effortless styles capture the essence of transitional style.
Our favorites are the ACLER Cardine Mini Dress and the CURRENT AIR Floral Nouveau Mini Dress. With these, there's no need to shy away from showing a little leg—after all, fashion is about celebrating every facet of femininity. And before the temperatures drop, it's the perfect time to play dress up in ensembles you won't be able to wear later. So, if you're still relishing in the lingering warmth of your city, don't rush into the arms of chunky sweaters just yet. Pretty daytime dresses are your ticket to transitioning into fall with grace and style.