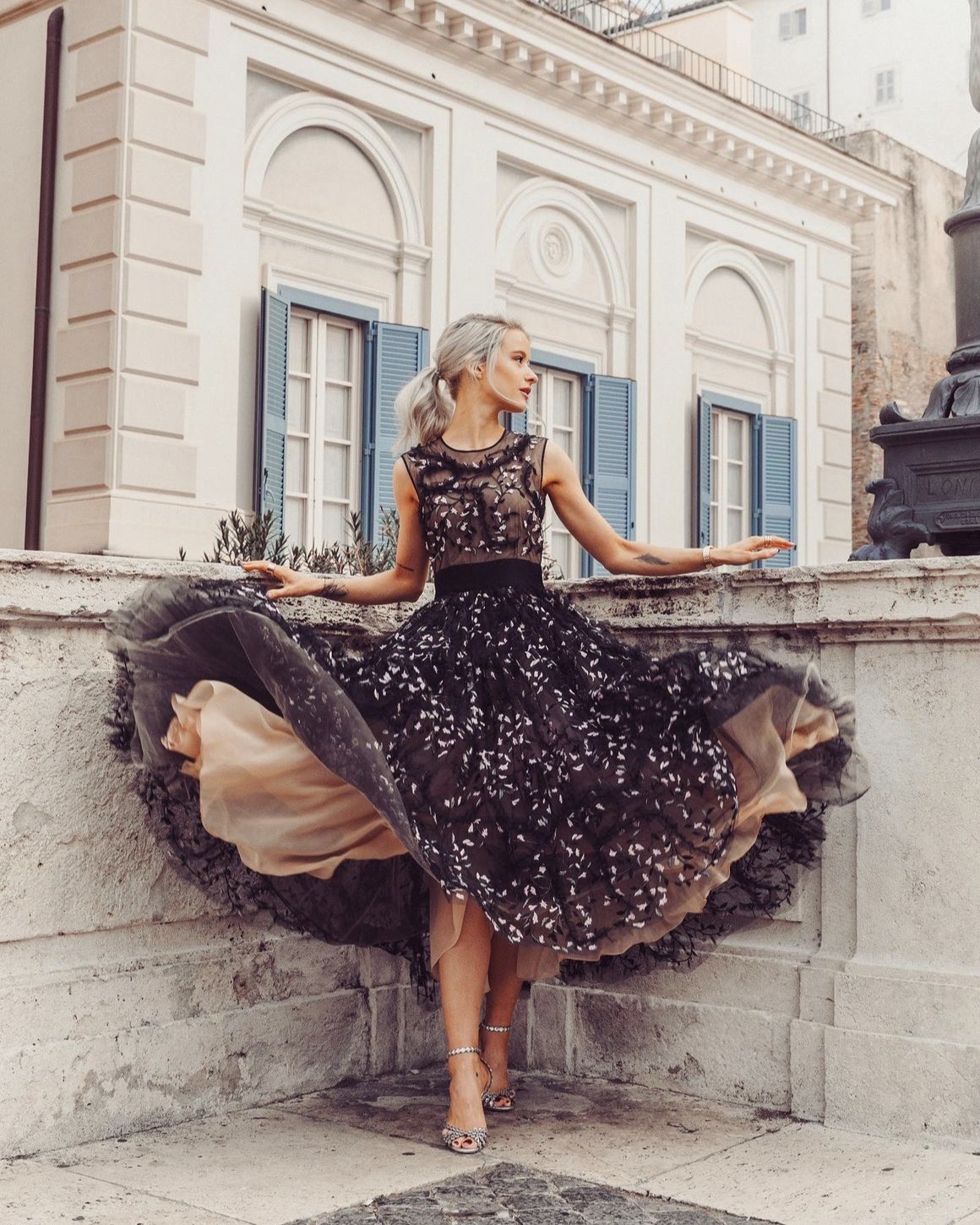 Get The Look: Victoria Magrath Dress Style
@Victoria / Instagram
Get The Look: Victoria Magrath Dress Style
Victoria Magrath's dress style is among the most sought after styles for women across the globe. The well-known fashion blogger is known for her chic and elegant sense of style, embracing classic fashion. In a recent post, Victoria was spotted wearing a stunning dress that has since become a popular style inspiration for many women. Keep reading to take a closer look at Victoria Magrath's dress style and some tips on how to achieve the stellar look. You'll find that this feminine piece might just be your greatest asset through the spring and summer seasons.
Victoria Magrath's Chic Dress Style
Victoria Magrath's dress style is a classic, with a touch of modern flair. The fashionista is often wearing dresses that feature elegant silhouettes, and feminine details and colors. In this particular look, Victoria is wearing a stunning black and blush dress that is both eye-catching and elegant. While seemingly traditional, this look is just as trendy and stylish as any other new piece on the market. In fact, fitted bodices and flowy skirts will never go out of style.
To achieve a similar dress style to Victoria's, consider the MARCHESA NOTTE Embellished Tulle Fit-&-Flare Dress. Feminine details are always fun to incorporate into your wardrobe for when you're looking to dress chic. Pair it with simple, yet sophisticated accessories, such as a top handle satchel or a delicate necklace. Remember, it's all about balancing elegance with modern style to create a look that is both chic and unique. Victoria Magrath's dress style is the perfect example of that.
Shop The MAC DUGGAL Off the Shoulder Beaded Chiffon Midi Dress
MAC DUGGAL Off the Shoulder Beaded Chiffon Midi Dress

$

398
Special Dresses Made For Special Moments
Victoria Magrath's dress style exudes a classic lessens you just don't find anywhere today. Because of this, she is in fact the perfect inspiration for special dresses made for special moments. When it comes to choosing a dress for a special occasion, making a statement in your true style is the best way to go. After all, you're there to enjoy your time while also feeling your best. The ultimate way to do this is to opt for an ensemble that screams your unique taste.
Consider choosing the AQUA Embellished Lace Off-the-Shoulder Gown for your next wedding invite. Paired with strappy heels and statement jewelry, you can expect to get a lot of turning head with this one. Similarly, the SISTER JANE Twirl Point D'esprit Embroidered Tulle Mini Dress is shorter option for occassions in warmer climates. The best part about this style is that it's still similar to Victoria's, while also proving to be more wearable. With Victoria Magrath's dress style as your inspiration, you're sure to find a special dress that will make you look and feel your best.
Shop Victoria Magrath's Dress Style
MAC DUGGAL Embellished Flutter Sleeve A-Line Gown

$

598

CAROLINA HERRERA Embellished Strapless Ball Gown

$

8,990

SELF-PORTRAIT Embellished Crepe-trimmed Guipure Lace Midi Dress

$

585

CLEA Rohe Beaded Tulle Midi Dress

$

673

MAC DUGGAL Illusion Sequin Lace Feather Sleeve Mermaid Gown

$

798

MAC DUGGAL Illusion Long Sleeve Midi Dress

$

598

PAMELLA ROLAND Sequin Embellished Tiered Tulle Cocktail Dress

$

4,990

ADRIANNA PAPELL Beaded Mesh Cocktail Dress

$

279

SISTER JANE Twirl Point D'esprit Embroidered Tulle Mini Dress

$

93

MARCHESA NOTTE Embellished Tulle Fit-&-Flare Dress

$

895

CITY CHIC Lacy Tulle Evening Gown

$

239

MAC DUGGAL Beaded Floral Fit & Flare Cocktail Dress

$

698

TERI JON BY RICKIE FREEMAN Beaded Applique Ruched Tulle Gown

$

1,140

ADRIANNA PAPELL Floral Embroidered Beaded Trumpet Gown

$

300

MAC DUGGAL Geometric Beaded Midi Cocktail Dress

$

398