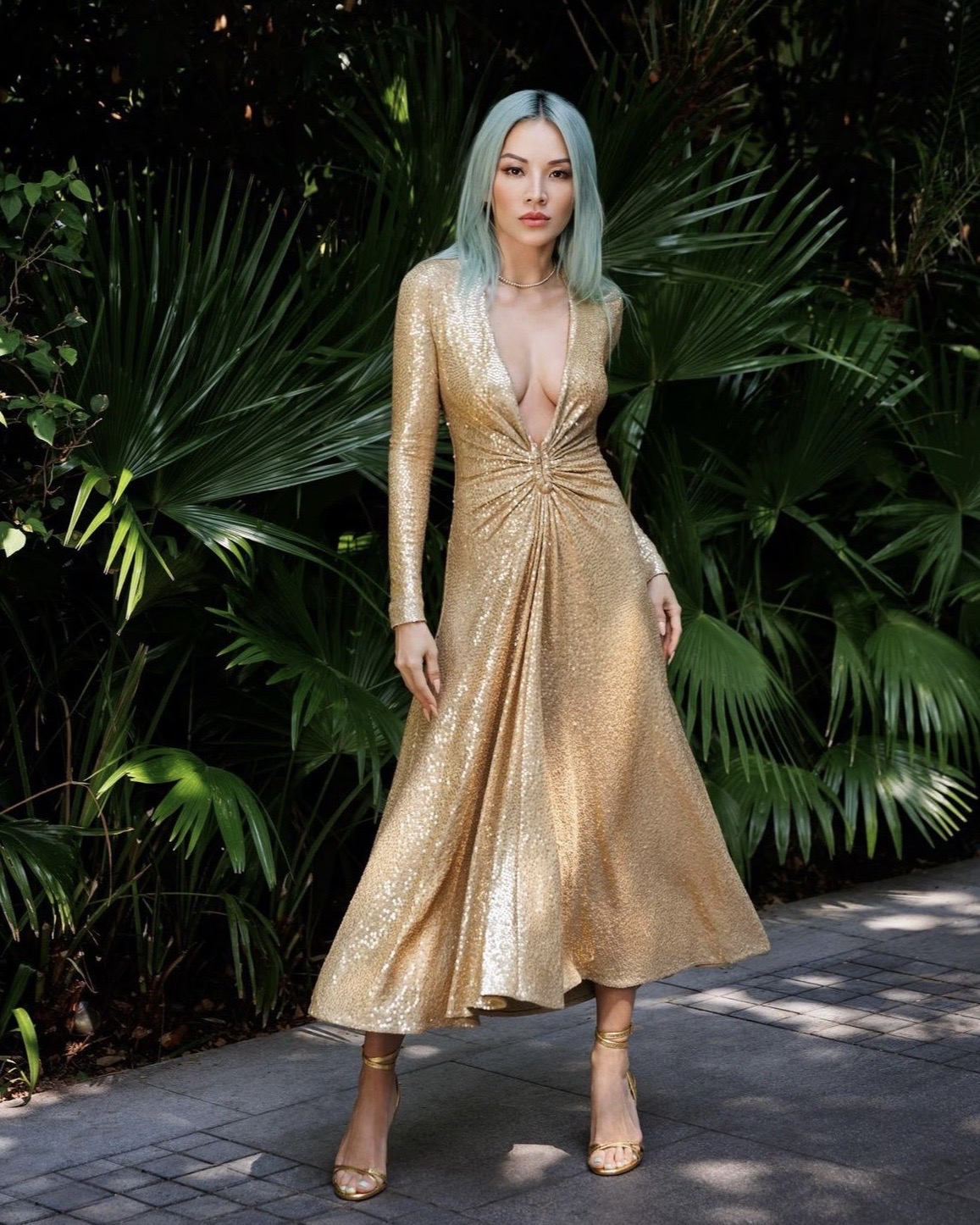 Get The Look: Tina Leung Dress Style
@tinaleung / Instagram
Get The Look: Tina Leung Dress Style
Tina Leung's dress style is one you never see coming. While we would have words for her wardrobe, her ensembles leave us with very little to say. Edge, yet chic in its unique way, Tina is all about standing out in her true light—no matter what. While you can usually find her in a killer pant fit, the fashionista does love her dresses. Luckily for you, snagging the icon's style isn't all that difficult as far as this look is concerned. Although her trendsetting aqua-blue hair isn't included, you can still capture Tina Leung's dress style with the right piece. Keep scrolling to find the options we'd recommend snagging.
Shine In Tina Leung's Sunny Dress Style
Loving Tina Leung's dress style for its sunny gold hue? Us too. Along with yellows, we'll be seeing a whole lot of gold in the coming months—so what better of a reason to snag the look? There are none! But just because the color is trending, doesn't mean you can't savor the look for years to come. Gold sequins are a timeless staple you can enjoy for more seasons than just one. From a glamorous night out or even a wedding, you'll be happy to know you can count on these picks.
Our favorite is the ASOS EDITION Sequin Plunge Midi Dress without question. While it's hard to not to stand out with a sequin dress, this color just makes it even more eye-catching. Paired with simpler accessories and glam beauty to match, every woman should experience  a gold sequin dress. Not to mention, the ROTATE BIRGER CHRISTENSEN Sierina Sequined Midi Dress is another fabulous option. While more on the formal side, you can count on this piece for weddings or cocktail events. No matter where you're headed, these styles prove that Tina Leung's dress style isn't a luxury—it's a wardrobe essential.
Shop The JENNY PACKHAM Margot Sequin Gown
JENNY PACKHAM Margot Sequin Gown

$

5,021
Sequins In Another Metallic Favorite
Wish Tina Leung's dress style were in a different color? We've got your greatest wishes, covered. While gold is certainly a popular metallic, so is silver. With all of the chrome and silver accessory trends in the market, it only makes sense to get a dress to match.
If you're feeling a bit bolt and want to show more skin, the ET OCHS Ava Strapless Cutout Sequined Satin Gown is our first pick. Tina's style is a great balance between sophistication and sexiness, however, who said you can't go all of the way? With this body-hugging silhouette, you might just want more. And by more, we mean the 16ARLINGTON Solaria Sequined Snake-print Tulle Maxi Dress, another perfect find. Regardless of which details from Tina Leung's dress style you favor, there's a dress of your dreams out there somewhere.
Shop Tina Leung's Dress Style
LULUS Sequin Your Heart Evening Gown

$

98

LULUS Endless Festivities Sequin Fringe Gown

$

98

16ARLINGTON Solaria Sequined Snake-print Tulle Maxi Dress

$

2,195

LNL Sequin Gown

$

99

CAROLINA HERRERA Bow-detailed Sequined Crepe De Chine Gown

$

6,990

LAQUAN SMITH Sequin-embellished Off-shoulder Gown

$

2,300

ROTATE BIRGER CHRISTENSEN Sierina Sequined Midi Dress

$

430

PAMELLA ROLAND Copper One-Shoulder Sequin Gown

$

4,565

LOVERS AND FRIENDS Lux Dress

$

268

WAYF Backless Mini Dress

$

138

16ARLINGTON Solaria Sequined Midi Dress

$

2,040

ELIZA J Ombré Sequined Gown

$

248

ASOS EDITION Sequin Plunge Midi Dress

$

270

TADASHI SHOJI Sequined Sleeveless Gown

$

398

ET OCHS Ava Strapless Cutout Sequined Satin Gown

$

1,850