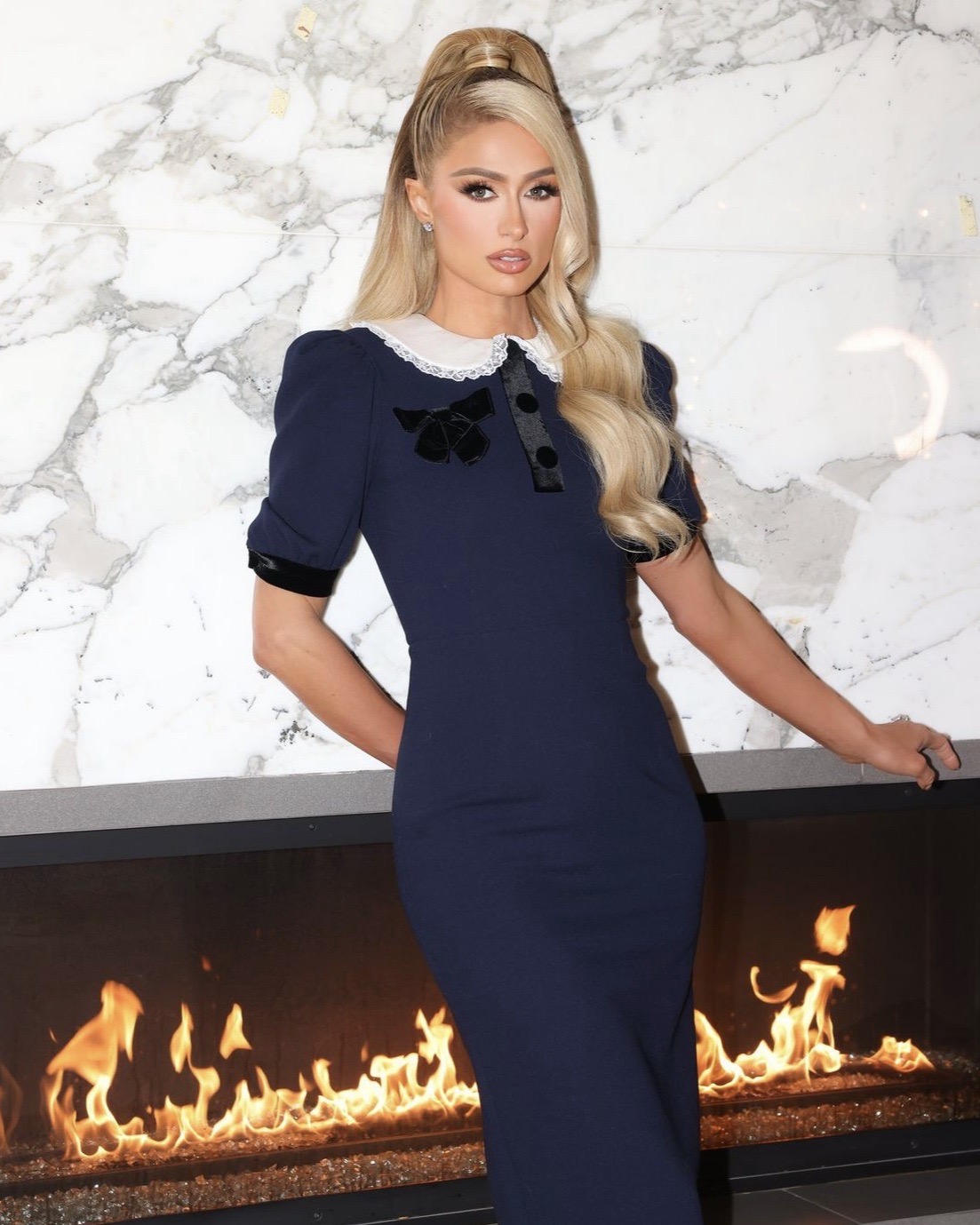 Get The Look: Paris Hilton Dress Style
@PARISHILTON / INSTAGRAM
Get The Look: Paris Hilton Dress Style
One look at Paris Hilton's dress style and you'll be wanting one in every single color possible. It's simply too hard not to want one for yourself! As we enter a new year of fashion trends, this year will be particularly big for all-things classic and vintage inspired. This stellar navy dress isn't just for the winter season, but an all-year-round classic you can count on to looking fashion forward.
From collars to bows, to buttons, this style is expected to be everywhere this year. The littlest details, even the simplest, can really turn an ensemble into something truly spectacular. Pair it with a classic pair of booties or pointed heels for a head-to-toe outfit you'll savor forever. If there's one person to kick fashion off with a bang, it's definitely Paris Hilton. Scroll to find our favorite 15 dress styles inspired by the iconic fashionista herself. You'll find that each pick is worth your while—and worth rocking all year long. 
Paris Hilton's Fashion Forward Dress
Paris Hilton's dress style might reference vintage fashion, but its underlying modern edge is what makes it truly unique. After all, it's Alessandra Rich we're talking about. If you happen to already be a fan of the brand, you might not want to pass on owning some more. Our two particular favorites are the ALESSANDRA RICH Wool Blend Crepe Mini Dress and the ALESSANDRA RICH Chelsea-collar Silk-crepe De Chine Dress. Similarly designed to resemble many of the other dresses in the brand's collection, these two are effortlessly chic. Everyone who wears Alessandra Rich knows how confident their pieces make them feel—and how unmatched the craftsmanship is. So, if you're on the lookout for capturing Paris Hilton's dress style, start with the same label.
Shop The ALESSANDRA RICH Wool Blend Crepe Mini Dress
ALESSANDRA RICH Wool Blend Crepe Mini Dress

$

1,595
The Classic Dress Style Everyone Desires
As mentioned earlier, Paris Hilton's dress style is something everyone will want their hands on. While Alessandra Rich's style has always remained consistent, many have yet to experience the unique style. Its mix of modernism and dated fashion is what makes every piece truly unique. For example, the ALESSANDRA RICH Ruffled-collar Polka-dot Silk Dress is one exceptional dress without a doubt. While normally vintage referenced designs would be looked over, they're making a major comeback in a bold way. Similarly, the ALESSANDRA RICH Crepe Cady & Lace Mini Dress is another worth trying out this year. Fashion forward and easy to style, you might just be surprised to know that Paris Hilton's dress is a true gem.
Shop Paris Hilton's Dress Style
ALESSANDRA RICH Daisy-print Pleated Silk-twill Shirt Dress

$

1,975

ALESSANDRA RICH Polka-dot Silk Crepe De Chine Mini Dress

$

1,500

ALESSANDRA RICH Polka-dot Print Silk Midi Dress

$

1,650

ALESSANDRA RICH Polka Dot Silk Georgette Lace-up Dress

$

1,790

ALESSANDRA RICH Floral Printed Silk Georgette Mini Dress

$

1,860

ALESSANDRA RICH Crepe Cady & Lace Mini Dress

$

1,280

ALESSANDRA RICH Floral Silk Mini Dress

$

1,780

ALESSANDRA RICH Checked Wool Mini Dress

$

1,420

ALESSANDRA RICH Ruffled-collar Polka-dot Silk Dress

$

2,035

ALESSANDRA RICH Printed Silk Crepe Mini Dress

$

1,765

ALESSANDRA RICH Silk Crepe Floral Print Mini Dress

$

1,785

ALESSANDRA RICH Printed Silk Mini Dress

$

1,740

ALESSANDRA RICH Ruffled V-neck Mini Dress

$

1,939

ALESSANDRA RICH Chelsea-collar Silk-crepe De Chine Dress

$

1,580

ALESSANDRA RICH Floral Silk-jacquard Midi Dress

$

1,620