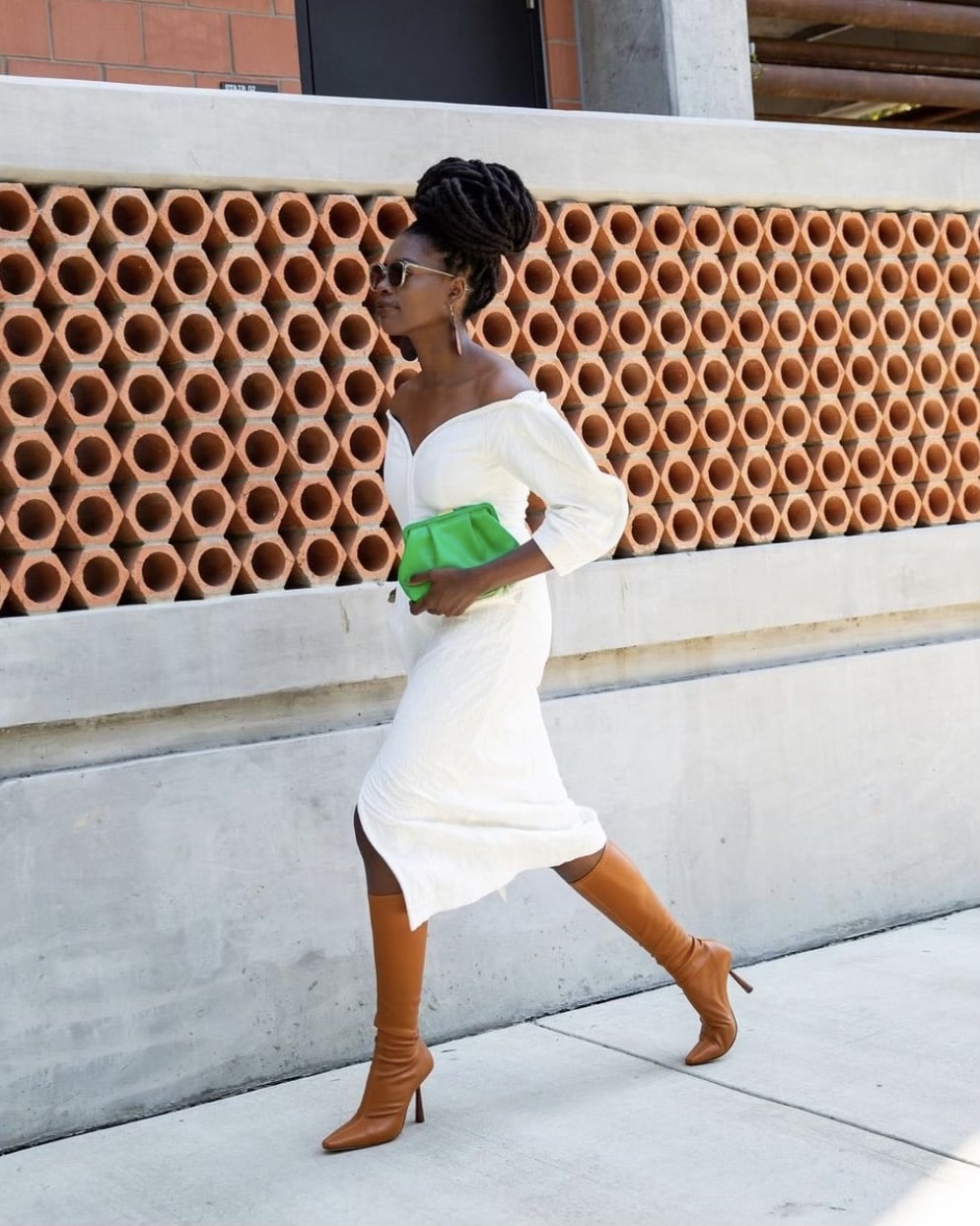 Get The Look: Paola Mathé Dress Style
@FINDINGPAOLA / INSTAGRAM
Get The Look: Paola Mathé Dress Style
If there's one thing Paola Mathé's style is great for, it's making every ensemble look the utmost classy. The fashionista isn't just known for keeping up with all of the hottest trends, but also making them look even better. There are countless influencers, models, and stylists putting together fads, but it's quite rare to see one do it exceptionally well. Part of having good taste and a sense of style is referring back to your own personal style. And there's certainly no better person for the job than Paola. From elegantly flattering midi dresses to effortless maxis, each ensemble has a personality of its own. If you're looking to look and feel your best then look no further than Paola Mathé's dress style. We're certain you'll find the hidden gems you've been looking for—and they're just 15 dresses away in this edit!
You Can Never Go Wrong With A White Dress
Although summer is coming to an end, you can't go wrong with snagging Paola Mathé's dress. White is an amazing base color, especially coming into the fall months—although some might say to stay away from the color after Labor Day. This time around however, we're opening the doors to a couple of options for the dare devils. Our two favorites without a doubt are the VIVIENNE WESTWOOD Ginnie Off-the-shoulder Cady Dress and the ASOS DESIGN Linen Fallen Shoulder Midi Dress. After a season filled with bright hues and gradient shades, it's finally time to embrace a bit of simplicity. Paired with color blocking accessories or even neutrals, you can instantly upgrade these simply dresses in any which way. That's what we love the most with Paola Mathé's dress style, especially this classic look!
Shop The ET OCHS Vivian V-Neck Ruched Midi Dress
ET OCHS Vivian V-Neck Ruched Midi Dress

$

1,495
Paola Mathé's Iconic Off-The-Shoulder Midi
While Paola Mathé's dress is certainly a hit in white, it's also not the only color option. Off-the-shoulder midi dresses are one of the most versatile staples you can own in your fall wardrobe. Whether with a pair of classic heels or booties to embrace the season, this silhouette is definitely a fan favorite for a good reason. Not to mention, they're incredibly easy to dress up or down to your liking. So if you're in love with Paola Mathé's dress, but want another color in your wardrobe for fall, then we've got just the piece for you. The DRESS THE POPULATION Bailey Off the Shoulder Body-Con Dress is a great buy (and color!) on the market we expect to go soon. There's nothing like snagging a hot seller before the crowd, and this dress is no different.
Shop Paola Mathé's Dress Style
STELLA MCCARTNEY Compact-Knit Midi-Dress

$

1,795

ALEXANDER MCQUEEN Off the Shoulder Poplin Corset Dress

$

3,890

TOM FORD Off-The-Shoulder Rib Midi Dress

$

1,850

ALEX PERRY Merrit Off-The-Shoulder Bustier Satin Gown

$

2,600

VIVIENNE WESTWOOD Ginnie Off-the-shoulder Cady Dress

$

1,038

DRESS THE POPULATION Bailey Off the Shoulder Body-Con Dress

$

178

CECILIE BAHNSEN Jacquard Puff-Sleeve Dress

$

1,355

KOBI HALPERIN Shari Off-Shoulder Eyelet Midi Dress

$

755

KOBI HALPERIN Andrea Pleated Off-the-Shoulder Midi Dress

$

498

CHARO RUIZ Isabella Off-the-shoulder Tiered Broderie Anglaise Cotton-blend Midi Dress

$

803

AMANDA UPRICHARD Venezia Midi Dress

$

268

ASOS DESIGN Linen Fallen Shoulder Midi Dress

$

58

CULT GAIA Ida Off-the-Shoulder Midi Bustier Dress

$

498

ALEX PERRY Exclusive To Mytheresa – Bridal Tate Stretch-crêpe Midi Dress

$

932

MAJORELLE Selvaggia Midi Dress

$

228