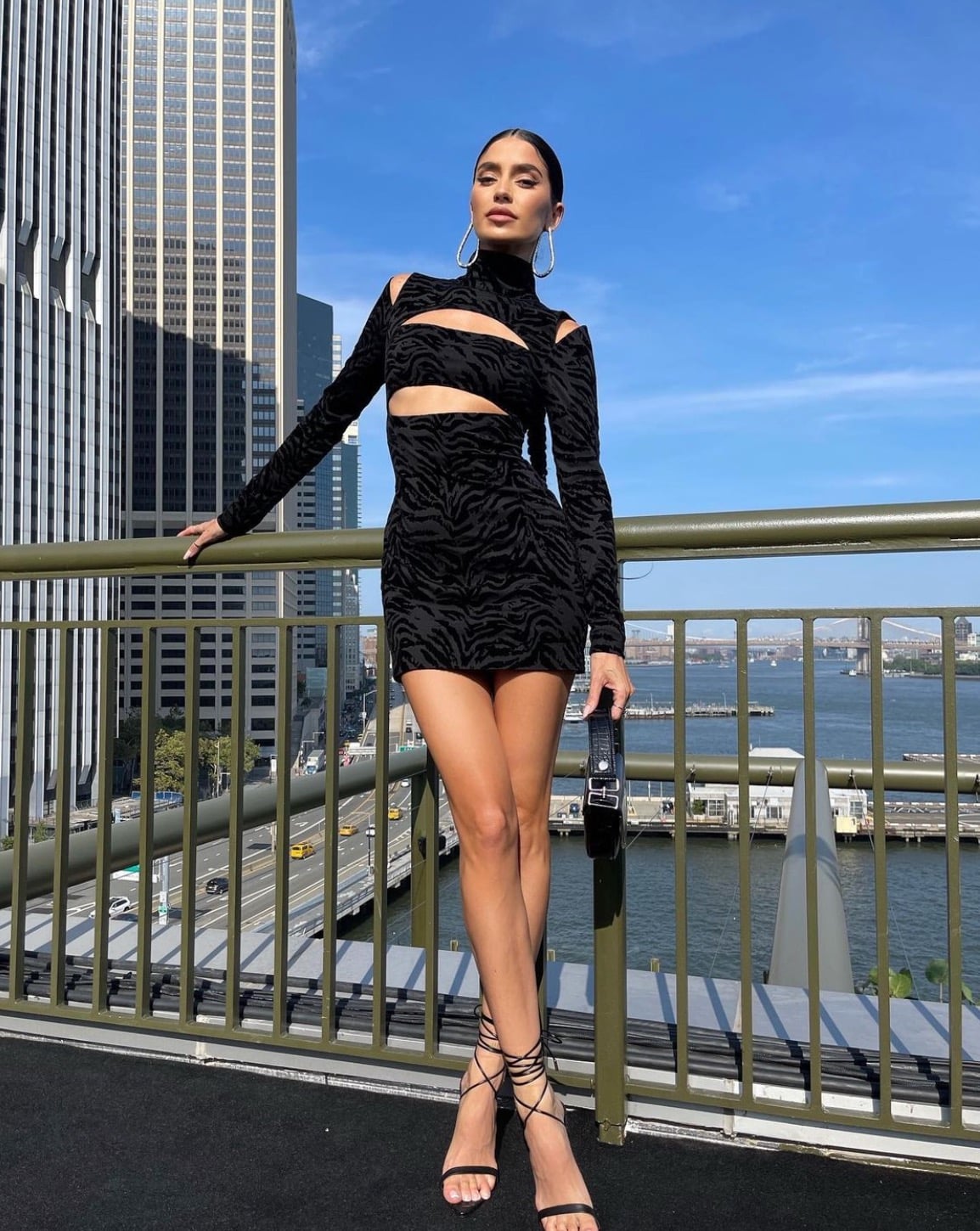 Get The Look: Nicole Williams English Dress Style
@JUSTTNIC / INSTAGRAM
Get The Look: Nicole Williams English Dress Style
If you've had one look at Nicole Williams English's dress style, then you'll see right away why she deserves some spotlight. Although this piece is just another LBD, it's definitely not one we have…yet. Luckily for you, you too can own this sultry look after we show you these 15 looks. With so many to choose from, we're sure you might just have some trouble nailing down one. But let's face it, can you ever have enough black dresses? We don't think so! No matter the season or occasion, you can always dress up or dress down a good LBD. And this piece is no exception–Nicole Williams English's style is the perfect inspiration to fuel a new, fresh wardrobe–LBD or not.
Nicole Williams English's Sultry Glam
It's no secret that Nicole Williams English is known for her sultry, high-fashion glam. It's no wonder us gals all want a piece of her looks, and by looks–we mean all of them, really. This one is a great option for those looking to feel a bit more free with their effortless ensembles this upcoming summer season. And although the turtleneck might not be your average summer detail, the cut outs and shape make up for it. 
Our favorites for snagging the look are the GAUGE81 Alzira Asymmetric One-shoulder Dress and the LOVERS AND FRIENDS Palmer Midi Dress, for obvious reasons. Sometimes a little goes a long way, and with the right intentions, you can certainly find the perfect dupe for Nicole Williams English's sultry look. These pieces are perfect for anyone looking to snag the inspiration, while also keeping it more timeless. That way, you can enjoy Nicole's style now and long after down the road. 
Shop The SELF-PORTRAIT Stretch Jersey Cut Out Mini Dress
SELF-PORTRAIT Stretch Jersey Cut Out Mini Dress

$

440
Cut It All Up
Your Nicole Williams English inspired dress doesn't have to be black…or mini. When it comes to getting inspired, the best part is turning the source into your own. After all, we do all have our own personal style and taste. Maybe you're looking for a pop of color in your wardrobe or simply have too much black (we're guilty too.) That's why we couldn't gatekeep the ALEXANDRE VAUTHIER Open-back Cutout Stretch-jersey Dress for much longer. Upon first glance, it might not look like your cup of tea. But we promise that with one slip and a 90's inspired handbag, you'll be just a step away from bringing Nicole Williams English's style, home.
Shop Nicole Williams English's Dress Style
LOVERS AND FRIENDS Palmer Midi Dress

$

168

THIRD FORM Look Through Off-the-shoulder Mini Dress

$

341

GIUSEPPE DI MORABITO Viscose Blend Open Back Mini Dress

$

1,055

ANDREĀDAMO Cutout Open-knit And Ribbed-knit Dress

$

591

HOUSE OF CB Powermesh Corset Long Sleeve Midi Dress

$

239

SNDYS Pamela Dress

$

65

GAUGE81 Alzira Asymmetric One-shoulder Dress

$

305

LNA Phifer Rib Tank Dress

$

125

BOTTEGA VENETA Cutout Tie-detailed Stretch-knit Mini Dress

$

2,550

BALMAIN Cutout Bandage Knit Mini Dress

$

4,250

JACQUEMUS Limao Cutout Wool Halterneck Mini Dress

$

775

VERSACE Embellished Cutout Ribbed-knit Midi Dress

$

1,275

ALEXANDRE VAUTHIER Open-back Cutout Stretch-jersey Dress

$

1,872

MAGDA BUTRYM Strapless Cut-out Mini Dress

$

1,700

VIX Mag Cutout Seersucker Mini Dress

$

248