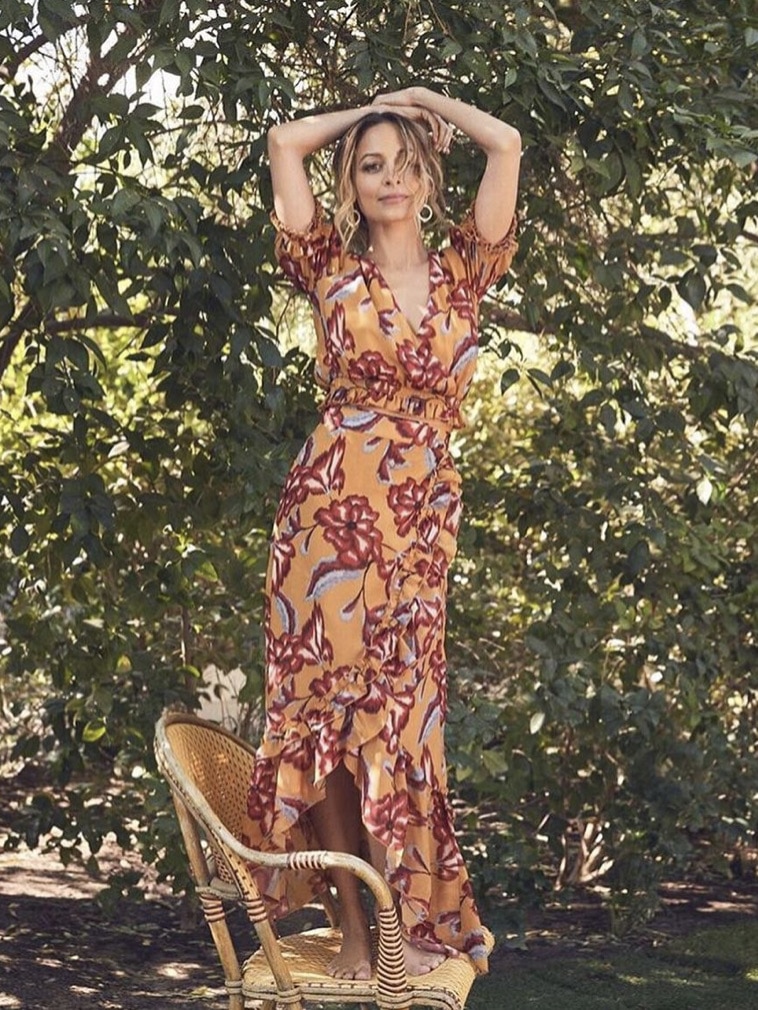 @NICOLERICHIE / INSTAGRAM
Get The Look: Nicole Richie Dress Style
This Nicole Richie dress is one of those dresses that leaves you wondering what exactly makes it so special. It's quite obvious that its comfortability is what makes it most appealing, but we think it's beyond that. A good print can really take any ensemble up a notch and that's exactly what this dress does. Its floral pattern and fall-inspired color palette is just the duo we need this upcoming season. Maxi dresses and longer pieces of all kinds are great for the end-of-summer weeks, while still being appropriate enough to welcome in the fall time. There's no need to ditch the extra length this time, turn to Nicole's timeless silhouette and print to get you through the next couple of weeks in the best fashion. After all, if there's something the Nicole Richie style does best, it's making any woman look and feel confident.
Sunkissed Colors You'll Adore
If there's one thing about this Nicole Richie dress, it's the sunset, sun kissed colors that first catch our eye. A warm palette like this one can look good on a variety of skin tones, making it a great piece for all women to enjoy. Just take a peek at the FREE PEOPLE Rare Feelings Maxi Dress for example. It'd be too hard not to want to stop and stare at such a lovely dress. While it's certainly effortless, it can easily be spruced up with the right handbag and your favorite fall-ready sandals. Another dress with the same affect is the EYWASOULS MALIBU Amelia Tiered Floral-print Tencel Lyocell-twill Maxi Dress, a favorite of ours. These pieces have the power to look like you took some time getting ready, when in reality all you did was slip on a dress. That's what makes the Nicole Richie dress so versatile and amazing to wear!
Shop The FREE PEOPLE Rare Feelings Maxi Dress
The Nicole Richie Dress In Another Hue
Why not try out the Nicole Richie dress in another color? Give the cool tones a shot with the endless blues and greens of this season. Surprisingly enough, cool tones will continue to make their way into the fall season, a time of year particularly known for its warm color palette. If you're one to go against the grain and tide, this part of the edit is for you. Take Nicole Richie's love of patterns and turn this inspiration into something fresh with the SEA Ines Shirred Floral-print Ramie Midi Dress. This dress is intricate in detailing enough to provide that wow factor, but subtle enough for the endless comfort we all adore. There's no need to dread slipping on a dress everyday when pieces like this exist. So the next time you're looking for an easy way to take your average day outfit to the next level, look to this Nicole Richie dress for some inspiration. There's no wear a maxi and floral print can't take you!
Shop Nicole Richie's Style