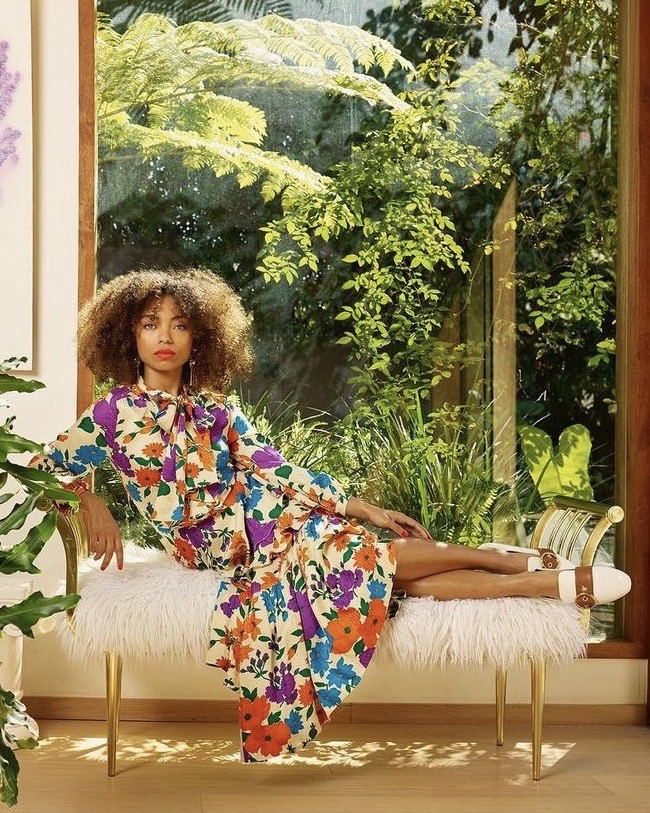 Get The Look: Logan Browning Dress Style
@loganlaurice / Instagram
Get The Look: Logan Browning Dress Style
When it comes to effortless style and an eye for vibrant ensembles, Logan Browning's dress style stands out. Known for her impeccable style appearances, Logan consistently showcases her extraordinary taste. One particular look that has caught our attention is her multi-colored floral midi dress. Not only is it uniquely beautiful, but it also evokes the carefree spirit of summer. Join us in deep diving into Logan Browning's dress style and explore how you can capture it. Her vibrant and chic aesthetic is just within reach. After all, summer is just a couple short weeks away. The time to build you summer wardrobe is now or never!
Logan Browning's Vibrant Dress Style
Absolutely need to know how to dress like Logan Browning? The floral printed midi dress is a testament to her ability to embrace bold prints and colors while maintaining an air of sophistication. To capture her vibrant dress style, opt for pieces in lively colors that exude a sense of playfulness. The midi length is also a smart choice breezy summer days by the water or better yet—chilly dinner night outs with your favorite people. Regardless of which dupe you opt for, you'll be pleasantly surprised to see how one simple floral dress can make all the difference.
A great dupe to capture the look is the DIANE VON FURSTENBERG Abigail Floral-print Silk-jersey Midi Wrap Dress. Feminine, chic and certainly daring, this style is one you'll savor for years to come. Not to mention, you can never go wrong with having ore color in your wardrobe. With Logan Browning's signature dress style hanging in your closet, you'll be turning heads wherever you go—this season and beyond.
Shop The DIANE VON FURSTENBERG Abigail Floral-print Silk-jersey Midi Wrap Dress
DIANE VON FURSTENBERG Abigail Floral-print Silk-jersey Midi Wrap Dress

$

730
The Print Without The Color
While Logan Browning's dress style often incorporates vibrant colors, it's also worth exploring the print itself, even without the vivid hues. If you're drawn to the pattern but prefer a more subdued color palette, opt for floral prints in neutral shades or black and white. These versatile options allow you to embrace the essence of the print while maintaining a sense of understated elegance. On the other hand, there are plenty of more toned-down tones to take advantage of is you still want some color.
Our favorites are the ERDEM Wisteria Floral Linen Mini Dress and the ALESSANDRA RICH Floral Silk Maxi Dress. Paired with statement accessories, such as bold earrings or a vibrant handbag, will help inject a pop of color into your look without making it the main attraction. By focusing on the print itself, you can create a chic and sophisticated outfit that reflects Logan Browning's fashion-forward sensibilities. And better yet, you can take her iconic dress style into your own hands.
Shop Logan Browning's Dress Style
CAROLINE CONSTAS Della Off-the-shoulder Asymmetric Ruffled Floral-print Silk-chiffon Gown

$

895

REFORMATION Net Sustain Juliette Floral-print Georgette Midi Dress

$

250

CARA CARA Claire Tiered Floral-print Cotton-poplin Midi Dress

$

595

ALÉMAIS Lou Benesch Kenzie Patchwork Printed Linen Midi Dress

$

465

LE SUPERBE Palm Beach Ruffle Wrap Dress

$

375

ALESSANDRA RICH Floral Silk Maxi Dress

$

1,920

JUAN DE DIOS Magdelena Halterneck Printed Silk Maxi Dress

$

580

ZIMMERMANN Raie Ruffled Floral-print Chiffon Dress

$

1,450

ERDEM Wisteria Floral Linen Mini Dress

$

1,011

WAYF Floral Ruched Midi-Dress

$

198

OSCAR DE LA RENTA Scoop-neck Floral Midi Dress

$

2,510

SHOSHANNA Cameo Tiered Printed Maxi Dress

$

660

HOPE FOR FLOWERS BY TRACY REESE Floral Tucked-Waist Knee-Length Dress

$

498

ERDEM Dalia Tiered Floral-print Cotton-poplin Midi Dress

$

1,395

ERDEM Vacation Panthea Tiered Floral-print Cotton Dress

$

1,145