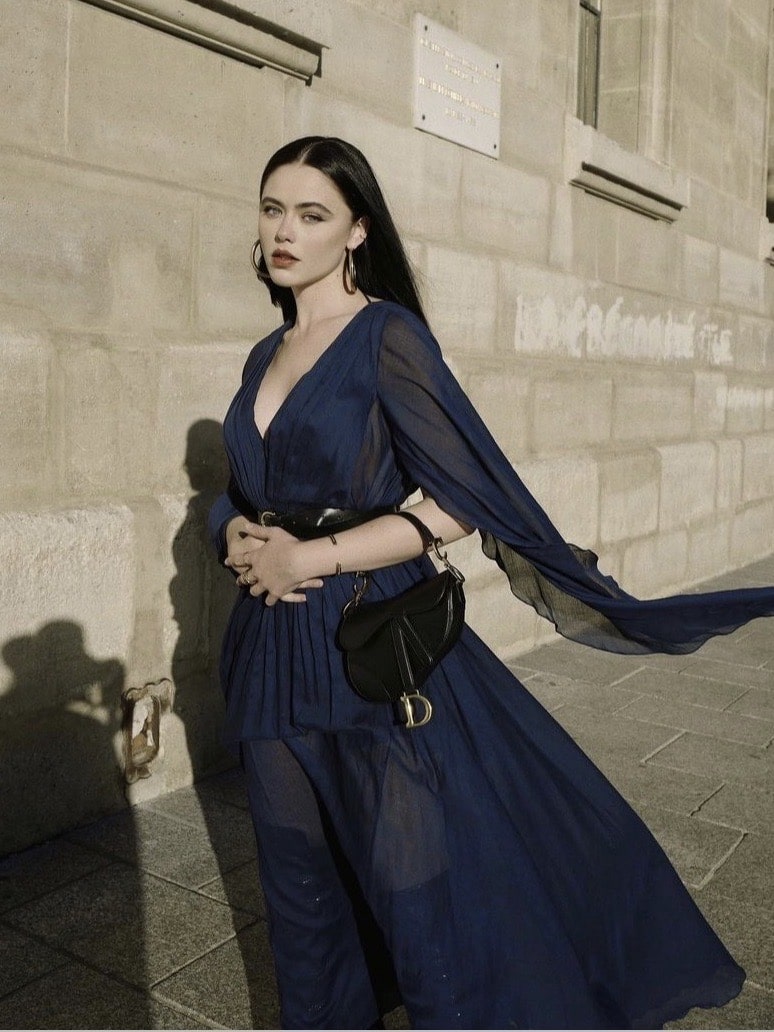 Get The Look: Kristina Bazan Dress Style
@KRISTINABAZAN / INSTAGRAM
Get The Look: Kristina Bazan Dress Style
If there's one dress that should make the cut in your closet, it should be this one from Kristina Bazan. The fashionista is known for her chic looks, but this one takes the cake. With all the complex textures saturating the current market, it's nice to get away once in a while. Especially being in the colder season, sometimes it's okay to steer away from all the noise in trends. Chiffon is the best way to accomplish this, bringing you the perfect balance of elegance and class. Kristina's iconic dark navy shade is another detail to point out, as it's versatile across all skin tones and accessories. So if you're looking for a new favorite look to wear this winter season and beyond, look to the Kristina Bazan dress for inspiration. We're sure you'll find something you'll adore in this 15-dress edit!
Bring Elegance Home
Taking this Kristina Bazan dress home with you might seem like an impossible task. However, have no fear–this year's winter season line up has just what you need to rock some chiffon in January and beyond. So whether or not you're shopping ahead for the spring season, you can enjoy a dupe of the celebrity look whenever you wish. Our favorite dupes are the VINCE CAMUTO One-Shoulder Drape Gown and the ANAYA WITH LOVE Bridesmaid Tulle Plunge Front Maxi Dress. They're the perfect balance between deep color and soft texture, just like Kristina Bazan's dress. With a pair of your most simple Maryjane heels and elegant pearl jewelry, you'll be off to looking just as glamorous–if not more–than Kristina and her iconic look.
Shop The HUTCH Lindy Dress
The Kristina Bazan Dress In A New Light
Kristina Bazan and her style comes in all shapes and sizes–like any dress. This piece is no different, offering you many options to rock the elegant, classic look. Luckily, finding a chiffon maxi isn't all that hard–especially as we all long for cooler-looking dresses. As we enter deeper into the winter season, a good old dress like this can offer just what you need to drift off on holiday in your mind. Whether navy or not, you too can bring the Kristina Bazan dress home with you. Just take a look at the ZEUS + DIONE Aphaia Pleated Satin Maxi Dress and you'll see right away. Its classic drapes and effortless shape is not only easy to style, but easy to rock. When you have a luxurious dress like this, you don't have to do much. Just sit back and relax; Kristina Bazan and her style has you covered.
Shop Kristina Bazan's Dress Style
ZEUS + DIONE Aphaia Pleated Satin Maxi Dress

$

968

AQUA Satin Ruched Gown

$

248

ZIMMERMANN Sunray Chain-embellished Pleated Chiffon Midi Dress

$

750

ANAYA WITH LOVE Bridesmaid Tulle Plunge Front Maxi Dress

$

108

LULUS Waiting for Love Lace Gown

$

88

XSCAPE Scuba Crepe Ruffle Gown

$

258

VINCE CAMUTO One-Shoulder Drape Gown

$

248

FREE PEOPLE Dannijo Crystal Strap Dress

$

365

LULUS Date with Daydream Pleated Evening Gown

$

98

ZUHAIR MURAD Chiffon Strapless Long Dress

$

6,315

DOLCE & GABBANA Wide-sleeve Draped-bodice Silk-chiffon Gown

$

6,495

HALSTON Halston x Netflix Chris Pleated Shimmer Gown

$

1,295

CHIARA BONI LA PETITE ROBE Aleksandrina One-Shoulder Column Gown

$

995

SELF-PORTRAIT Lace-trimmed Pleated Chiffon Maxi Dress

$

570

SEMSEM Swarovski Crystal-embellished Plissé-satin Maxi Dress

$

1,295