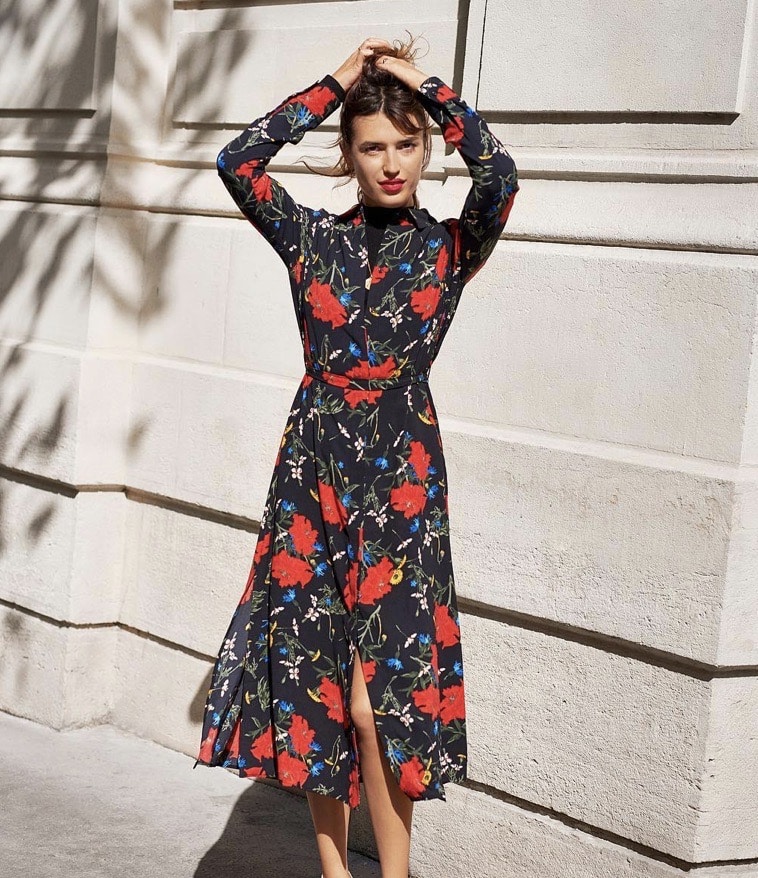 Get The Look: Jeanne Damas Dress Style
@jeannedamas / Instagram
Get The Look: Jeanne Damas Dress Style
There's no one quite like Jeanne Damas. The fashionista is well-known for her effortless, everyday style. Although some of her ensembles exist in our closets–we can quite figure out how she makes it all look good all of the time. This dress, in particular, is the perfect piece of inspiration for the season we're all about to experience. Whether you have a chillier or warmer entrance into spring, this floral ensemble is going to be out go-to this year. With an interesting color combination, we knew we just had to share this one. Scroll to discover our favorite 15 dupes of this Jeanne Damas dress and a bonus one of the ultimate influencer-inspired look. You won't regret stocking up on numerous of these pieces with the sun on its way!
The Perfect Celebrity-Inspired Spring Ensemble
Transitioning into spring with this Jeanne Damas dress will be a breeze. It's always a hassle finding the perfect ensemble that fits well with both the chillier and warmer weather. Especially when you have no idea what the temperature will be in these upcoming weeks, it get even trickier. That's exactly why we'd choose floral prints any day of the week. Welcoming a breath of fresh air into your wardrobe is the best way to experience it–and that's exactly what Jeanne did with this outfit. The TALBOT RUNHOF Poppy-Print Cotton Pique Midi Dress is the best example to get you ready and out the door in no time. Effortlessly put together, you won't have to do much to make this dress look good. Jeanne Damas's simple style makes anything look like a masterpiece by itself!
Shop The RIXO Gio Floral-print Silk-chiffon Midi Dress
RIXO Gio Floral-print Silk-chiffon Midi Dress

$

440
Bonus Jeanne Dama Dresses
With a hopeful season right around the corner, why not get all the Jeanne Damas dress inspiration you can get? Modern floral prints will be everywhere this spring and beyond–spreading some much-needed positivity. And with a little creativity when it comes to your desired color palette, it'll be easy finding one that fits your personal style.
That's why we just had to share the RIXO Pia Belted Floral-print Chiffon Midi Dress. It's the best dupe for Jeanne's dress, yet unique enough to satisfy anyone's daring fashion tooth. Similarly, the CAROLINA HERRERA Belted Floral-print Silk-organza Gown is another piece with a unique color palette. This duo will surely set all eyes on you–in and out of spring. Thanks to Jeanne Damas's style, we might not be wearing anything else but floral prints this spring!
Shop Jeanne Damas's Dress Style
REBECCA TAYLOR Gossamer Fleur Open Back Dress

$

595

DRESS THE POPULATION Sunny Embroidered Floral Fit & Flare Gown

$

298

THE VAMPIRE'S WIFE The Villanelle Ruffled Floral-print Crepe Midi Dress

$

1,025

THE VAMPIRE'S WIFE The Light Sleeper Rose-print Silk-georgette Dress

$

2,310

ASOS DESIGN Soft All Over Embroidered Maxi Dress

$

80

TALBOT RUNHOF Poppy-Print Cotton Pique Midi Dress

$

1,850

ERDEM Roisin Ruffled Floral-print Plissé Dress

$

2,540

ZIMMERMANN Pleated Midi Dress

$

650

TED BAKER Helgi Floral Seersucker Dress

$

325

EMILIA WICKSTEAD Marion Rose-print Taffeta Midi Dress

$

1,925

RIXO Pia Belted Floral-print Chiffon Midi Dress

$

435

THE VAMPIRE'S WIFE The Villanelle Floral Cotton-Blend Midi Dress

$

825

CAROLINA HERRERA Belted Floral-print Silk-organza Gown

$

6,180

REFORMATION + NET SUSTAIN Carolena Shirred Floral-print Georgette Midi Dress

$

324

HOPE & IVY Flutter Sleeve Midi Tea Dress

$

119