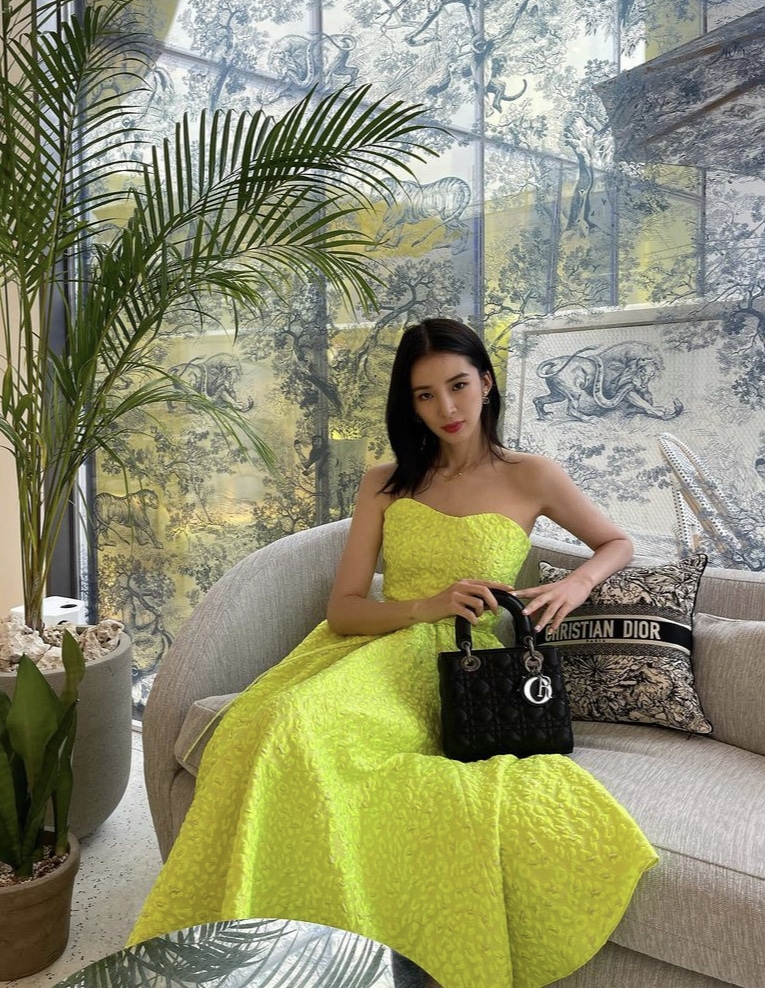 Get The Look: Irene Kim Dress Style
@IRENEISGOOD (INSTAGRAM)
Get The Look: Irene Kim Dress Style
You're here for one of two reasons (or both)–you love Irene Kim or you love highlighter yellow. Regardless of which if your motive, you've come to the right place. It's no surprise why Irene Kim's style is all over social media. The fashionista does a great job of taking something that would've been basic, and turning it into the best look ever. After all, isn't a dream we all have–to slip on any old piece and look our best? While it's not the case with every dress, this one in particular is perfect for the upcoming season. Yellow is great for springtime, and a wonderful color to style and have fun with. Pair it with other warm and sunny hues, or wear is sold. This Irene Kim dress is the perfect inspiration to enter the warm weather!
The Sunnier Side Of Strapless Dresses
We're not saying we're psychics, but there's a good chance you love this Irene Kim dress because you adore yellow or green. I mean, how can you now? After being in chilly weather for so long, we all crave a bit of sunlight. Snagging this influencer's style is just the way to do that! So if you're shopping around intentionally for some yellow, we've got your next favorite pieces. The SWF Halter Dress is a great straight forward option for a comfy look, while the CHARO RUIZ IBIZA Aurora Midi Dress is perfect for going out. That way, you can enjoy the popular shade anywhere you'd like. After all, if you love the color, why restrict yourself to just your house or the office. Thanks to Irene Kim making a highlighter look classy–we're wearing it everywhere.
Shop The SWF Halter Dress
A Irene Kim-Approved Printed Piece
If you love yellow as much as this Irene Kim dress, but not entirely sold–we got just the piece for you. Sometimes the sunny shade is a bit overpowering, especially when it comes to all the highlighter yellows. Luckily, you can still snag Irene's lovely dress without being fully decked out in the color of the sun. The SELKIE Corset Puff Dress is a great option to explore prints. It still includes yellow (which is a plus), but offers a new way to experience the fashionista's style. After all, can you really ever have enough prints and patterns anyway? It's time to try something new this spring and this Irene Kim inspired dress is one of the best places to start–even if it's not entirely yellow. Better yet, you can simply pick another complementary color from the print for you accessories!
Shop Irene Kim's Dress Style
EMILIA WICKSTEAD Cleo Cutout-back Crepe Dress

$

1,795

ANNA OCTOBER Waterlily Satin Midi Slip Dress

$

660

JASON WU COLLECTION Bow-embellished Pleated Satin-jacquard Midi Dress

$

1,795

CECILIE BAHNSEN Juniper Swiss Dot Cotton Midi Dress

$

1,930

MONIQUE LHUILLIER Floral-Embroidered Lace Sleeveless Midi Dress

$

2,695

PHILOSOPHY DI LORENZO SERAFINI Flared Mid Dress

$

1,160

CHARO RUIZ IBIZA Aurora Midi Dress

$

757

SELKIE Corset Puff Dress

$

290

CHARO RUIZ Dalia Off-the-shoulder Ruffled Broderie Anglaise Cotton-blend Mini Dress

$

589

CECILIE BAHNSEN June Quilted-satin Midi Dress

$

5,998

ALEJANDRA ALONSO ROJAS Bustier Silk Midi-Dress

$

2,395

VERSACE Envers Satin Heart Neck Mini Dress

$

3,125

ASOS DESIGN Bias Cut Midi Dress

$

66

BA&SH Dalid Floral Strapless Cotton Dress

$

350

PHILOSOPHY DI LORENZO SERAFINI Strapless Lace-up Cotton-poplin Midi Dress

$

995