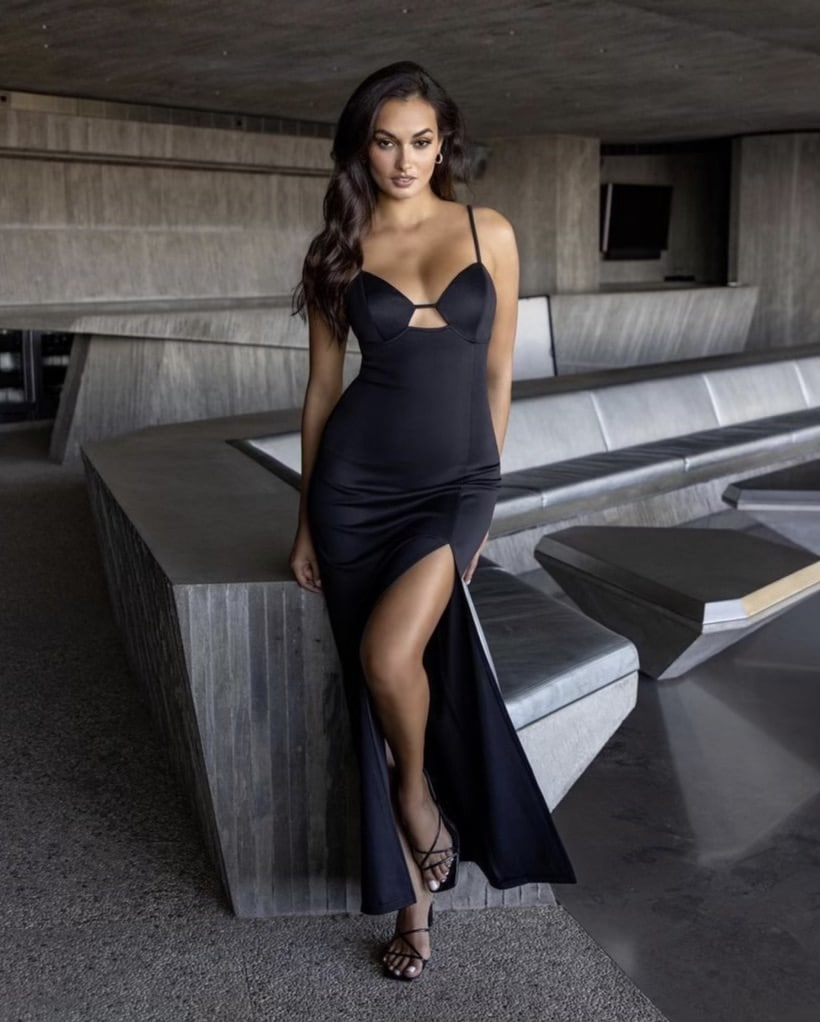 Get The Look: Gizele Oliveira Dress Style
@GIIZELEOLIVEIRA / INSTAGRAM
Get The Look: Gizele Oliveira Dress Style
It's not everyday that you find a style like this Gizele Oliveira dress. While black dresses certainly aren't uncommon to find, finding a unique one is. Little black dresses (LBD) flood the market almost every season, but how often do you find one that catches your eye? After all, LBDs are in fact, little. Luckily, Gizele offers us something more than what we've seen for decades, filling us in on an iconic look that we all can take inspiration from. Even if a sultry look isn't quite your thing, you can still find a look that complements and suits your personal style and taste best. The best part is that you don't even have to search around the internet–we've got the rundown on all the possible options inspired by Gizele Oliveira and this eye-catching style. So if you're leaning more on the daring side or even looking for a more conservative look inspired by the beauty, we have something for you.
Similar Styles For Different Tastes
Every girl has her taste in style and the Gizele Oliveira dress might not be yours. However, even if you're a fan of the cutouts or body-hugging silhouette, there are still dresses out on the market that you can enjoy. No woman can go wrong with a black dress, especially a maxi. While the LBD certainly has its popularity in following, it's not the last resort. A black maxi like the LIKELY Julie Gown or the JONATHAN SIMKHAI Aaliyah Midi Dress can be a great alternative for those looking for a more conservative version. So no matter what'll make you feel more comfortable in your own skin, these two pieces will do the trick. Just throw on a comfy pair of heels and handbag you won't have to think about for a head-to-toe look that's just as effortless as it is fabulous. The Gizele Oliveira style is known for doing that!
Shop The JOHANNA ORTIZ The Legend Of Studio 54 Silk Slip Dress
JOHANNA ORTIZ The Legend Of Studio 54 Silk Slip Dress

$

1,750
The Gizele Oliveira Dress In Action
When it comes to the Gizele Oliveira dress, a lot of things can be done. With a black maxi, you can almost pull all the inspiration you need to create sultry, yet sophisticated look. Luckily finding one that's outside of the box isn't hard. The market is filled with black dresses galore, ready to spring you into the winter months ahead. The DION LEE Lace Insert Wool-blend Corset Dress is the perfect example of a dress you can have some fun with and in. While it's certainly not for everyone, it's great for the ladies who are daring in spirit and ready to make their mark. With a dress like this, heads are surely going to turn your way, as its detailing holds all the seductive qualities you're looking for. So if you're in search of your next statement dress, look no further. The Gizele Oliveira dress has just what you need to take your wardrobe to the next level and go beyond what you're used to!
Shop Gizele Oliveira's Dress Style
INTIMATELY Corset-is Convertible Bodycon Dress

$

88

AIDAN MATTOX Rhinestone Strap Slip Dress

$

210

NENSI DOJAKA Cut Out-detail Mini Dress

$

2,000

ANTHROPOLOGIE Ruched Tiered Maxi Dress

$

180

DION LEE Lace Insert Wool-blend Corset Dress

$

1,490

ANNA OCTOBER Paris Dress

$

580

JONATHAN SIMKHAI Aaliyah Midi Dress

$

595

SER.O.YA Emma Silk Dress

$

395

LIKELY Julie Gown

$

428

FREE PEOPLE Nothing Better Midi Slip Dress

$

98

SUPERDOWN Rachel Slip Mini Dress

$

66

TOM FORD Embroidered Mini Slip Dress

$

2,450

DOLCE & GABBANA Stretch Satin Lace-up Mini Dress

$

4,695

MISSGUIDED Satin Midaxi Dress

$

60

ASTRTHELABEL Alva Sweetheart Midi Dress

$

138