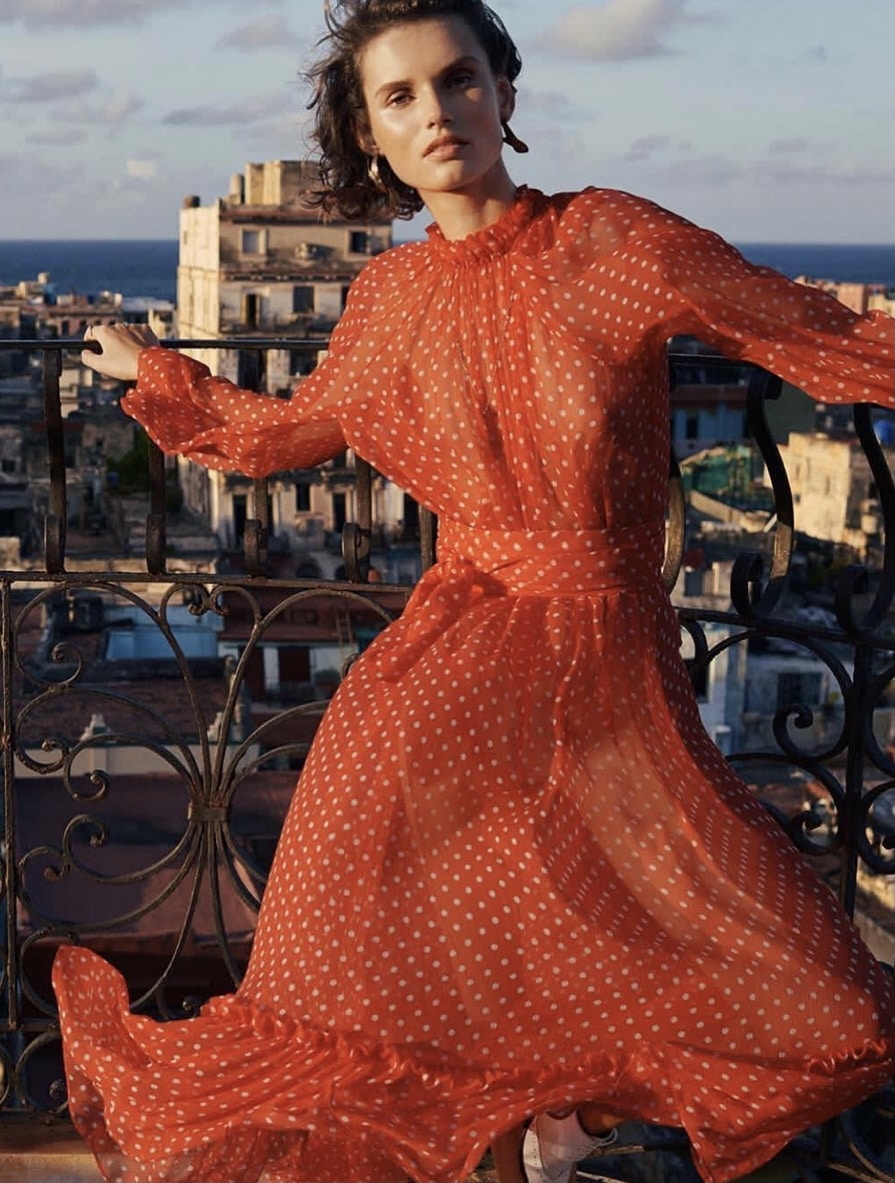 Get The Look: Giedre Dukauskaite Dress Style
@GIEDRE.DUKAUSKAITE / INSTAGRAM
Get The Look: Giedre Dukauskaite Dress Style
How to dress like Giedre Dukauskaite? We can't figure it out either. It could be the timeless prints or the inclusive silhouettes or the accessible styles—or all of it. Giedre Dukauskaite is the perfect influencer for anyone in need of demanding style inspiration. Whether you need something formal, informal or just something new, this fashionista knows what's in and what's working. This dress in particular is a dress that'll look good on just about everyone. With fall here, it's only right that you have access to fall color palettes and timeless patterns. This rustic hue and polka dot print is what we're living for this season. Scroll to discover our favorite pieces inspired by the Giedre Dukauskaite style and her effortless dress!
Giedre Dukauskaite's Dress Flatters Everyone
The Giedre Dukauskaite dress is the perfect example of a piece that's guaranteed to fit you well. So if you're on the market for a dress that'll feel like it was designed especially for your body, we've got just the piece for you. The ANTHROPOLOGIE Faithfull Romilla Linen Maxi Dress is the perfect example of a dress that can clearly flatter any body. Any silhouette that cinches your waist and isn't a bodycon is the perfect fit for all. This silhouette in particular is versatile enough for all the girls, multiple seasons. It's warm enough for those needing extra fabric and cool enough for the those who don't. Wherever and however you choose to wear it, thank the  Giedre Dukauskaite style!
Shop The COMME DES GARÇONS Polka Dot Print Dress
COMME DES GARÇONS Polka Dot Print Dress

$

1,287
Polka Dots Can't Do No Wrong
Giedre Dukauskaite is just one of those girls who can make anything look good. Her love for patterns is what gives her style that much flavor, making them super easy to style. Polka dots come in many shapes and colors, but this rustic color is just so perfect for fall that we couldn't leave it without. Therefore, you must take a peek at the ASOS DESIGN Tall Long Sleeve Tiered Smock Midi Dress and the MAEVE Ruched Midi Dress. These two carry the same irresistible hue as Giedre Dukauskaite's dress and are the perfect addition to any closet. Polka dots in particular are a great timeless print to savior for years to come. While color palettes change season-to-season, they're quite easy to transition. Giedre Dukauskaite's dress is the right balance of trendy and classic—win-win for everyone.
Shop Giedre Dukauskaite'd Dress Style
DE LA VALI Bandana Polka Dot Sleeveless Mini Dress

$

523

NORMA KAMALI Obie Printed Stretch-jersey Maxi Dress

$

185

COMME DES GARÇONS Polka Dot Print Dress

$

1,287

MAEVE Ruched Midi Dress

$

160

USISI SISTER Juliana Linen-Blend Midi Wrap Dress

$

460

ANTHROPOLOGIE Faithfull Romilla Linen Maxi Dress

$

339

JONATHAN SIMKHAI Naomi Polka Dot Ruched Front Dress

$

695

ZIMMERMANN Cashmere Midi Dress

$

1,350

REFORMATION Laylin Dress

$

218

REFORMATION Alta Dress

$

248

ALESSANDRA RICH Polka-dot Silk Crêpe De Chine Dress

$

1,815

STAUD Greta Dress

$

325

ASOS DESIGN Tall Long Sleeve Tiered Smock Midi Dress

$

36

ALESSANDRA RICH Polka-dot Bow-embellished Silk-crepe Dress

$

1,845