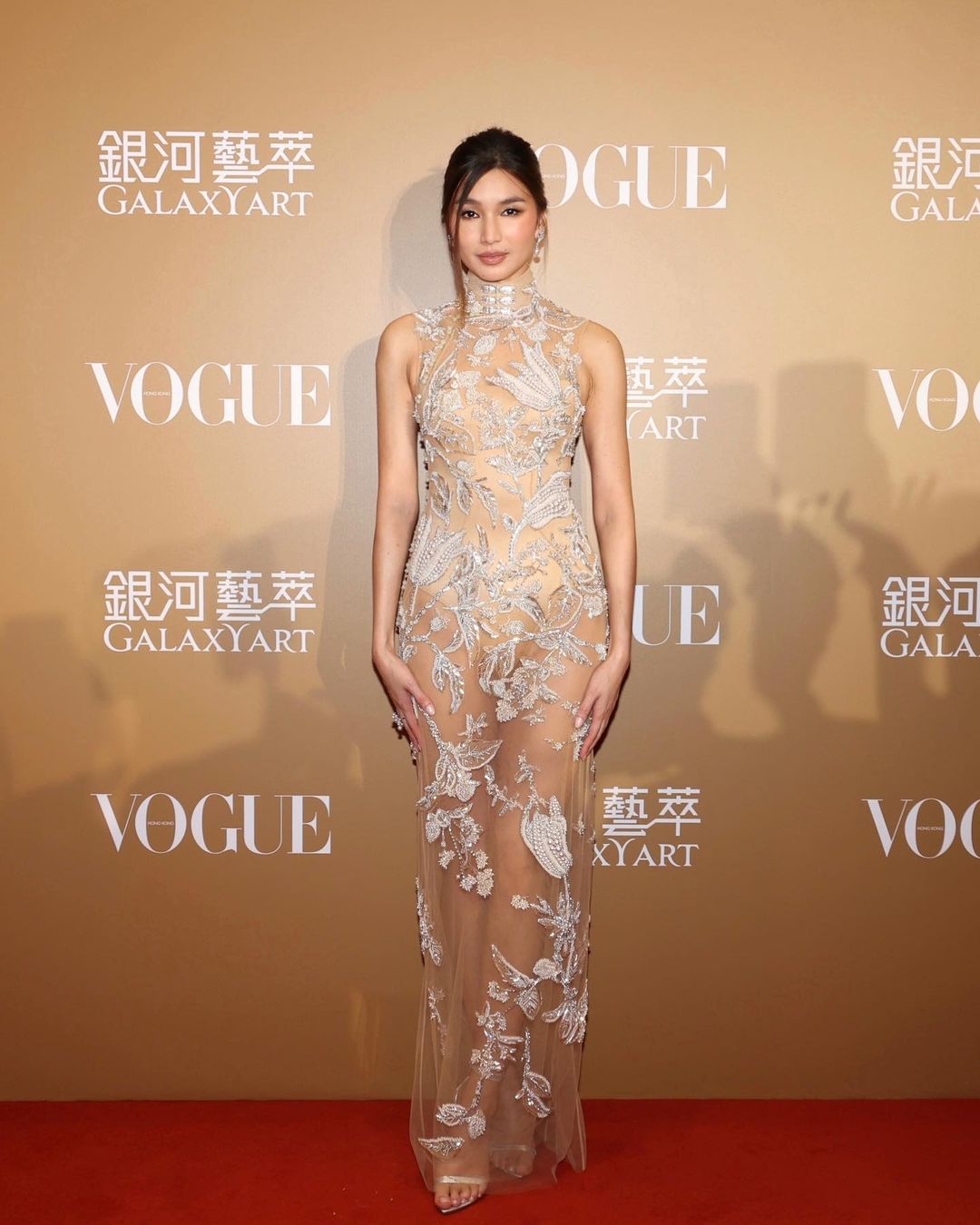 @GEMMACHAN / INSTAGRAM
Get The Look: Gemma Chan Dress Style
No matter the event, we're pretty much guaranteed to love every Gemma Chan dress we see. So, as expected, we were head over heels for the latest gown she wore to walk the red carpet in Macao.  From the elegant high neckline and curve-skimming shape to the sheer embroidered overlay and all-over sparkles. This dress ticks every box in terms of red carpet glamour and we can't wait to replicate the look with designer dresses of our own. So, without further ado, let us present the swoon-worthy edit of dresses we've put together to do just that!
Channel The Gemma Chan Dress Style In High Neck Gowns
One of the many reasons we love this Gemma Chan dress? The eternally-chic high neckline and flattering fitted shape. So, we couldn't have been happier to find the sequin viscose high-neck sleeveless gown by Lapointe. This dress has the exact neckline and column-esque silhouette we were looking for. It also offers all-over sparkles to further replicate Gemma's dress style. What's more, we can't get enough of the floor-length skirt. By just touching the floor it'll intuitively lengthen your silhouette. Meanwhile, the thigh-high split will allow a glimpse of your legs and designer footwear. Ideal as you glide down the red carpet or into your next event.
Additionally, if you're looking for something sans sparkles, the Fleur floral-devore satin gown by Saloni couldn't be more perfect. With a remarkably similar silhouette to our inspo dress, this gown will have you feeling your most stylish self from the moment you put it on. What's more, the subtle floral pattern and gathered waist detailing make for one of the prettiest and most flattering silhouettes the season has to offer.
Shop The LAPOINTE Sequin Viscose High Neck Sleeveless Gown
Shimmer Like Gemma In Sleek Designer Sequin Dresses
Since the Gemma Chan dress wouldn't be complete without those dazzling embroidered details, we thought it only right we add plenty of sparkly silhouettes into our edit. Our favorite? Now that's hard to choose but the Runway Midnight gown by Bronx and Banco is most certainly a contender! Firstly, this dress wows with a sweetheart neckline, wide shoulder straps, and top to toe sequins. Secondly, the sheer tiered skirt is both chic and sultry making this the ultimate evening gown for the upcoming party season.
Finally, when the occasion (or your mood) calls for something a little shorter, the Valentina dress by Simkhai is everything you need. We adore the unique lace bust that contrasts beautifully with the sequin detailing covering the rest of the dress. Not to mention, the barely there spaghetti straps and soft cream hue. These elements add a delicate touch to your evening look. Pair this dress with dainty heeled sandals for the prettiest after-dark look of 2023.
Shop Gemma Chan's Dress Styles...