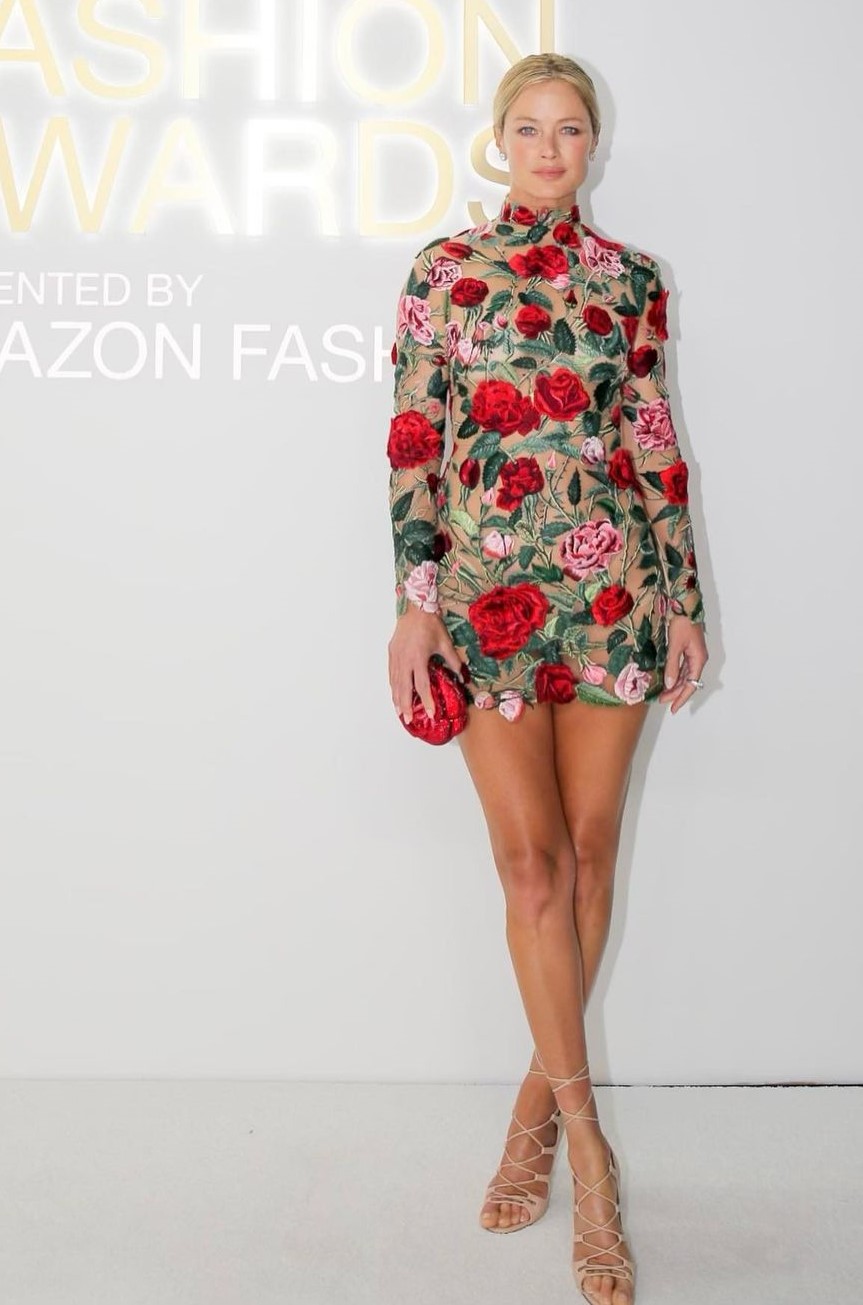 @ANDREWMUKAMAL / INSTAGRAM
Get The Look: Carolyn Murphy Dress
With a gentle fall chill increasing our desire for long-sleeved evening dresses, we're taking all of the fashion inspo from Carolyn Jackson and her stunning, floral-embroidered mini dress. Thanks to an elegant high neckline, long fitted sleeves, and all-over floral embellishments, this beautiful bodycon dress is everything we could wish for for the months ahead. So, to ensure we all have our most stylish A/W season to date, we've tracked down the best designer dresses that incorporate these highly desirable details. And, with designs from the likes of Oscar De La Renta, Doen, Zimmermann, and Bronx and Banco to choose from, who could possibly resist adding multiple silhouettes to their cart…?
Long Sleeve Floral Mini Dresses For Fall & Winter
As temperatures begin to drop, we're all for stocking our closets with long-sleeved, Carolyn Murphy-style evening dresses. Not only will they stave off any chill, they also look supremely elegant no matter the event. Therefore, we'll be stepping out in dresses like the floral-print crepe mini by Zimmermann every chance we get. Firstly, we adore the structured shoulders and long flared sleeves. Secondly, the voluminous mini skirt, gathered waist detailing and painterly floral print make this dress a work of art from every angle. Not to mention, the iconic, 3D floral appliques. Expect oohs and ahhs, every time you wear this one.
Alternatively, when the dress code calls for something a little more casual, opt for the Myrtle dress by Elliatt. With all-over floral crochet detailing. a classic V-neckline, fluted sleeves, and subtle cut-out details at the waist, this dress will be an instant favorite the moment you add it to your dress rotation.
Shop The OSCAR DE LA RENTA Dahlia Threadwork Cocktail Dress
Make A Statement In Designer Floral Embroidered Dresses
Just like Carolyn Murphy's, these floral embroidered silhouettes are sure to make a statement. For example, the Bouquet Maraya mini dress by Bronx and Banco. Firstly, we're head over heels for the romantic strapless neckline and eternally flattering hourglass shape. Secondly, the all-over mixed floral embroidery is expertly crafted and quite a sight to behold. Pair this dress with simple, metallic, heeled sandals. Or, go for pointed pumps with an ankle strap in a coordinating colorway. This dress will shine either way!
Additionally, the Dahlia cocktail dress by Oscar De La Renta deserves plenty of attention. From the striking fuchsia hue and curve-skimming fit to the off-shoulder neckline and 3D, full flower embellishments. This dress, from the same designer as Carolyn's, is destined to sell out. So, we highly recommend getting your hands on it before it does!
Shop Carolyn Murphy's Dress Style...