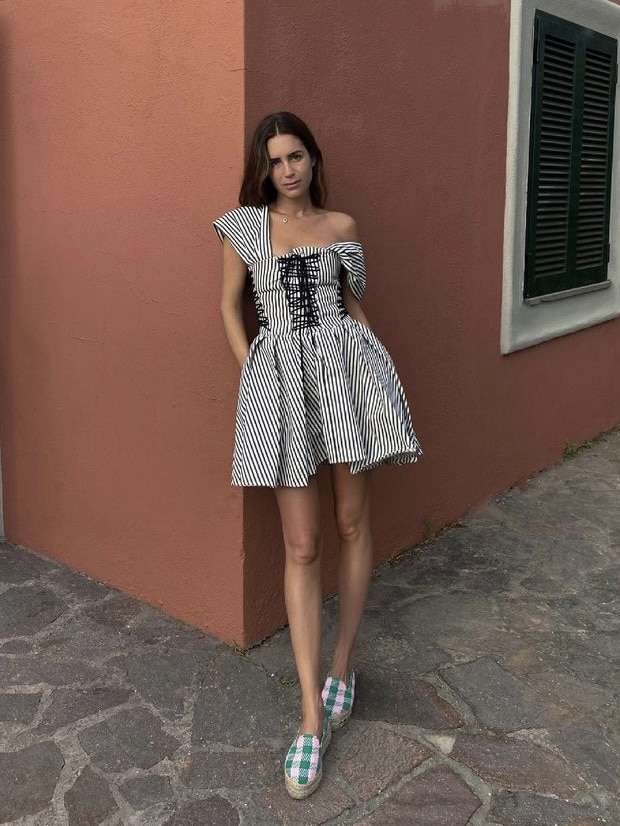 Get The Look: Gala Gonzalez's Dress Style
@GALAGONZALEZ / INSTAGRAM
Get The Look: Gala Gonzalez's Dress Style
Gala Gonzalez is one of our favorite effortless fashionistas for a good reason. Not all women feel the need to dress the most fabulous when they're headed out or even staying in. While gowns and high fashion looks are wonderful to enjoy once in a while, they're not always the most comfortable. Luckily, you can still look fashionable without going overboard with your ensembles. Gala's style, along with this dress are the perfect examples of a more casual style that Tarik delivers the hottest trends. The best part is that styling pieces like this one is a simple task, making your weekdays or weekend a breeze for getting ready. After all, don't we all want wish getting ready we're easier? Well, now it can be! Scroll to explore dresses inspired by Gala Gonzalez and her fresh style!
Gala Gonzalez's Timeless Black & White Duo
Black and white is just a timeless duo Gala Gonzalez can't live without. This one however is a great refreshing piece away from all of the standard white and LBDs. As spring approaches, snagging more effortless, casual looks is key to a versatile wardrobe. This look is exactly what you need to mix and match with your favorite colorful accessories. That's why the LISA MARIE FERNANDEZ Check-jacquard Scalloped Mini Dress is the perfect dupe for Gala's casual look. With endless styling possibilities, this mini dress will make the perfect foundational base for your ensemble. There's no doubt that you'll want more of these once you give this Gala Gonzalez inspired dress a go!
Shop The BAUM UND PFERDGARTEN Ariette Dress
BAUM UND PFERDGARTEN Ariette Dress

$

299
Alternative Versions To Know & Love
The best part of this Gala Gonzalez dress isn't just that it's versatile, but it comes in all shapes and sizes. This fashion forward day dress is something you'll likely see more of this upcoming spring season. It's lace-up detailing and cap shoulders are just want you need for a flirty, effortless look. Luckily the AMANDA UPRICHARD Chantal Dress and the SELKIE The Puff Dress exist. While not black and white, these colorful options may be just want you need to enjoy the rainbow. And with an abundance of sunshine and warmer days on the way, it only makes sense to wear the colors of the rainbow. These Gala Gonzalez are a true win for any fashionista looking to upgrade not only their spring wardrobe, but they're daywear!
Shop Gala Gonzalez's Dress Style
MAJORELLE Tahoe Dress

$

168

AMANDA UPRICHARD Chantal Dress

$

224

NBD Katerina Mini Dress

$

258

SELKIE The Puff Dress

$

245

MORE TO COME Makaela Babydoll Dress

$

74

SELF-PORTRAIT Pleated Taffeta Mini Dress

$

410

HUTCH Puff-Sleeve Cut-Out Mini Dress

$

180

SACHIN & BABI Kendal Dress

$

248

ENGLISH FACTORY Short-Sleeve Crewneck Mini Dress

$

130

BLACK HALO Chadwick Mini Dress

$

375

PINKO Short-sleeve Gathered-detail Dress

$

226

CHARO RUIZ IBIZA Yara Corset-style Mini Dress

$

561

WAIMARI Palomas Dress

$

325

LISA MARIE FERNANDEZ Check-jacquard Scalloped Mini Dress

$

795

ALICE + OLIVIA Crawford Sweetheart Mini Dress

$

395