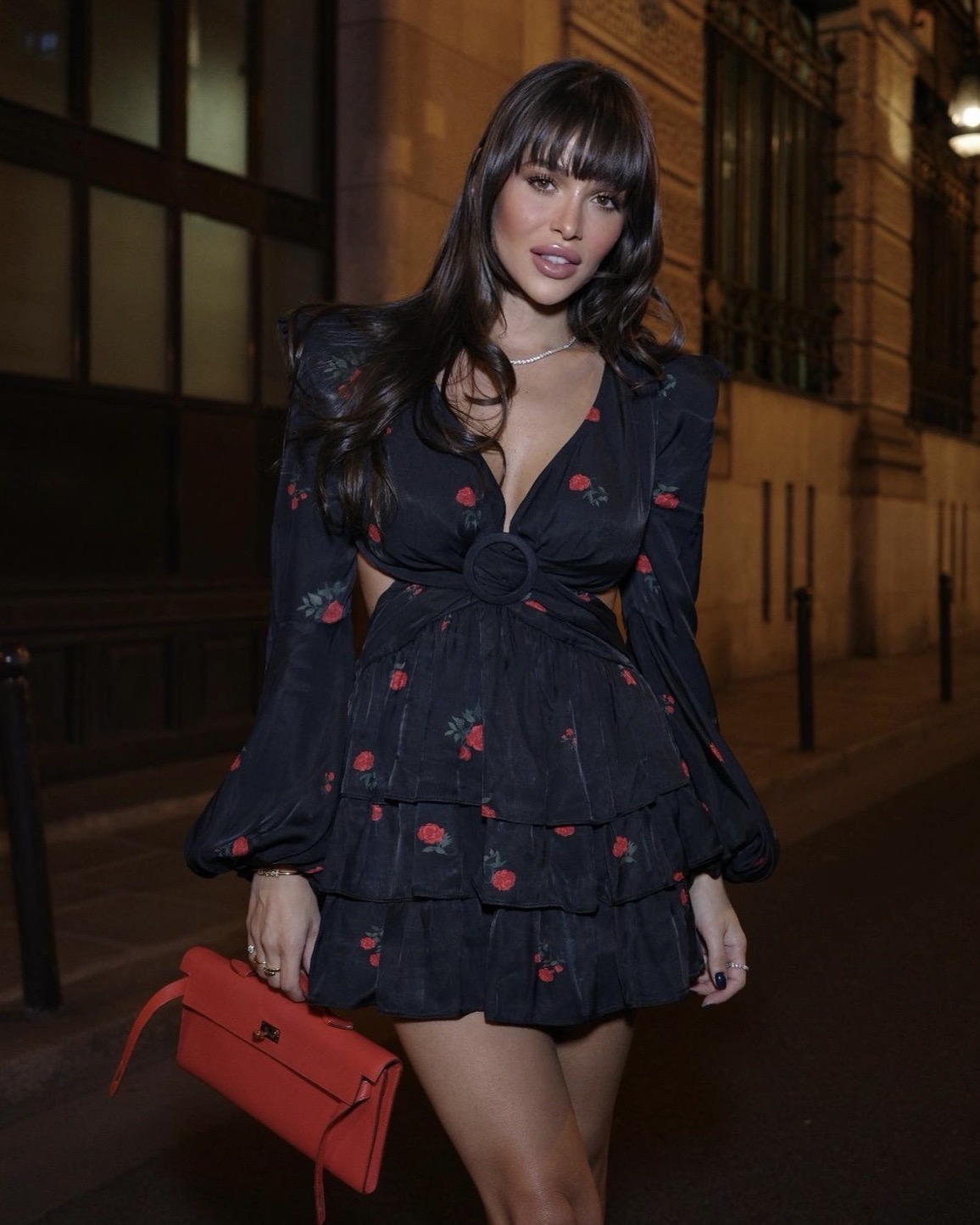 Get The Look: Ezgi Findik Dress Style
@ezgifindik / Instagram
Get The Look: Ezgi Findik Dress Style
If you love Ezgi Findik's dress, you probably don't even know why. Whether it's the starry night color, its playful print, or the balance of ruffles to cutout—it's all cohesively perfect together. But while you can't always find the perfect dupe for influencer style inspiration, you can always tweak the rules. As for this stellar piece, there is a wide variety out now to capture the look at home yourself. Pick apart the iconic dress style and turn it into your own—one scroll at a time. Keep reading to find our top 15 pieces inspired by Ezgi Findik's dress style. You may find some outliers, but this list includes a few *very* close dupes you'll undoubtedly love.
Ezgi Findik's Short & Sweet Dress
Ezgi Findik's dress isn't just a lovely color, but it's also perfectly balanced in texture and shape. And although it's not a piece you would wear to formal occasions, it certainly does still have the same impressive effect. So, if you're loving Ezgi's ensemble but want minimal changes to its original, try the CURRENT AIR Textured Cutout Mini Dress. While it certainly isn't the exact same or printed, its silhouette is just what you need to capture the look. Similarly enough, the MILLY Liv Pleated Navy Dress is another spectacular casual dress worth wearing more than once. Since Ezgi's look leans more on the casual side, you can easily get away with rocking any one of these. Minus the print, this glorious navy color is all you need to capture Ezgi Findik's dress style—just in a different way of course.
Shop The CURRENT AIR Textured Cutout Mini Dress
CURRENT AIR Textured Cutout Mini Dress

$

160
Kick Up The Style With More Texture
Loving Ezgi Findik's dress style, but looking for some more formality? While the fashion icon's ensemble is surely a crowd-pleaser, there are many different ways you can take its style. Whether that means adding more texture or opting for a tighter dress, it's all possible. Not to mention, this stellar navy hue will likely good on any design. For example, the ALEXANDRE VAUTHIER Embellished Draped V Neck Mini Dress is far from what Ezgi is wearing, but it's a hidden gem not worth passing up. You can still capture the midnight essence, while swapping the ruffles for sequins. On the other hand, the BARDOT Corset Puff Sleeve Velvet Mini Dress is another must-have for those in favor of velvet. So no matter what texture you love, you can still capture Ezgi Findik's dress style inspiration in a variety of ways.
Shop Ezgi Findik's Dress Style
ALEXANDRE VAUTHIER Embellished Draped V Neck Mini Dress

$

2,232

AMANDA UPRICHARD Annalise Mini Dress

$

268

TEMPTATION POSITANO Hollywood Dress

$

485

BARDOT Venice Long Sleeve Lace Mini Dress

$

169

SEA NEW YORK Short-sleeve Tiered Dress

$

442

RAMY BROOK Embellished Stella Mini Dress

$

545

RAMY BROOK Ally Ruched Mini Dress

$

425

JASON WU Puff-Sleeve Ruffle-Trim Mini Dress

$

695

BARDOT Corset Puff Sleeve Velvet Mini Dress

$

199

MILLY Liv Pleated Navy Dress

$

395

MILLY Gia Chiffon Tiered Dress

$

450

LOVERS AND FRIENDS Regina Mini Dress

$

238

TANYA TAYLOR Eva Mini Dress

$

525

ULLA JOHNSON Sena Dress

$

395

SACHIN & BABI Daria Dress

$

295