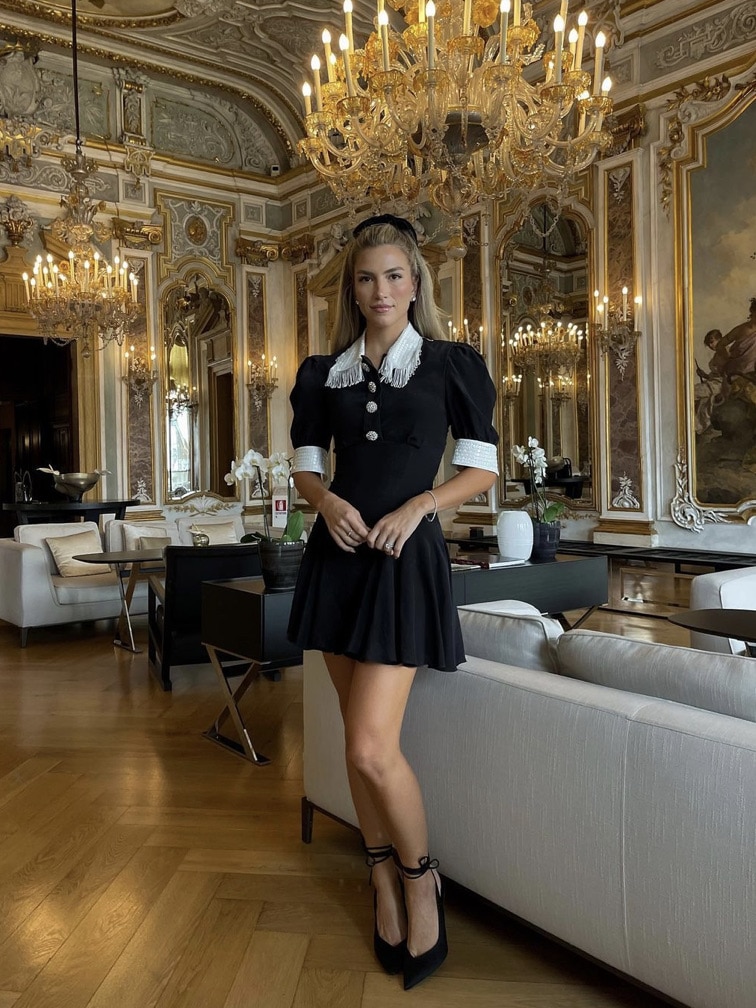 Get The Look: Cass Dimicco Dress Style
@CASSDIMICCO / INSTAGRAM
Get The Look: Cass Dimicco Dress Style
This Cass Dimicco dress is just one of those pieces that you adore, but can't seem to find. From the shoulder to the collar detailing, every bit of this piece is to-die-for. It's the perfect balance of your favorite classic fashion and the modern trendy looks on the current market. Luckily we've searched near and for for pieces with and without the collar. So if you're a fan of this exact piece or just a fan of Cass, you too can enjoy a look for your personal style. After all, you can never go wrong with a little black dress (LBD) with some shoulder action. It's the easiest way to take your entire wardrobe to the next level and surprise everyone in your next black and white event. From formal to even more less formal events, this piece is a winner. Scroll to discover our favorite 15 looks inspired by this Cass Dimicco dress!
Cass'd Signature Dress Collar Look
You can never go wrong with a collar and this Cass Dimicco dress is the perfect change to wear one. Whether you're a fan or not, the small detail can take any look to the next level in the matter of seconds. From a plain old LBD to a more sophisticated ensemble, collars have the power to turn an entire look around. Just take both of the ALICE + OLIVIA Bethany Tieneck Mini Dress and the ALESSANDRA RICH Lace Collar Long-sleeve Mini Dress for example. If they didn't have a collar, we're not so sure we'd have our eyes on them this much. The simple, small detail easily elevated the entire dress, giving you a break when it comes to styling. Simply throw on your favorite boots or Maryjane heels and you can be on your way to looking classic, yet stylish! Big thanks to the iconic Cass Dimicco style for a dress we could all use in our closets!
Shop The ALICE + OLIVIA Bethany Tieneck Mini Dress
ALICE + OLIVIA Bethany Tieneck Mini Dress

$

495
Get Away Without The Collar
We're a big fan of this Cass Dimicco dress, but the collar is totally optional. As much as we love the addition, obviously it's not for everyone. That's why we had to include our favorite closest dupe without the collar, that just about any picky taste can enjoy. So if you're loving the LBD and shoulder action, you don't have to dismiss this look entirely. You can opt for the SELF-PORTRAIT Puff-sleeve Crepe Mini Dress, which still carries the same effect. That way you can ditch the extra details and still enjoy a classic black dress look, without the added effects. But while this alternative has no collar, make sure to spend a bit more time in styling to meet Cass Dimicco's unique style. Whether a fashion-forward headband or a simple pair of black heels, you can surely take this dress anywhere you imagine!
Shop Cass Dimicco's Dress Style
RED VALENTINO Black Long Sleeve Frisottine Collar Dress

$

750

ALESSANDRA RICH Lace Collar Long-sleeve Mini Dress

$

1,477

BARDOT Talina Mini Lace Dress

$

149

SIGNIFICANT OTHER Sadie Button-front Mini Dress

$

266

ANTHROPOLOGIE Embroidered Lace Mini Dress

$

160

SELF-PORTRAIT Puff-sleeve Crepe Mini Dress

$

509

MAJE Lace-Sleeved Mini Dress

$

375

VALENTINO Embroidered Point-collar Wool-blend Crepe Dress

$

3,800

PACO RABANNE Lace-trimmed Embroidered Crepe Dress

$

1,790

BTFL-LIFE Mock Neck Mini Sweater Dress

$

90

VALENTINO Contrast-collar A-line Dress

$

4,200

GIOVANNI BEDIN Cotton Poplin Mini Dress

$

1,385

TOM FORD Silk Minidress

$

3,750

VALENTINO Wool And Silk Minidress

$

2,900

THE VAMPIRE'S WIFE The Mini Fortune Teller Velvet Tie-Neck Dress

$

1,610