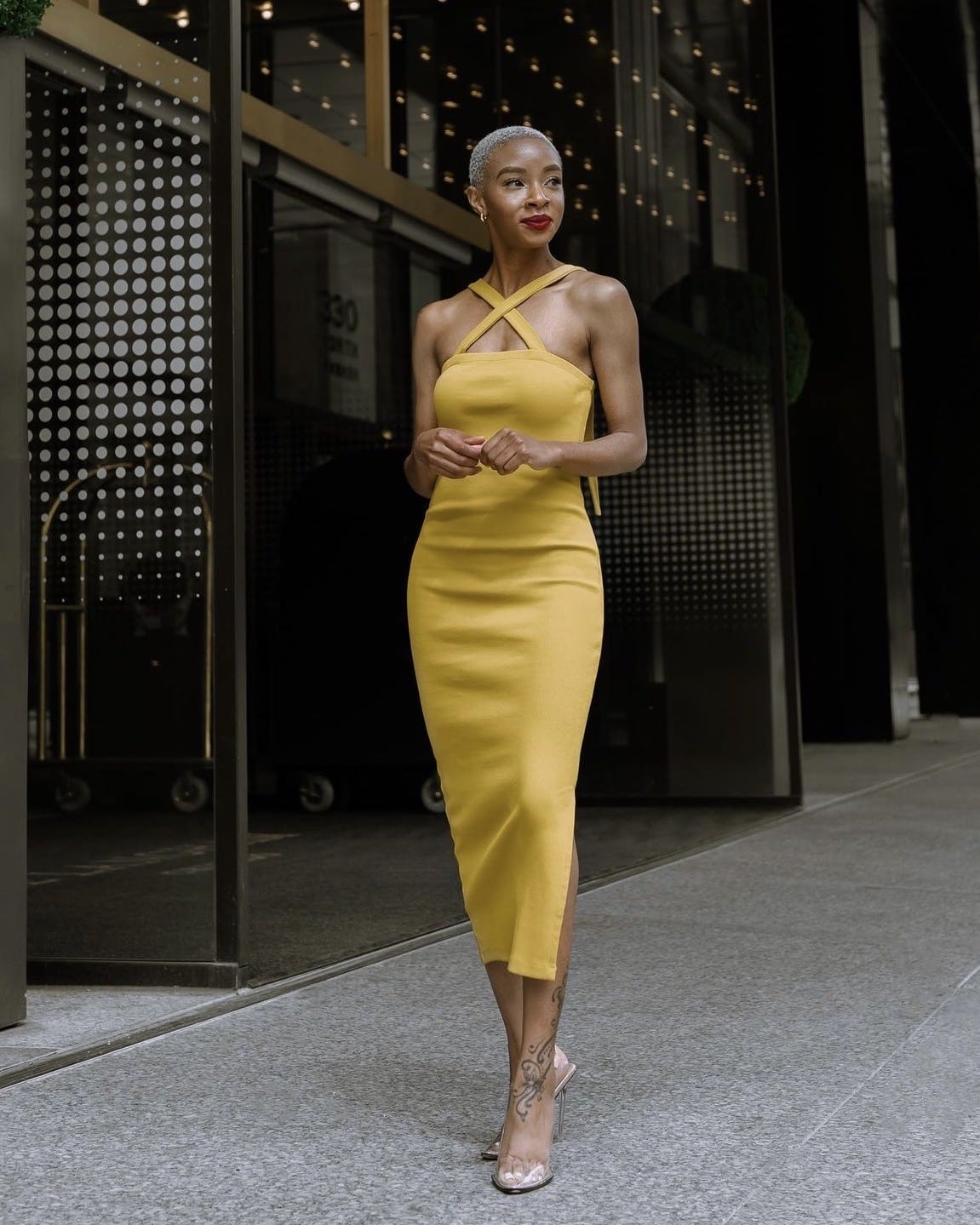 Get The Look: Blake Gifford Dress Style
@SIGNEDBLAKE / INSTAGRAM
Get The Look: Blake Gifford Dress Style
What better style than Blake Gifford dresses to look the chicest? The fashionista is known for having some of the best dresses on the market, especially ones that everyone could like. No matter your personal taste, you're probably admiring her yellow midi dress. Perfectly designed, shaped, and dyed, this sunny piece is just what everyone could use in the fall season. While everyone pulls out their dark tone garments, a little sunshine wouldn't hurt. Better yet, the detail of the straps is a trendy touch you can't resist. If you're on the market for a new dress but aren't quite sure what to get, this Blake Gifford dress is for you. Giving this hot option a try will only make your wardrobe that much better. Keep scrolling to discover our favorite 30 dupes inspired by the chicest fashionista of all!
The Blake Gifford Dress Is The Only Color You Need
While Blake Gifford's dress isn't the color of 2022, it sure is a tending shade for the fall to winter seasons. Yellow might be a hit or miss for many, but it's certainly a hue that compliments everyone's style or skin tone. So if you're looking for a new color to fall in love with, you might want to give this pale sunny yellow a try. You might just find it's the color of the season for you—especially in a style like this. The COPERNI Twisted Cut Out Knit Dress is a brilliant hidden gem that'll give you a similar look. While not identical, the color is enough to do the job for you. With your highest, chicest heels and a clutch or top handle bag, you'll be on your way to your sunniest day yet. This Blake Gifford dress might be one for the books, but this dupe is just as flattering.
Shop The COPERNI Twisted Cut Out Knit Dress
COPERNI Twisted Cut Out Knit Dress

$

735
Tight, Strappy, and Trendy
If there's one thing to note about the Blake Gifford dress beyond its yellow color, it's its shape. Bodycons aren't only longtime favorites for nearly every dress lover, but bodycon midis are the next level breed. Especially when it comes to the fall and winter seasons, there's nothing like having a longer, fitting options to wear around the clock. Our two favorites to note are the ALEX PERRY Sweetheart-Neck Satin Body-Con Dress and the HOUSE OF CB Soren Keyhole Cutout Mermaid Midi Dress for many reasons. While they seem to be your average tight dresses, they have a lot more to offer. The best designed pieces are one that contour the body, and these gems hug every curve in all of the right places. With complimentary accessories and a little touch of confidence, these pieces will carry you through your most fathomable evenings yet.
Shop Blake Gifford's Dress Style
ALEX PERRY Sweetheart-Neck Satin Body-Con Dress

$

1,800

JASON WU Floral Jacquard Bow-Front Crepe Day Dress

$

1,795

HOUSE OF CB Soren Keyhole Cutout Mermaid Midi Dress

$

269

SER.O.YA Claude Dress

$

425

TOVE Sofia Silk Front-Twist Midi Dress

$

895

THREE GRACES LONDON Sage Linen Midi Dress

$

660

REBECCA VALLANCE Rosanna Strapless Crepe Midi Dress

$

495

ERDEM Selene Halterneck Embroidered Linen Midi Dress

$

1,305

OLIVIA VON HALLE Bibi Silk Crepe De Chine Midi Slip Dress

$

590

ASOS Bust Cup Cami Midi Dress

$

35

ANTHROPOLOGIE Lace-Up Midi Dress

$

170

SELF-PORTRAIT Inserted Lace Knit Dress

$

465

HOUSE OF CB Bianca Satin Pleated Corset Midi Dress

$

285

LAVISH ALICE Draped Off-The-Shoulder Midi-Dress

$

180

LIKELY Kimmie Sleeveless Cut Outs Dress

$

248