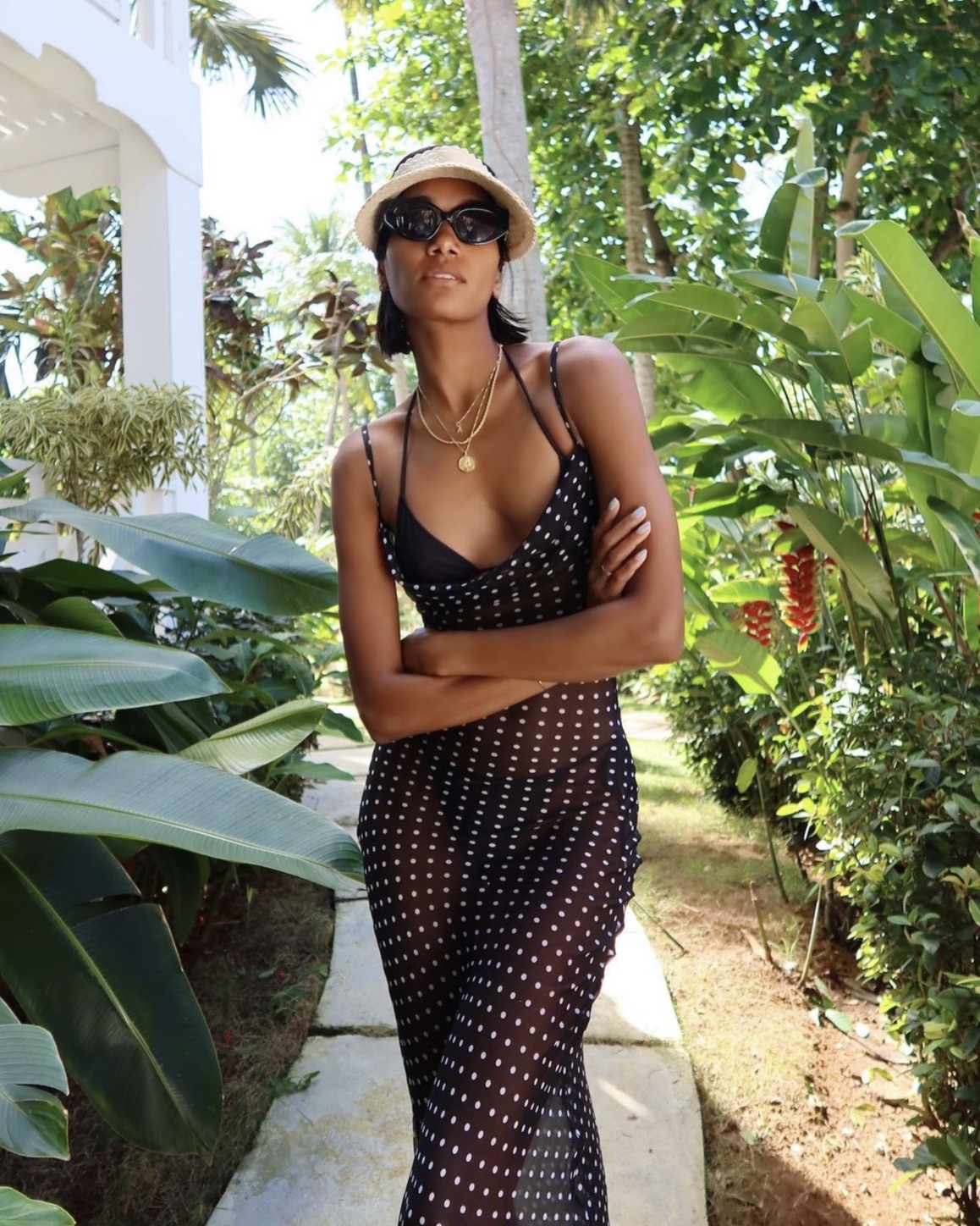 Get The Look: Arlenis Sosa Dress Style
@arlenissosa / Instagram
Get The Look: Arlenis Sosa Dress Style
If you haven't yet taken a peek at Arlenis Sosa's dress style, it's time to now. Combining sophistication with a playful flair, this coverup is more than just another coverup. This iconic summer look is the perfect example of understated glamour, offering a look that's both flirtatious and refined. As we approach the final days of summer, snagging a piece inspired by Arlenis Sosa's dress style is a must. And even if you don't have much time before the chill sets in, take it on your next vacation. You'll be surprised what a simple, yet elegant dress like this can do for your sun kissed days.
Arlenis Sosa's Dress Style Is Every Girl's Dream
Arlenis Sosa's dress style is, without a doubt, dreamy for fashion-forward individuals. This particular sheer black dress, adorned with playful white polka dots, is proof of her impeccable taste. It manages to strike a balance between boldness and elegance, making it a versatile addition to any wardrobe. The sheer fabric adds a touch of sensuality, while the classic polka dot pattern infuses a sense of timelessness. Whether you're strolling along the beach or attending a rooftop party, this dress is just perfect for last-minute summer plans.
Can't seem to find a similar look? Look to the REFORMATION Bryson Polka Dot Cap Sleeve Dress and the FREE PEOPLE Butterfly Babe Polka Dot Cutout Maxi Dress. While a bit different, these work just as well, if not better for city-side fun. Snagging a piece inspired by Arlenis Sosa's dress style is not just about keeping up with trends; it's about embodying a confidence and allure that's uniquely your own. And for the last days of the season, we'll take it.
Shop The ANTHROPOLOGIE Sheer Polka Dot Dress
ANTHROPOLOGIE Sheer Polka Dot Dress

$

88
Savor The Rest Of Summer
As the final days of summer approach, there's a certain urgency to soak up every last bit Arlenis Sosa's dress style. And what better way to do it than in a dress made for the beach or poolside? This sheer black piece is the epitome of summer elegance. Its lightweight fabric allows for easy movement, while the playful pattern adds a touch of whimsy. Although, you don't have to stick with polka dots for this one. Whether you're lounging by the pool on holiday or just want to savor summer style, this dress promises to elevate those moments.
Our ultimate favorite to note is the ST. AGNI Semi Sheer Floral Dress. Don't miss your chance to savor the last drops of sunshine in a piece that captures the essence of Arlenis Sosa's inimitable dress style. This isn't just your average coverup; it's a statement—and there isn't much time to rock it.
Shop Arlenis Sosa's Dress Style
RODARTE Embellished Semi-sheer Maxi Dress

$

1,545

KISS THE SKY Sheer Lace Midi Dress

$

79

MOTEL Daudy Sheer Lace Midi Dress

$

65

NOIR BY KEI NINOMIYA Sheer Tulle Midi Dress

$

248

FREE PEOPLE Butterfly Babe Polka Dot Cutout Maxi Dress

$

198

FRENCH CONNECTION Echo Lace Trim Crepe Cocktail Sheath Dress

$

148

DE LA VALI Tranquilla Sheer Maxi Dress

$

605

ACNE STUDIOS Ruffle Dress

$

750

ST. AGNI Semi Sheer Floral Dress

$

585

NANUSHKA Fiore Open-back Satin Midi Dress

$

775

REFORMATION Bryson Polka Dot Cap Sleeve Dress

$

228

WAYF Polka Dot Ruffle Off the Shoulder Dress

$

118

ANTHROPOLOGIE Sheer Halter Cover-up Dress

$

98

EDIKTED Xandra Sheer Lace Maxi Dress

$

59

TOP SHOP Polka Dot Smocked Lace-Up Back Dress

$

85