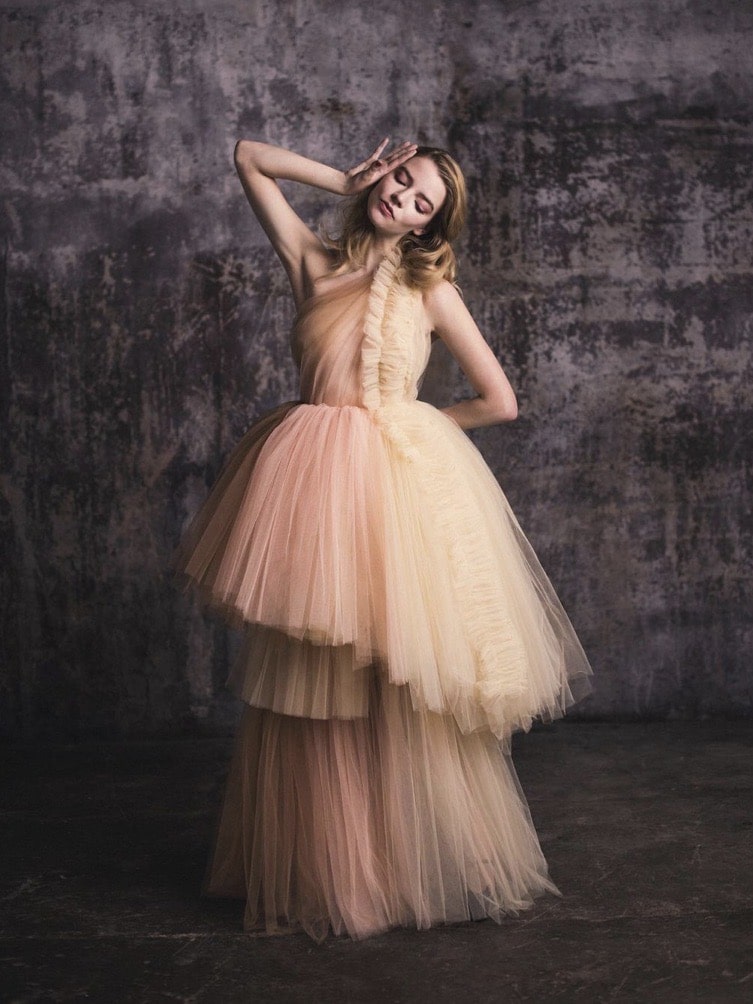 Get The Look: Anya Taylor-Joy Dress Style
@ANYATAYLORJOY / INSTAGRAM
Get The Look: Anya Taylor-Joy Dress Style
If there's anyone who knows how to make just about any dress look elegant and chic, it's Anya Taylor-Joy. It doesn't matter what the fashionista wears, every ensemble is somehow red carpet ready and average girl approved–all at the same time. Regardless of this piece, not a detail gets by without being noticed. This dress in particular utilizes tulle as the main focus, proving that solid dresses deserve to be seen too. You certainly don't always need a pattern or embellishment to look luxe. This peachy neutral is the perfect tone for just about anyone, opening up a wide range of styling possibilities. From neutral accessories to even jeweled ones, this Anya Taylor-Joy dress is a great example of a piece every woman should own at least once in their lifetime. Princess of not–it definitely makes us wonder why we've been missing out!
Shop The ASOS DESIGN Tulle Fallen Shoulder Maxi Dress
ASOS DESIGN Tulle Fallen Shoulder Maxi Dress

$

93
Making Tulle Your Greatest Fashion Tool
Tulle, like any other texture, is a great asset to any luxury designer dress. When it comes to this Anya Taylor-Joy dress, it's no different. Not only is tulle a great way to add volume to any piece, but it's an easy route to a more extravagant, elegant ensemble. Whether or not you're off to anywhere formal, Anya has a great way of managing to look like you are. Luckily, dresses like the MISS SELFRIDGE Tulle Midi Dress exist to make snagging the look more achievable. Sometimes you don't need an entire gown, but something light to grab everyone's attention. This tulle fairytale dress is just the one to ensure all eyes are on you, without leaving you uncomfortable. After all, what's a fashionable outfit like the Anya Taylor-Joy dress if it's not comfy? Well, this wearable dupe is!
Shop Anya Taylor-Joy's Dress Style
NEEDLE & THREAD Ophelia Bodice Ankle Gown

$

369

WATTERS Rosabel Gown

$

1,595

MISS SELFRIDGE Tulle Midi Dress

$

79

MONIQUE LHUILLIER Embellished Tea-Length Tulle Dress

$

6,481

RED VALENTINO Tulle-overlay Long-sleeve Dress

$

1,548

ASOS DESIGN Tulle Bow Tie Tiered Maxi Dress

$

93

ELIE SAAB Mikado Strapless Tulle Gown

$

10,805

SIMONE ROCHA Embroidered Tulle Midi Dress

$

1,959

MAC DUGGAL One Slv Lace Grecian Gown

$

598

MAC DUGGAL Gold Leaf Appliqué Tulle Gown

$

798

ASOS DESIGN Bridesmaid Ruched Bodice Drape Maxi Dress

$

107

MARCHESA NOTTE Sequined Tulle Midi Dress

$

795

ANAYA WITH LOVE Petite Bridesmaid Tulle One Shoulder Ruffle Tiered Dress

$

135

NEEDLE & THREAD Nancy Stripe Frill Gown

$

750

GIAMBATTISTA VALLI Embellished Silk-tulle Gown

$

2,526