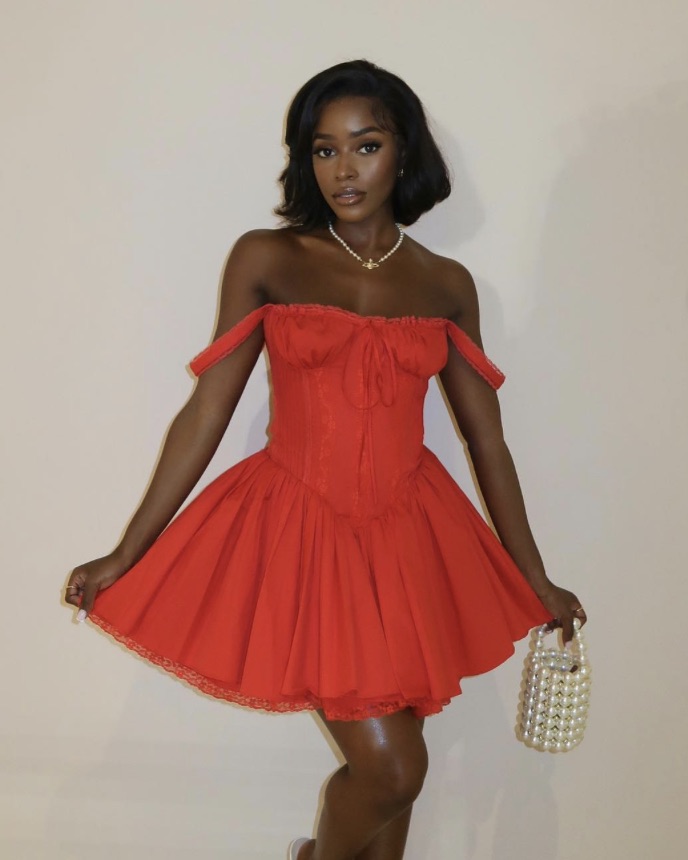 @angwitacho / Instagram
Get The Look: Angwi Tacho Dress Style
When it comes to fashion inspiration, Angwi Tacho's dress style is undoubtedly one that resonates with many. Moreover, her signature taste is a perfect blend of chic, edgy, and utterly enchanting. In this edit, we're digging into the world of Angwi's wardrobe, focusing on her iconic red corset mini. This look has captivated fashion enthusiasts worldwide and for a good reason. After all, every woman could use a red dress in her wardrobe. With its figure-flattering design and striking color, it's no wonder this piece catches eyes of many. Looking to snag the look? Keep scrolling to find the best pieces inspired by Angwi Tacho's dress style—and how you too can look just as enchanting.
Angwi Tacho's Enchanting Dress Style
Angwi Tacho's dress style is nothing short of magical. Furthermore, the red mini she effortlessly pulls off is a true showstopper for a number of reasons. Its corset waist cinches in elegantly, accentuating her silhouette, while the skater skirt adds a playful touch to the look. Not to mention, the tank sleeves offer a refreshing twist from usual styles, providing a modern vibe. Whether it be for the holidays, your next getaway, or just because, this look is worth your while.
Regardless if you love red or not, it's hard to pass on the ALICE + OLIVIA Bina Mini Dress. Similar in design and spot on in color, this piece is a true eye-catcher. Paired with silver heels and simple accessories, you too can look like queen, Angwi. Whether she's attending a high-profile event or stepping out for a casual day, Angwi Tacho's dress style is a masterclass in balancing boldness and sophistication. And now, it's your turn to wear the look.
Shop the ALICE + OLIVIA Bina Mini Dress
ALICE + OLIVIA Bina Mini Dress

$

595
Figure-Flattering Curves
One of the most striking parts of Angwi Tacho's dress style is its ability to celebrate and flatter her body. The corset waist of the dress not only creates a cinched-in effect but also accentuates her hourglass figure. It's not everyday you find a piece that does this that isn't a bodycon. The skater skirt adds a flirtatious flair, allowing for movement and flow, while still maintaining a structured silhouette. It's a brilliant example of how a well-tailored dress can enhance and celebrate any woman's body.
For those looking to embrace their own curves and exude confidence, we've got just the styles for you. Our favorites to get the look are the AMANDA UPRICHARD x REVOLVE Stassie Dress and the MORE TO COME Marcine Strapless Dress.  Incorporating elements of Angwi Tacho's dress style into your own wardrobe can be a game-changer. Embrace the enchanting allure of this look and make it your own. A pop of red is enough to turn heads.
Shop Angwi Tacho's Dress Style
BLUMARINE One Shoulder Mini Dress

$

1,345

MOSCHINO Asymmetrical Dress

$

595

AURETA STUDIO Renee Mini Dress

$

258

SUPERDOWN Jaylin Ruched Mini Dress

$

80