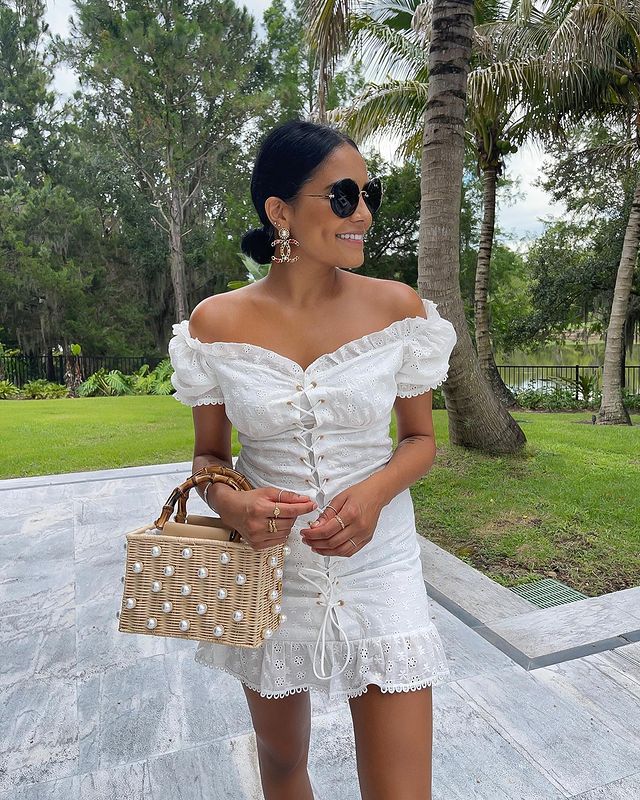 Get The Look: Alpa Rama Dress Style
@ALPA.RAMA / INSTAGRAM
Get The Look: Alpa Rama Dress Style
Thanks to this gorgeous Alpa Rama dress, we have all the inspiration we need to find the perfect white mini dress for summer. And, whether you're all about that off-shoulder neckline, the fitted silhouette, or the chic short hemline, we've found plenty of similar designer dresses you'll want to add to your lineup right now! So, keep scrolling and discover our top picks from the likes of Alexander McQueen, Brandon Maxwell Amanda Uprichard, and more!
Mini's Inspired By The Alpa Rama Dress
The second we saw this adorable Alpa Rama dress we knew we needed it (or at least something very similar) in our lives! Luckily dresses like the Vaiana off-shoulder mini by Charo Ruiz Ibiza exist to make all of our dreams come true. Firstly, it has that chic off-shoulder neckline we adore about our style stars'. Secondly, its all-white construction, fitted bodice, and handkerchief hemline make for a truly unique and undeniably pretty summer silhouette! So style yours with flats for daytime plans or dress it up with heels for summer nights. You'll look sensational either way!
Meanwhile, if this dress has you inspired but you're all about sleeved silhouettes, Rime Arodaky has you covered! We're head over heels for their beautiful Amalfi open-back tulle mini dress. Firstly, it has a gorgeous plunge v-neck bodice with puffed tulle sleeves and intricate allover sequin detailing. Additionally, the belted waist and pleated flair hemline make for an unforgettable silhouette. Trust us, this dress will become an instant favorite the moment you add it to your summer lineup.
Shop The CHARO RUIZ IBIZA Vaiana Off-shoulder Mini Dress
CHARO RUIZ IBIZA Vaiana Off-shoulder Mini Dress

$

448
Stunning Lightweight Dresses For Warm Weather
From its cute gathered details to the lightweight construction, this Alpa Rama dress is everything we need for warm weather days. Therefore, we've set our sights on silhouettes like the Lecia asymmetric mini dress by Isabel Marant. It has a chic, asymmetric, dropped shoulder neckline, central gathering for a flattering fit, and a sweet ruffled hem just like Alpa's. Also, we adore how easily you can dress this mini up or down!
Additionally, the Shannan mini dress by More To Come is our fave dress for warm weather evening plans! Made to go with heels for dinner dates, drinks, and even dancing, it's a must-have for the season ahead! So, get ready to swoon over the floral lace overlay, cut-out v-neckline, and elegant off-shoulder straps. This dress will be a stand-out piece in your evening wardrobe for sure!
Shop Alpa Rama's Style
ALEXANDER MCQUEEN Off the Shoulder Poplin Corset Dress

$

3,890

BRANDON MAXWELL Ruffled Tiered Cotton-poplin Mini Shirt Dress

$

1,495

RIME ARODAKY Amalfi Open-back Grain De Poudre And Embellished Tulle Mini Dress

$

1,695

ISABEL MARANT Lecia Asymmetric Ruched Cotton-voile Mini Dress

$

560

BCBGENERATION Off The Shoulder Dress

$

98

ENGLISH FACTORY Floral Embroidered Organza Mini Dress

$

110

CHARO RUIZ IBIZA Marilyn Floral Lace Dress

$

448

CHARO RUIZ IBIZA Vaiana Off-shoulder Mini Dress

$

448

ALAïA Spiral Seam Cutout Mini Skater Dress

$

3,030

JOSLIN STUDIO Celia Organic Cotton Trapeze Mini Dress

$

445

MATTHEW BRUCH Apron Cotton Poplin Mini Dress

$

395

LOVESHACKFANCY Jiona Paneled Crocheted Cotton And Embroidered Satin Mini Dress

$

995

LOVESHACKFANCY Akilah Embroidered Lace-trimmed Fil Coupé Cotton-crepon Mini Dress

$

475

MORE TO COME Shannan Mini Dress

$

66

MILLY Briar Embroidered Cold-Shoulder Dress

$

450